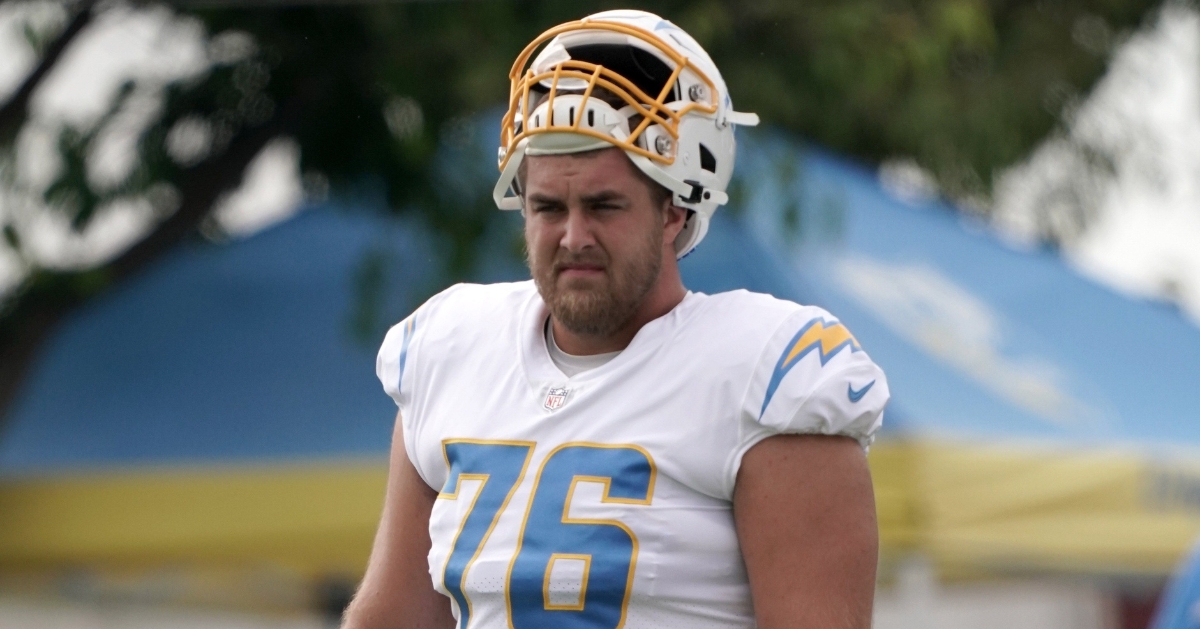 | | |
| --- | --- |
| Commentary: Bears should look to trade for former second-rounder | |
---
| | | |
| --- | --- | --- |
| Thursday, September 30, 2021, 3:34 PM | | |
There was a lot of bad that took place last Sunday, and you can point the finger at many things that resulted in the struggles. Of Course, Matt Nagy and his inability to adjust will take center stage, but his offensive line did him no favors. Allowing sacks, at any rate, will not make things easy for a rookie, but allowing nine sacks, including 4.5 to Myles Garrett, will make even the best QBs in the game left searching for answers.
Fans knew that the offensive line would be an issue this season, and after losing first-round pick Tevon Jenkins to back surgery, it made things even worse. The Bears did add 39-year-old and possibly future hall of Famer Jason Peters as a possible safety valve, but he looked 39 on Sunday after playing every snap in week two.
The Bears offensive line needs to get healthy, and they need to get better. Getting better may not come within the organization as Chicago may have to swing a deal for someone else outside the organization to improve. There may not be too many starting-caliber players out there, but there is one in Forrest Lamp who is not only ready to sign a contract, but ready to make an immediate impact.
A former second-round pick, Lamp started every game for the Chargers in 2020 and played at a very high level. After opting out of getting the COVID vaccine earlier this season, Lamp has now decided to get the Vaccine and has confirmed he is fully vaccinated. If that were the main reason he was without a job, then the Bears would be foolish not to bring him in, but there are other concerns about why he was a free agent this long.
A big reason was a minor calf strain that he suffered in camp that eventually left him as a roster casualty and released. As an offensive lineman, your legs are crucial, so any injuries, especially lower leg injuries, are always a cause for concern. It appears that Lamp is over that injury and is fully healthy. Not only that, but he is ready to go and sign with an offensive line needy team. Hello Chicago!
Some teams may have steered away from Lamp given his COVID vaccine status, but I feel there were other reasons as to why he wasn't employed. I look at his leg injury and teams wanting to know if he was fully healthy. Now that he has that clean bill of health, look for plenty of teams to give him a call in the next few weeks, and the Bears better be one of them if they want to protect their franchise QB.
The 27-year-old Lamp is no stranger to success as he was a former second-round pick by the Chargers in 2017. Not only that, but he was one of the most highly touted linemen in his class, and some had him graded as a first-round talent. He was graded as the top-ranked guard entering the draft, and given his ability to play tackle, many experts felt he could have a lengthy career given his versatility.
It hasn't worked out that way as Lamp has played just 18 games across three seasons, but then again, 16 of those games came last year where he started each one. He has some history on his side and has shown improvement as a player to earn a starting spot last season. Considering the Bears issues on the offensive line and Lamp's clean bill of health, this is certainly a player they would be wise to kick the tires on.
Perhaps the biggest bonus to bringing him in would be his versatility. That is something the Bears have always liked, especially when it comes to offensive linemen, and Lamp would give them a versatile piece to move around. Even if signed to a one-year deal, Lamp can play either the guard or tackle position, so the Bears would have options. They need to find a way to protect their QBs, and you can bet Lamp would be a significant upgrade to help with that.