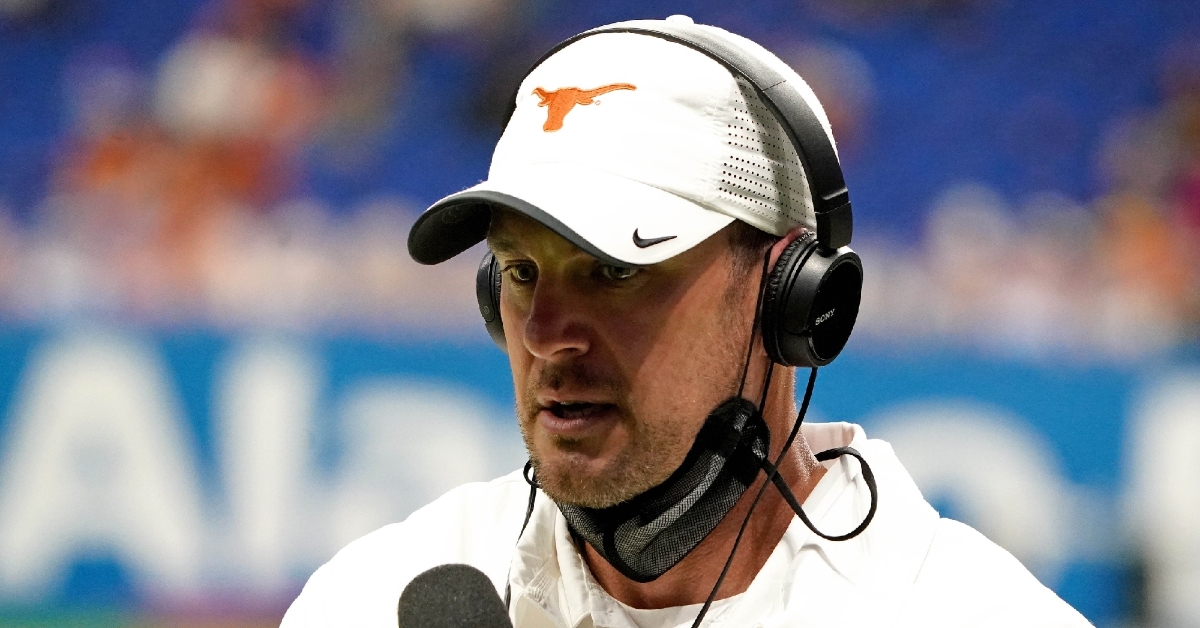 | | |
| --- | --- |
| Commentary: Tom Herman is an interesting hire for Bears | |
---
As the Bears have continued to remake their coaching staff, most of the attention came on the ball's defensive side. Once Sean Desai was hired, a plethora of defensive coaches left to pursue other opportunities allowing Desai to put his staff together. While that side of the ball appears to be finished, what about the offensive side of the ball?
For the second straight season, the Bears struggled to score points under Matt Nagy's philosophy, forcing him to appoint Bill Lazor as the offensive coordinator late in the season. Following the end of the season, Chicago then saw some offensive coaches part ways for new opportunities leaving the Bears with even more holes to fill. While some of those holes have been filled, there is still more work to be done.
In finalizing their coaching staff, Chicago continues to bring in intriguing names hoping to see a change.
Monday saw the Bears bring in former University of Texas Head Coach Tom Herman as they appoint him offensive analyst for Special Projects. I got to be honest, I have no idea what an offensive analyst for special projects does, and as far as we know, it could be a newly created position to bring him in. If it helps the offense, Bears fans should be on board with this hire.
Along with Herman's hiring, Anthony Hibbert will also be joining the staff as the Assistant Strength Coach. Back to Herman, his title may be vague, but special projects could mean just about anything at this point. The Former Longhorns football boss is an analytics type of coach who could provide the Bears with the valuable insight they may never have had. Essentially, he looks at fourth down percentages and two-point chances from a numbers side of things, and that in return could lead to a more aggressive Bears offense.
Herman is also someone who could help you on draft weekend, given his experience in the college circuit. While coaching Texas the past four seasons, he compiled a 32-18 record, including a perfect 4-0 mark in bowl games. Before accepting the job with Texas, Herman was a hot commodity, spending time as both an offensive coordinator and quarterbacks coach with Texas St, Rice, Iowa St, and Ohio St. Clearly, the guy knows a little something about offense as those teams have been known for having great offenses.
Looking more into Herman's background, especially on the offensive side of things, you see why the Bears made this hire, even if it is an interesting move. The quarterback coaching experience especially stands out in my mind as he would have the opportunity to work with the Bears current QB to give his input. That alone may help the Bears either find their next franchise QB or at least get the most out of Nick Foles next season should that be the direction they go.
The draft side of things is where this move could be sneaky good as Herman knows all about the college game. Coaching in the BIG 10, Herman saw all kinds of talent come and go through his program while also coaching against some of those same big names. As part of the BIG 12 the past four seasons, Herman has seen not only some of the best QB's come through the draft but has played with and against some of the best offenses too.
His most recent quarterback in Sam Ehlinger could be someone to watch in connection to the Bears as the draft gets closer. Ehlinger was an up-and-down quarterback from the statistical side of things, but the kid knew how to win. He has all the intangibles to make plays and put together a string of strong college seasons. I don't know how Herman feels about his NFL potential, but could he try and get the Bears to draft him either in the third or fourth round. Should that happen, it would be interesting to see the connection those two have outside of the college circuit.