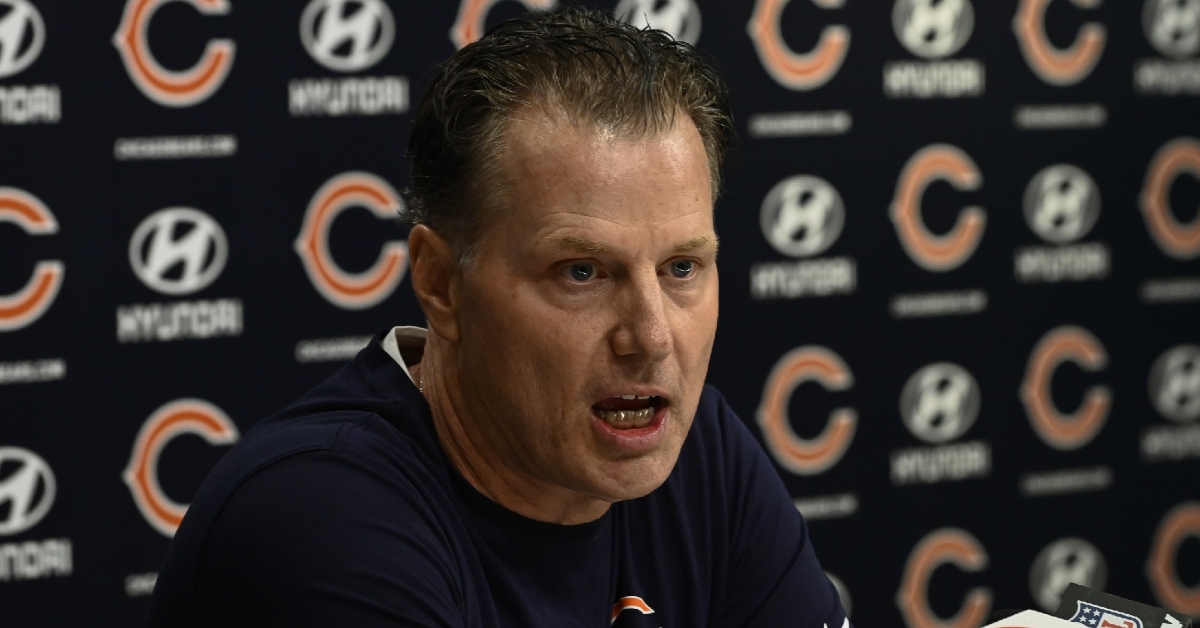 | | |
| --- | --- |
| Commentary: It's time for Eberflus and Getsy to go | |
---
CHICAGO - It is time to get rid of head coach Matt Eberflus. He has coached 21 games for the Bears and Chicago has only won three of those games. The Bears had a 21-point lead and blew it against the Broncos, tied for the biggest blown lead in franchise history. At least last time it was against Tom Brady. This time, it was against a struggling Russell Wilson.
When you are leading 28-7 with 4:11 to go in the third quarter, there is no excuse for losing the game. People will blame quarterback Justin Fields for his fumble that was returned for a touchdown. While that was a momentum shifter, the defense also crumbled. Eberflus seems to be in denial about how bad the state of things really is for the Bears.
"I thought the guys had passion, had energy. Execution was really good in spots, and I thought that was a big improvement, and I thought the guys did a heck of a job of battling," Eberflus said. "There was some adversity at the end of that game where we had the fumble returned for a touchdown and the response for that. I thought the guys did a really good job in terms of responding to adversity and putting ourselves in a position to have a chance to win that game at the end."
Eberflus is the one calling the defensive plays, but his defense allowed 17 points by the Broncos in the final quarter of the game. Since taking over the playcalling, the defense has given up 99 points. As a whole, the defense has given up at least 25 points in their last 14 games and has lost all of those games. Since Eberflus is a defensive-minded coach, these are the exact opposite problems that Bears fans were expecting out of his team.
Again, Eberflus seems to be in denial as he sees things improving.
"I can certainly see things moving in the right direction for our football team," Eberflus said. "There's a lot of good things out there that we can build upon."
While there are things that went well in this game, such as scoring a season-high 28 points, that is not as important when you blow a 21-point lead. His comments such as this are in poor taste and do not make sense, given how the game went.
Then there is offensive coordinator Luke Getsy. This is his second season as the offensive coordinator, and there was a lot of hope that he would improve going from his first to second season. That has not happened. To see a primary example, take a look at the fourth-and-one attempt from the Broncos's 18-yard line with 2:57 left in the game.
It would have been a 36-yard field goal if Chicago had opted to go for it. After blowing a 21-point lead and now being in a tie game at 28, just being able to get some points on the board would have helped the momentum shift back in the Bears' favor. But, Eberflus chose to go for it to set up a field goal with far less time left or even score a touchdown.
This line of thinking is understandable. It makes sense to be aggressive. It makes sense to try to keep the Broncos offense off the field as long as possible, especially after they scored a touchdown on their last two possessions. So, while going for it may not have been the safest move, it can be justified. What cannot be justified is the play call.
Who lines up in shotgun on fourth-and-one? That's horrible. As an offense, you are just making things harder on yourself to get the first down. Do a "tush push" - give it to Fields and push him to the 17-yard line. That would have had a better chance of success than any play in shotgun. The play call, which would be on Getsy, set the Bears up to fail on that play and ultimately set the Bears up to lose the game.
Further looking at the play calling, Chicago was playing to maintain the lead in the second half instead of trying to continue to build the lead. That was the time to be aggressive and the play calls were far more conservative. Even Eberflus acknowledged that the coaches are not doing enough.
"When you're 0-4, no one's done their job well enough. That's just the facts," Eberflus said. "So, result's the business and we have to do a better job collectively as a group and, again, we're working hard to do that and I think the guys put a better step forward, coaches included."
Eberflus is right about one thing - results are the business. He is having historically bad results in Chicago. Football is a business and the Bears need a change of leadership. While it will not fix everything, getting rid of Eberflus and Getsy is a start. Fields' career may depend on it and the history of the franchise certainly relies on it.