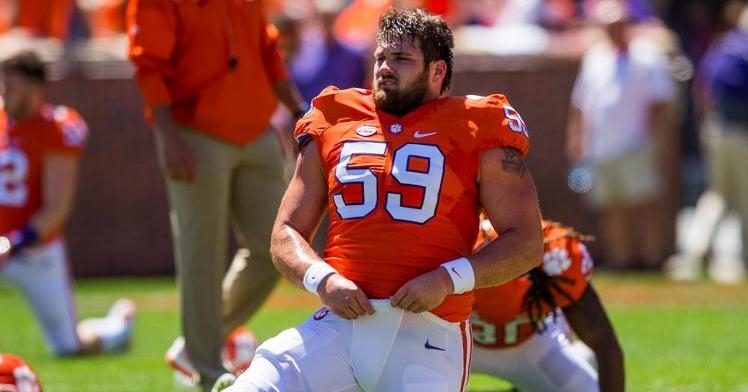 | | |
| --- | --- |
| Could Bears strike gold with trio of undrafted offensive linemen? | |
---
| | | |
| --- | --- | --- |
| Thursday, May 13, 2021, 11:48 AM | | |
Yesterday we discussed the skill position players who became the undrafted pickups by the Chicago Bears. Today, we move to the offensive line, where they added depth to, at the very worst, the practice squad by selecting the contracts of three more offensive linemen.
That makes a total of six of their 12 undrafted pickups on the offensive side of the ball, with the other six coming on defense. Talk about balance, the Bears have always had a knack for finding some undrafted free agent value picks, and this year will be no exception for the Bears.
Building a beastly offensive line is essential if you want to win a game in the trenches. Chicago did a great job of that over the past two offseasons,
along with filling in even more holes during the draft. Adding more bodies through the undrafted free agent market adds value to this team and gives the team much-needed depth in case injuries pile up.
GAGE CERVENKA (OL Clemson): Speaking of an undrafted player with potential, look no further than former Clemson Offensive Lineman Gage Cervenka. Listed at 6-3 and 322 pounds, Cervenka fits the mold of big and physical linemen, which the Bears targeted this offseason. Cervenka may not be the standout offensive linemen, but playing for Dabo Sweeny, he has played in countless big games and will bring that experience with him to the NFL.
Ideally, the Bears would love him to be a little more athletic. Still, he is extremely powerful, which he demonstrated during his school record 44 reps of 225 pounds on the bench press. After becoming a starter in 2018, Cervenka moved from tackle to guard and even saw time at center. His down-field blocking is an enormous strength that stems from his upper body strength.
One thing the Bears are hoping they can fix is his newness to the guard and center positions. He is somewhat raw at those spots, which is evident when it comes to blocking schemes. Still, the versatility and physicality are there for Chicago to take a shot on him and see what transpires.
DAREUAN PARKER (OG Mississippi St.): One thing the SEC conference does better than anyone else in college football is turning out NFL talent. Of course, most of that talent is surrounded by skill-position players, but the offensive line has also been an area of strength for the SEC. Parker is another one of those guys who, although he may have gone undrafted, still has the possibility of being better than some guards taken in the draft.
Parker is a beast at 6-5 and 331 pounds, and it is challenging to push him around on the line. After being primarily a backup his first two seasons, Parker started all 23 games he played in at left guard the past two years and did very well for the Bulldog offense. Not only is he big with a massive frame, but Parker also has outstanding length allowing him to create leverage on his opponents.
While left guard is his primary position, he is versatile enough to play the right guard at that position. His great upper body strength gives him plenty of raw power, and he often displays that on the field. Should tacklers similar in size go up against him, Parker will have no trouble driving them back to keep his guys protected.
One of the biggest concerns about Parker is that he is slow to react against quicker edge rushers which could create a problem at the NFL. That lack in quickness makes him scheme dependent where he needs to be put in a great situation to succeed. Parker also needs work when it comes to helping his teammates stop-gap blitzers.
GUNNAR VOGEL (OT Northwestern): The Northwestern Wildcats sure know how to develop offensive linemen. From Rashawn Slater going in the first round to the undrafted class, there is so much talent from Pat Fitzgerald's group that anyone would be lucky to nap one of those players. Chicago is hoping Vogel is a low-risk, high reward type of undrafted free agent that could help this team both in the long and short term.
At 6-6 and 312 pounds, Vogel can play both guard and tackle but has spent most of his time anchoring the tackle position. Vogel was ranked 148th among offensive linemen for a pro football focus grade but only saw 40% of the team's snap count, so there is room for improvement. While his pass-blocking grade barely hits 50%, he makes up for that with a 71% run blocking score which fits right into the Bears scheme.
Vogel may be less athletic than you would like in a tackle, but he has the drive and work ethic to maximize his potential on the field. His work ethic will be what helps him succeed, and hopefully, he turns into gold for the Bears.