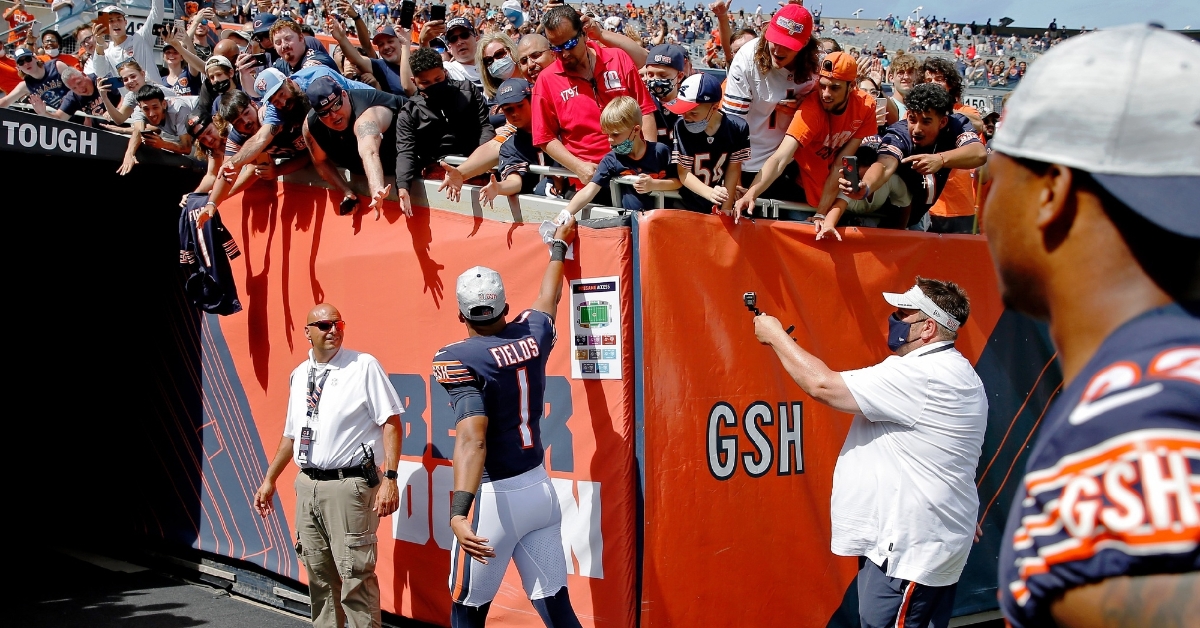 | | |
| --- | --- |
| Could field conditions signal the end of Bears at Soldier Field? | |
---
| | | |
| --- | --- | --- |
| Tuesday, August 16, 2022, 11:06 AM | | |
CHICAGO - The Chicago Bears have a rich football tradition that goes all the way back to the 1920s, making them one of the oldest franchises in the game. In fact, they have been in the city of Chicago since 1920, when they were known as the Chicago Staley's and played their games at Staley Field.
They played there for just one season until George Halas moved them to Wrigley Field in 1921 and stayed there until 1970. Following their long run at Wrigley, it was decided that Wrigley Field wasn't big enough for NFL standards which is when they arrived at Soldier Field in 1971. While there, the Bears have experienced two different-looking stadiums as the current stadium underwent a massive remodel in 2001, and that is where things stand today.
To say football and Chicago go together would be an understatement, but the more than 100-year run in Chicago could be coming to an end soon. If you can go back roughly eight months ago, rumors were swirling around that the Bears were looking to break their lease early and move out of Soldier Field to a new state-of-the-art facility.
What seemed like a joke at the time became more of a reality as the team purchased a bunch of land in Arlington Park, where the new stadium plans were being discussed. While nothing has come from that discussion or purchase thus far, the sole fact that land has been purchased and they want to build a new stadium should have Bears fans concerned that their team will be leaving Chicago.
Despite all those discussions, the city of Chicago wants to keep the Bears in town and will do what it needs to to make that happen. If that is the case, they need to get on the phone now and figure out what to do with the Soldier Field turf, as current conditions could be the final straw that signals the teams move to a new home.
Cairo Santos made a point to discuss how poor the surface was on Saturday, and most fans thought he was exaggerating. However, when you see the pictures of what the field looked like pregame, you realize that those thoughts were not an exaggeration and that the field was indeed in terrible condition.
It was so bad that they had to have a staff member walk around with a bucket of sand to repair all the divots in the field. That has to be concerning if you are a player, as that type of surface will only lead to severe injuries as the season goes on.
One has to wonder how the field got into this condition. Well, for starters, this is an older surface that has needed resurfacing for a while, so things like this were bound to happen sooner or later. The second major issues stems from the team that shares the stadium with them in, the Chicago Fire.
Since leaving Toyota Park in Bridgetown, Illinois, to return to Chicago, the Fire has been playing in Solider Field. As a soccer venue as much as a football venue, soccer gets more use out of this stadium as they have a longer season with more games. That means the field takes that much more of a beating, and the soccer teams are starting to tear up that field.
People watching the game knew the surface was terrible, but after witnessing sand and turf fly up the rate it did on Saturday, the Bears surface was called downright embarrassing. Many expect a move to Arlington Heights to be set in stone because of it.
NFLPA President and free Agent center JC Tretter said it best, and if this is true, the NFL and the city of Chicago need to step up now. According to Tretter's Twitter feed, The NFL said this field met minimum testing standards. We clearly need to re-evaluate what is an acceptable surface for players to compete on. We need new testing metrics looking at the performance and safety of every field. The NFL can and should do better.
Coming from a guy like Tretter, you need to take this seriously, and the Bears organization should be embarrassed by the condition of this field. If the plan is to keep this team in Chicago long-term, this is not the way to go about as significant changes need to be made to protect the players safety throughout the season.