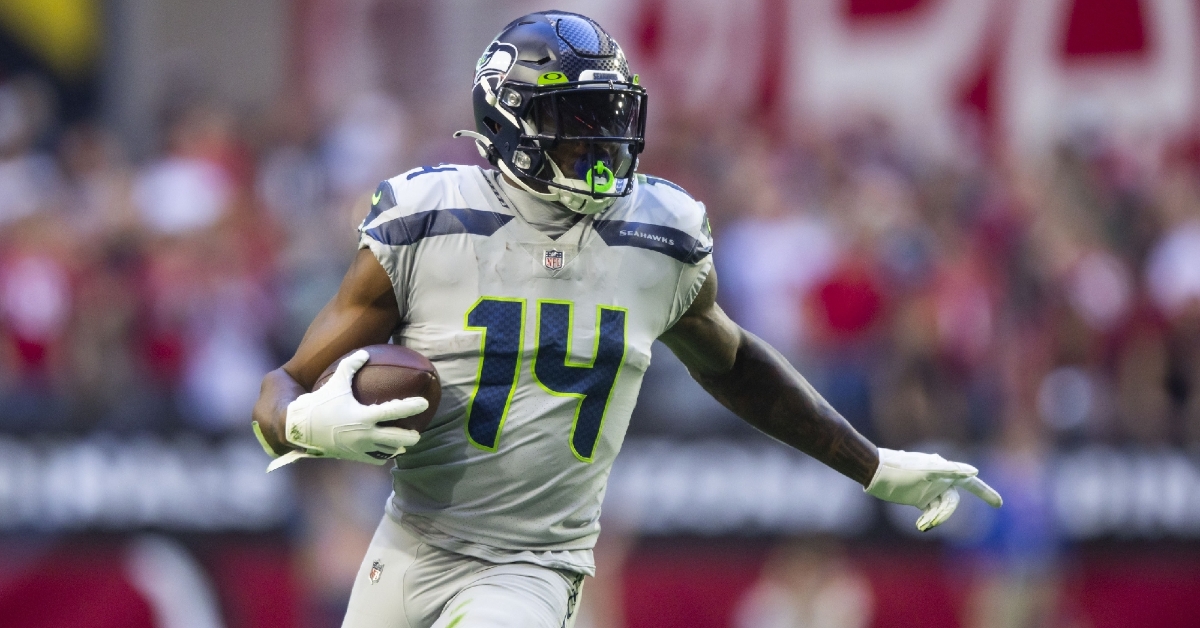 | | |
| --- | --- |
| DK Metcalf skips mandatory mini-camp and what that means for the Bears | |
---
While it is nice to have to not have a drama-filled offseason for once when it comes to the Bears, there is still plenty of drama to go around as Mandatory Mini camps have begun. Much of that drama is surrounding the Seahawks organization as one of their best players refused to report leaving his future with the team in question.
The standard of the NFC roughly seven years ago, Seattle has fallen off the map in recent seasons, so much so that they traded away Russell Wilson this offseason. That signaled the ultimate sign of a rebuild as they have no direction on where to go. Along with Wilson being traded, the Seahawks have other question marks on the roster as Tyler Lockett and DK Metcalf could be next to be shown the door.
Metcalf, in particular, is one name to watch as the veteran receiver refused to report to mandatory minicamp. Considering that the former first-round pick is a free agent in 2023, you have to wonder if his absence at camp could signal the beginning of the end for Metcalf in Seattle. If that is the case, look for the Seahawks to potentially trade him this season in hopes of getting something in return, and the Bears better be willing to see what it would take to get him.
No disrespect to Darnell Mooney, who will be the Bears No. 1 option this season, but if a player of Metcalf's status becomes available, you need to jump on it. Since arriving in 2019, Metcalf has been a consistent producer for the Seahawks, where he has had at least 900 yards in every season.
His best season came in 2020 when Metcalf brought in 1303 yards and 10 TDs. He had a career-high 12 TDS in 2021, but saw his yardage drop tremendously to just 967. However, for his career, this guy has accumulated 3170 yards receiving and 29 TDs across his first three NFL seasons. Considering how this is Seattle Seahawks news and not the Bears, you may be wondering why this is on a Bears feed.
For starters, it could alter the Bears plans next offseason should they find a way to bring in Metcalf. It is no secret that Metcalf hasn't been happy with his contract, but unlike Deebo Samuel, who reported to San Francisco camp, Metcalf did not report to Seattle, which doesn't bode well for his future in Seattle. There have been contract talks between him and the Seahawks, but no deal has been reached, and the longer it goes, the less likely it becomes that he will be with the team beyond this season.
Although not something to get overly excited about right now, this is worth monitoring for several reasons. For starters, Metcalf is just 24 years old and is in the final year of his rookie deal. When you look at his production, you can see why he wants a new deal, and you know what he deserves it as he has vastly outperformed his rookie contract.
Another reason to keep an eye on this situation is that we have already heard about the Seahawks considering trading Lockett. Should these contract talks not be resolved sooner rather than later, expect those talks to shift from Lockett to Metcalf. When you consider that they already traded away long-time QB Wilson, you must wonder if the Seahawks would be willing to go all-in on Metcalf or begin the massive firesale they are expected to go through.
When you look at how the WR market took off this season, you may see the Seahawks try to push a bit harder to get a deal done, or at the very least push harder to find a trade partner. When you look at the production Metcalf has given the Seahawks the past three years, you have to think the five-year 130 million dollar deal he is looking for is worth every penny.
Considering that the Bears will have nearly 100 million dollars in cap space next year, they will have plenty of money to spend, and it would be wise to use some of that cash on Metcalf. This is a situation that Bears fans should monitor because No. 1 WRs don't come around too often. When they do, it is imperative that you take a chance on one of them, and the Bears would knock it out of the park if this becomes a reality.