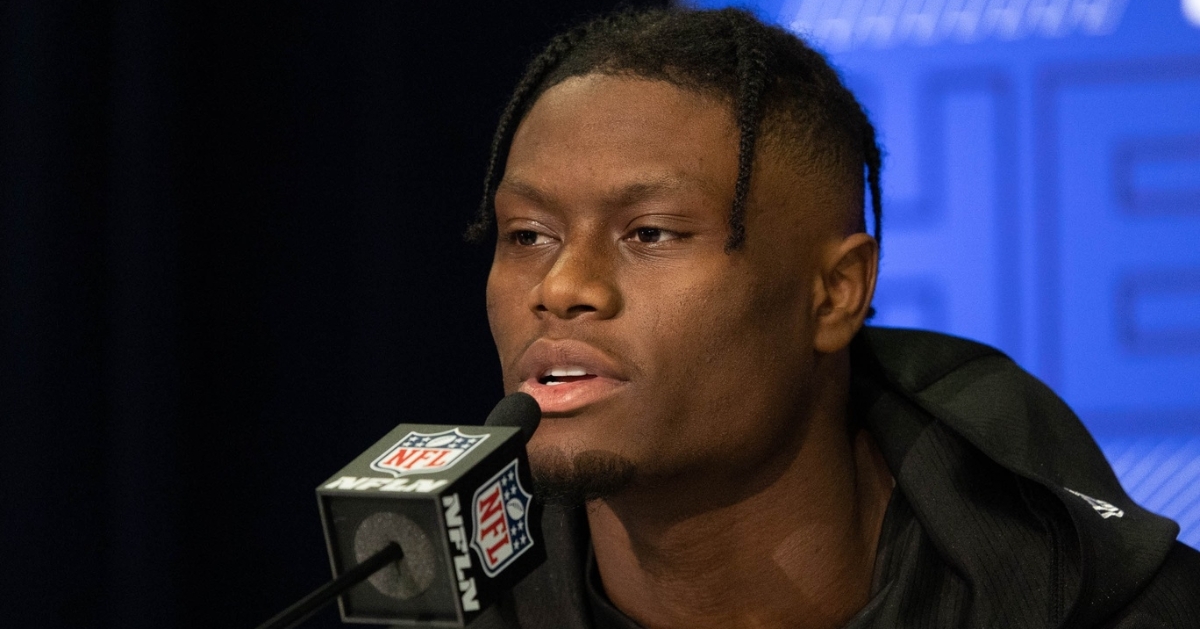 | | |
| --- | --- |
| Bears News: Draft Prospect Profile: George Pickens | |
---
| | | |
| --- | --- | --- |
| Friday, March 4, 2022, 8:10 AM | | |
The past three seasons have seen three different College Football National Champions hailing from the SEC. Another similarity between those three teams was that they were loaded with talent at virtually every position and proved why they were the No. 1 team in the land.
It all started with the Joe Burrow-led LSU Tigers and that historic offensive season they put up in 2019. One year later, a stacked Alabama team virtually had no holes. Looking to repeat this season, Alabama came up short as they were topped by a Georgia Bulldog team that most people felt was the best team since day one.
That Bulldog team was known for their defense, but don't get it twisted. They had a ton of talent all over the place, especially on the offensive end. Although not the same level of standout stars like on defense, Georgia had plenty of playmakers, the Bears would love to have, including WR George Pickens. With the NFL Combine going on this week, Chicago executives should watch Pickens and what he can bring to the table.
Even though the organizational reset is a good thing for the organization, Ryan Pace left this team in a tough spot as they have 35 pending free agents this offseason. Although that will help the salary cap situation by opening up more money, you have to wonder what moves the Bears will make and who will be out the door.
For every player not retained, an opening is created, and some of those openings need to be filled via the draft. With Allen Robinson a sure bet to hit the Free Agent market, the Bears need a new WR to pair alongside Darnell Mooney, and Pickens could be another young and valuable option to have. Looking at the combine this weekend, you will notice that the WR position is loaded with talent as 40 players are in attendance.
Pickens may not be the best in that group, but he is a top-five caliber WR and someone who could easily be had in the second or third round, depending on how the dominos fall. Although mock drafts have him landing all over the board, the 6-3 200 Pickens comes with a ton of potential, and for a good reason. Not only does his size make him an ideal No. 1 target, but his big-play ability is second to none and something this offense has missed in terms of overall consistency.
Pickens was on a mission as a freshman, hauling in 49 passes for 727 yards and eight touchdowns. He then went on to bring in seven receptions for 135 yards and a score in the Peach bowl later that season. His sophomore season was cut short due to a torn ACL, which kept him sidelined until March 2021. Hoping for a breakout 2021 season, Pickens did more than deliver.
Although he may not be the team's No.1 option, Pickens had a great season and made several massive plays in the National Championship game. Because of that, he projects to land in the sweet spot for the Draft, which has him going off the board in round 2. As things sit right now, most draft boards have him ranked between the No. 6 and No. 9 WR prospect, but he still has plenty of time to climb those rankings.
Pickens feels like he is better than that, but he is eager to show everyone he is a first-round talent and is confident when it comes to doing just that. Confidence is part of the NFL landscape, so having a player have this much confidence early is always a huge plus. Not only are the Bears looking for a No. 1 WR, but keeping tabs on Pickens would be wise.
His rare mix of size, speed, skill, and swag make him an ideal No. 1 WR in the making. He reminds me of Alshon Jeffery, who had a great few years with the Bears. Hopefully, if this does come to fruition, Chicago does the smart thing to make this happen.