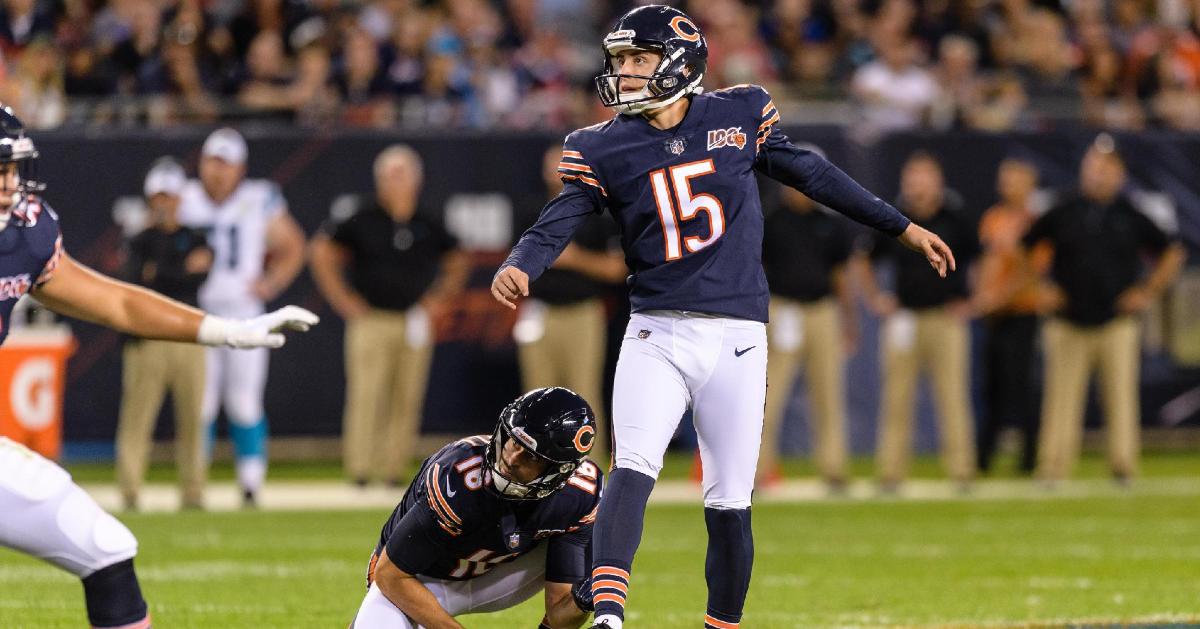 | | |
| --- | --- |
| Eddy Pinero beats out Fry for kicking duties for Bears | |
---
| | | |
| --- | --- | --- |
| Monday, August 19, 2019, 12:31 PM | | |
It only took two weeks into the preseason, but the Bears appear to know who their kicker is going forward. After a miss against the New York Giants during Friday's preseason game, Elliott Fry saw his name on the cut list as the Bears elected to go with Eddy Pinero to enter the season as the team's new placekicker.
After what looked like an even competition through two weeks of training camp practices, it appeared Fry had the early advantage after outperforming Pinero in week one. That all changed this week as Pinero rebounded with a perfect 2-2 night with makes of 41 and 27 yards while Fry missed his only FG attempt. That left Fry 1-2 on FG and 2-2 on extra points through the teams first two games while Pinero was 3-4 on his FG attempts.
That appeared to be enough for Matt Nagy and his staff to see as he made the decision Sunday afternoon to let Fry go and proceed with Pinero as his full-time kicker moving forward. Nagy credits the effort they put in during this process and admits that it was not an easy decision as both kickers turned in better performances than what they showed during OTA's. In the end, after meeting with all the ones in charge, Nagy felt the most comfortable with Pinero moving forward, announcing his decision on Sunday.
With many people expecting this battle to last until the final week of the preseason, why did Nagy decide to make this decision now? After the team felt Pinero had been not only the better of the two kickers but more consistent of the two, they wanted to give Pinero a chance to prove he deserves to have the job for the remainder of the preseason tenure.
With two weeks left until the regular-season opener, Pinero no longer is looking over his shoulder and can focus on making his kicks each day. Should things go drastically south from now until then, the Bears will not hesitate to pull the plug and search the waiver wire as Chicago is in win-now mode for the first time in over a decade. This will be the first time since the Bears traded for Pinero on May 7th that he will be the lone kicker on the roster.
Since Pinero missed his first try of the preseason from 48 yards out, he has made his last three from distances of 23, 27, and 41 yards. While both kickers missed one try each during their preseason contests, the overall body of work and consistency Pinero displayed during the team's practices helped him win the job over Fry as he has shown more potential to display consistency.
While Pinero has defeated Fry for the job, for now, it is important to note that Pinero has not earned the kicking job outright, however, as the Bears could still bring in another kicker ahead of the teams Season opener with Green Bay on Sept. 5. Pinero knows that but is ready to showcase he deserves the starting position especially after what happened to him with Oakland just a season ago.
After entering the league as an undrafted free agent, Pinero appeared to be in line to beat out Mike Nugent for the Raiders job out of camp after going 3-3 with makes of 21, 45, and 48 yards in his only appearance during the preseason. However, Pinero's season was derailed shortly after as a groin injury landed him on the teams' injured reserve list ending his season.
Pinero is the most accurate kicker in the University of Florida's program history connecting on 88.4% (38-43) field goal tries with a long of 54 yards. Pinero also made 19 of his last 20 kicks in college including his final 16 which is something the Bears could use going forward in 2019. After his game against the Giants on Friday, Pinero told reporters that he wanted more chances to kick. Well, wish granted.
Pinero now has a chance to kick every extra point and field goal for the Bears moving forward but is not declaring victory just yet. "Honestly, it doesn't change anything," said Pineiro recently to the media. "Still have to make kicks. If I don't make kicks, I'm going to be gone like everybody else."
Even though Pinero knew he was competing with Fry for the starting job, Pinero considered the two great friends as they spent most of the summer alternating on kicks and chatting on the sidelines. Pinero certainly feels for his former teammate Fry but knows Elliot will find work soon.
The rookie kicker certainly has come a long way since OTA's when he underwhelmed the staff but isn't finished working just because he was tabbed the winner of this competition. It is time to focus on taking every rep during practices and games to give the Bears a sense of security that this was the right decision for the organization moving forward.