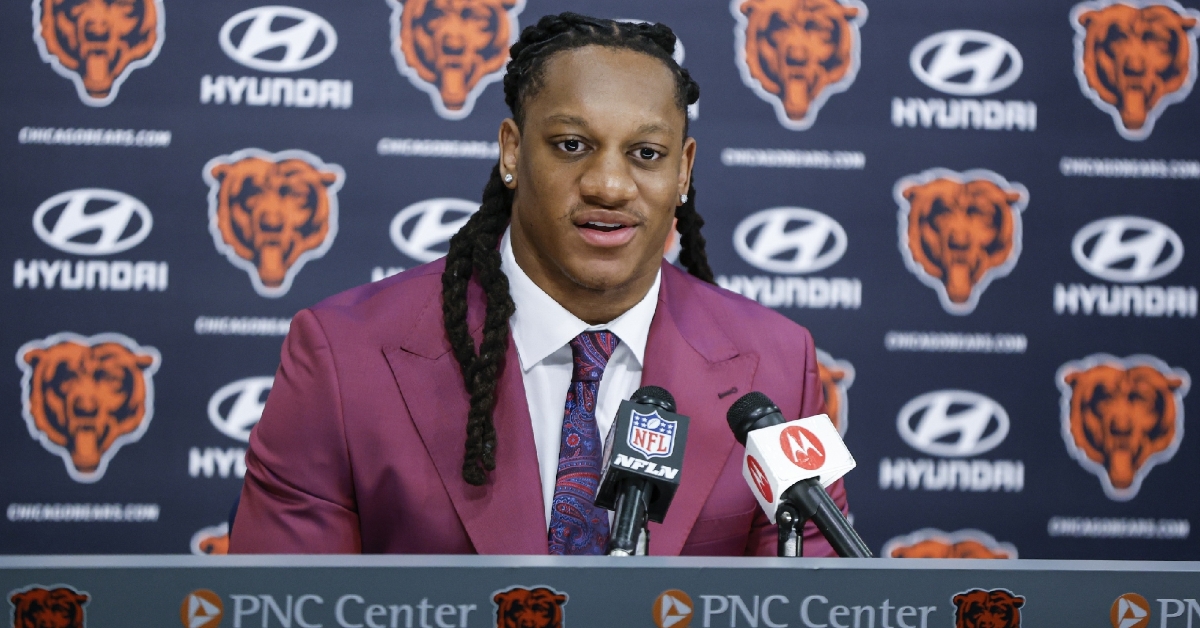 | | |
| --- | --- |
| Edmunds talks Bears' offense, developing as a leader | |
---
CHICAGO - Speaking with the media following the second day of Organized Team Activities (OTAs), Chicago's new linebacker Tremaine Edmunds discussed what he's seen out of quarterback Justin Fields, new receiver DJ Moore and the rest of the Bears' offense.
"Tremendous athlete. You know, (Fields's) a lot bigger than I thought he was," Edmunds explained. "But, obviously, I played against him last year but seeing him every day, hard worker, leader. You can see that he makes guys around him better, and just, he leads from the front."
Fields is entering his third season with the Bears. While his rookie season was not as productive, following a head coach and general manager change, Fields made positive strides in the right direction last season, and players coming into Chicago like Edmunds are witnessing his progress.
Further, the third-year quarterback is developing as a leader on the team.
"His work obviously speaks for itself, and just seeing him go out there every day, growing, developing and spreading the ball around and just his thinking," Edmunds said. "With his leadership and the way that he leads and his playmaking ability, it's something to be excited for sure."
Part of what was holding the entire offense back was a lack of a playmaker at wide receiver. While Darnell Mooney is a solid receiver, he tore his ACL in the latter part of the season and missed the last five games. The other receivers on the team also encountered injury issues.
But, with DJ Moore, this is something that should improve. Moore has solid speed, coming in with a 4.42 40-yard dash time back at the NFL Combine in 2018. He is also the most experienced receiver currently starting on the team.
"You feel the speed. You feel how he (runs) routes," Edmunds said. "You can just see all that type of stuff, his ability to get open. I mean, all the top traits that you look for in a receiver, you see it in him. So, to have a guy like that just makes you excited."
Of course, Edmunds himself is also an elite prospect who general manager Ryan Poles successfully added to the Monsters of the Midway, who are trying to return to their former glory. With his four-year, $72 million contract, Edmunds will be in Chicago for the next few seasons at least.
He has already established himself as a team player who wants to share his knowledge with the rest of the team.
"I'm being myself … I've been fortunate enough to, you know, go through this thing now. This is my sixth year," Edmunds stated. "Each year I'm continuing to learn about more and more every year and every step, and I think that's what leadership is. You know, I'm not the type of guy (who thinks I know everything). You got to learn from other guys."
In total, the Bears added 12 players through free agency - six of them, including Edmunds, were defensive players. The other five were defensive linemen Rasheem Green, Andrew Billings, and DeMarcus Walker, and linebackers Dylan Cole and TJ Edwards.
As a leader, Edmunds is telling these players and the rest of the defense to let their personalities show.
"Guys can let their personalities out. You know, I tell guys every day, 'Let your personality out, man, because that's what got you here. So there's no need to change up now,'" Edmunds explained. "But, you know, obviously everybody is dependent on one another out here, so at the same time, while I'm saying that stuff, everybody understands that the responsibility is to be great, to be a great defense, you know, to be top of the league. So, it's just developing that every day, man, and meshing with one another and, you know, building that chemistry that, you know, every good team, every good defense, has."
Part of the excitement in coming to Chicago is also having a coach like Matt Eberflus. He is a defensive-minded coach, starting his coaching career as an outside linebackers coach with Toledo in 1994. He held that position until becoming their defensive backs coach in 1999. In 2001, he became the defensive coordinator for Missouri.
That was his last job in college football before transitioning into the NFL where he went back to coaching linebackers for the Cleveland Browns, followed by the Dallas Cowboys. He served as defensive coordinator for the Indianapolis Colts from 2018 to 2021 before becoming the head coach of the Bears. In summary, he's had a long and successful career giving defensive players, particularly linebackers, playmaking opportunities.
That is something that makes Edmunds really excited to be in Chicago.
"I'm excited just because I feel like I'm going to be in a position to make a lot of plays and, you know, just (head coach Matt Eberflus's) background on defense," Edmunds said. "He has a great understanding of it, you know, just putting guys in position. As a player, that's all you can really ask for - to be in a position. Now, it's up to me to make that play. So, I'm just excited about, you know, what's to come."
Upgrade Your Account
Unlock premium boards and exclusive features (e.g. ad-free) by upgrading your account today.
Upgrade Now