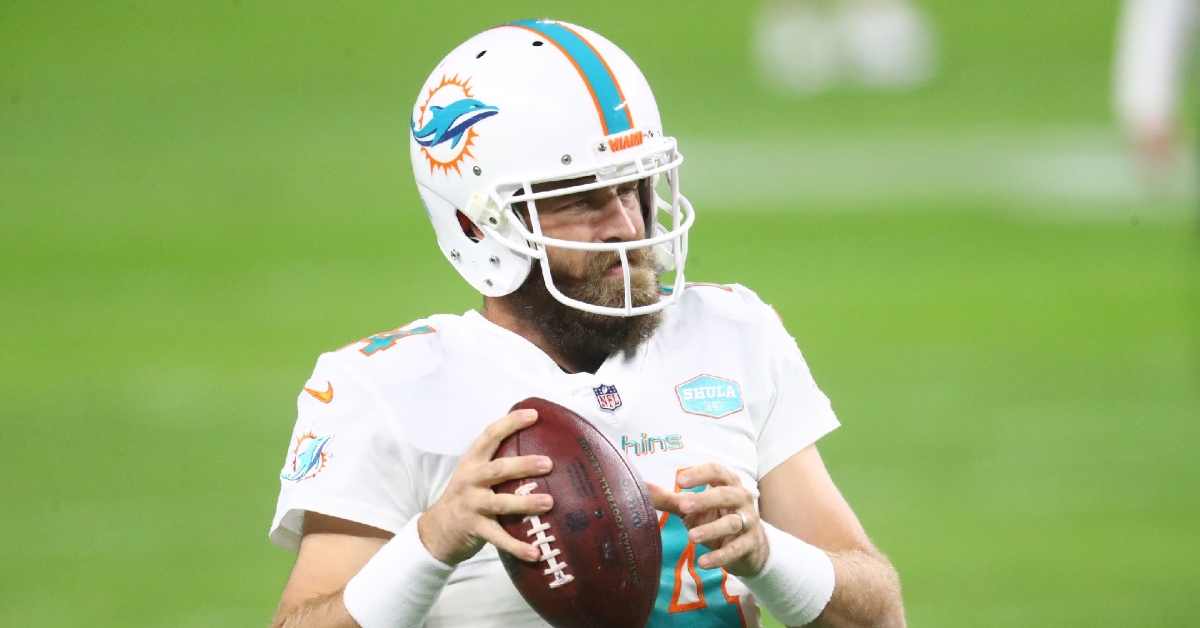 | | |
| --- | --- |
| Former Bears Pro-Bowler wants Ryan Fitzpatrick in Chicago | |
---
| | | |
| --- | --- | --- |
| Tuesday, January 5, 2021, 12:24 PM | | |
As we get set for an unprecedented Super Wild Card weekend, fans should be excited to see their Chicago Bears in the postseason. Despite an 8-8 record, changing the quarterback not once but three times, losing six-straight after a 5-1 start, and needing help from Arizona the final two weeks, Chicago managed to do just enough to get the final spot in the expanded field this season.
After Aaron Rodgers lit up the Bears defense, Chicago now travels to the Superdome to take on Drew Brees, who could be entering the final few games of his career. This is no easy task for the Bears or any team for that matter, but keep in mind Chicago played New Orleans to overtime earlier this season with Nick Foles as the starter.
With Trubisky a free agent at the end of the season and Foles future in doubt after his play this year, Chicago will be faced with a difficult question this offseason. That question remains who the quarterback will be next year. Should Trubisky go into New Orleans and pick up a win, he would earn himself another year under center with the Bears. Even with a loss, Trubisky was 6-3 as a starter this season and got much more comfortable as the season went on, so realistically, he may have done enough to earn one more shot.
However, if you ask most fans, experts, and even former players, they are still not sold on him or his ability to lead this team long term. Lance Briggs especially feels that Trubisky isn't the answer and that the Bears need to look in a different direction. The team has indicated that they won't talk about Trubisky's future until the season is over, and given Foles contract would make him difficult to move. No team will trade for him, and should the Bears cut him; they are eating into an already tight cap.
What options does that leave the Bears?
There are many quarterbacks in this year's draft for starters who could make a difference. The problem is what round Chicago would target one. They won't be in a position to get one of the elite guys in the first round but could end up with quality talent in the second or third round, even if they must sit for a season. Should that be the case, would the Bears be subject to starting Nick Foles for one season and use him as a bridge QB.
A Bridge quarterback isn't a bad idea, but Lance Briggs has another idea for Chicago that isn't Foles or Trubisky. In a conversation with Football Aftershow, Briggs gave his thoughts on what the Bears should do next season at the quarterback position.
"I think you should go and get Ryan FitzMagic," Briggs said via NBC Sports Chicago. "He's a high risk, high reward guy, but he tends to be high reward early. He can come in and move the offense. He's vetted. He went to Harvard, so you know he's smart. There's a lot of things. He's got a lot of intangibles."
You heard and read that right, Briggs wants the Bears to bring in Ryan Fitzpatrick despite him approaching his age 39 season. The quote says it perfectly. He is a high risk, high reward type of player. The high-risk side of things is his age and inconsistent play for the most part. However, the high reward side of things is what we saw with Miami this year.
Playing in a two quarterback system with Tua Tagoviola, Fitzpatrick showed a lot of success. Two weeks ago, against the Raiders, Fitzpatrick entered the game in the second half with the Dolphins season on the line and played perhaps the greatest two-quarters of his 16-year career. Had he not tested positive for COVID this week, he gets a great chance in that game against Buffalo.
Fitzpatrick is a veteran who is no stranger to being a bridge quarterback. He has done that this season with Miami and could do it again with Chicago. Granted, the Dolphins were 6-3 with Tua starting as opposed to 4-3 with Fitzpatrick starting, but he has looked like the better quarterback in Miami all season.
Fitzpatrick threw for 2091 yards on 7.8 yards per attempt in limited action and or relief action this season. He also had a career-high 68.5 % completion percentage to go with a 95.6 QBR, which is also a career-best. All those numbers were better than what either Foles or Trubisky put up this season.
While most would shy away from this signing giving his age, Briggs didn't flinch, mentioning several other aging quarterbacks. Guys like Tom Brady, Drew Brees, Phillip Rivers, and Ben Roethlisberger are all similar in age to Fitzpatrick and are still putting up great numbers. The difference those guys mentioned have way more weapons to throw, so Fitzpatrick continues to show he can play.
Fitzpatrick is certainly not a long-term solution, but he is undoubtedly the perfect option to have if you are looking to mold a rookie quarterback. He is a team-first veteran guy who has done it all in 16 years. The only thing missing from his resume is a playoff appearance, which he came so close to checking off this season.
Who knows, bring him to Chicago, and maybe he can make the postseason with Chicago.