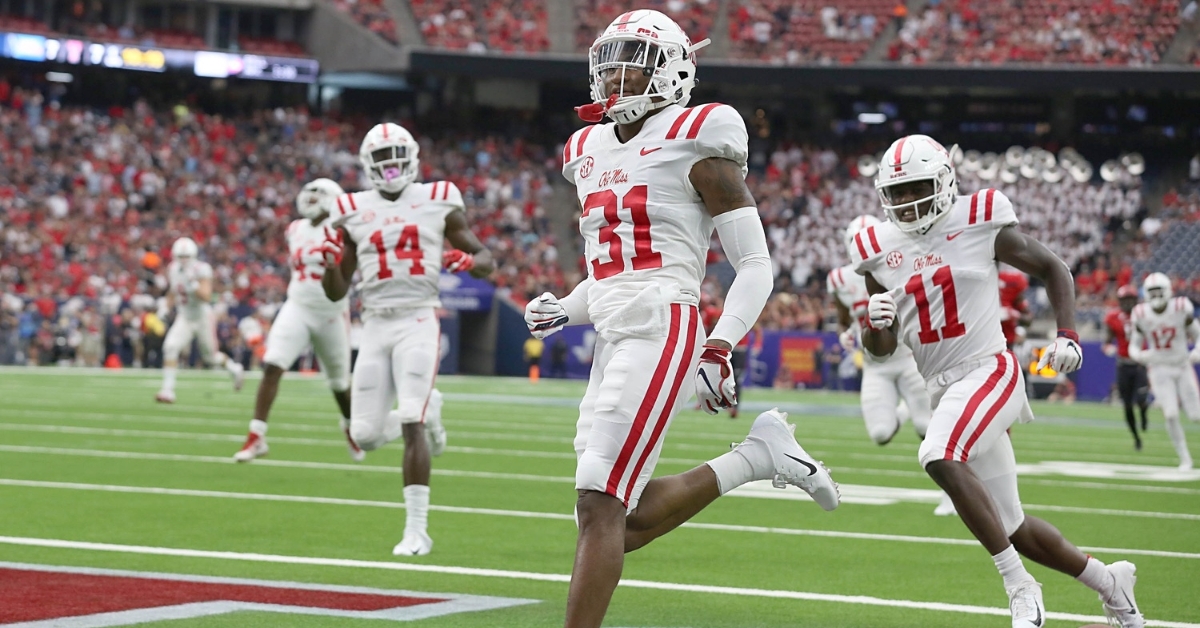 | | |
| --- | --- |
| Getting to Know: Bears DB Jaylon Jones | |
---
| | | |
| --- | --- | --- |
| Wednesday, May 25, 2022, 8:52 AM | | |
Just when you thought the Bear didn't focus on the secondary enough during the NFL draft. After inking a pair of defensive backs in the second round, the Chicago Bears continued to scour the market. They added more defensive back help via the undrafted free agent market.
Allie Green was discussed yesterday, and today we stay in the SEC, where Jaylon Jones is the next undrafted free agent we will discuss. The 5-11 200-pound former Ole Miss product is a defensive back who can play safety or one of the corner positions. He is coming off a season where he had just 17 tackles and one interception, but there is plenty to build off of his senior campaign.
Primarily a cornerback for the Rebels, Jones may be one of the more intriguing options when it comes to the undrafted free agent class, right up there with Jack Sanborn and Landon Lenoir. Getting on the field is hard enough as a freshman, but making the impact he made is nearly impossible as he earned SEC All-Freshman honors in 2016.
He continued to build off that strong showing in 2017, but a season-opening injury in 2018 not only forced him to miss the rest of that season, but it also earned him an extra year of eligibility by choosing to medical redshirt that year. 2019 was a similar story for Jones as he was in and out of the lineup with various injuries.
The same can be said about 2020, as an upper-body injury prematurely ended that season, but he was able to return in 2021 and show what he could do. While his injury history is undoubtedly a concern, when healthy, he is someone who can make plays which is what the Bears desperately needed in their secondary a season ago.
Across his 46 games played in college, Jones recorded 152 tackles, with 111 coming as solo tackles. He also registered 6.5 tackles for a loss, as he showed he could be a menace when it comes to stopping the run. Although he only came away with one career interception, Jones made up for it by coming away with 18 pass breakups and several forced fumbles.
His injury history was one of the reasons why he didn't get invited to the NFL combine, but he was able to work out at his pro day, which was huge for him. Injury history aside, Jones performed well at his pro day, and several teams liked what they saw, as did the scouts who felt he could be a sixth-round option.
Jones has drawn a ton of comparisons to the current Chicago Bear Kindle Vildor as they are nearly identical in both height and weight. Jones is also one of the more explosive athletes among any draft positions, which is a huge get for this Bears defense. Comparing both Vildor and Jones again, Jones is the much better athlete in virtually every testable category.
Despite that, it doesn't mean he will be starting at any point this season, nor does it mean he even has a spot on this team. However, this does give him a better chance than most in his position of making the team, as his athleticism will carry him further than most.
Jones has SEC experience, which is about as good of college experience as you can have. He also has that injury history that is holding him back. Keep an eye on Jones, and if he can stay healthy now, that big money is on the line. He could make a great addition to the secondary and could quietly be one of those undrafted players turned stars that you sometimes hear about.