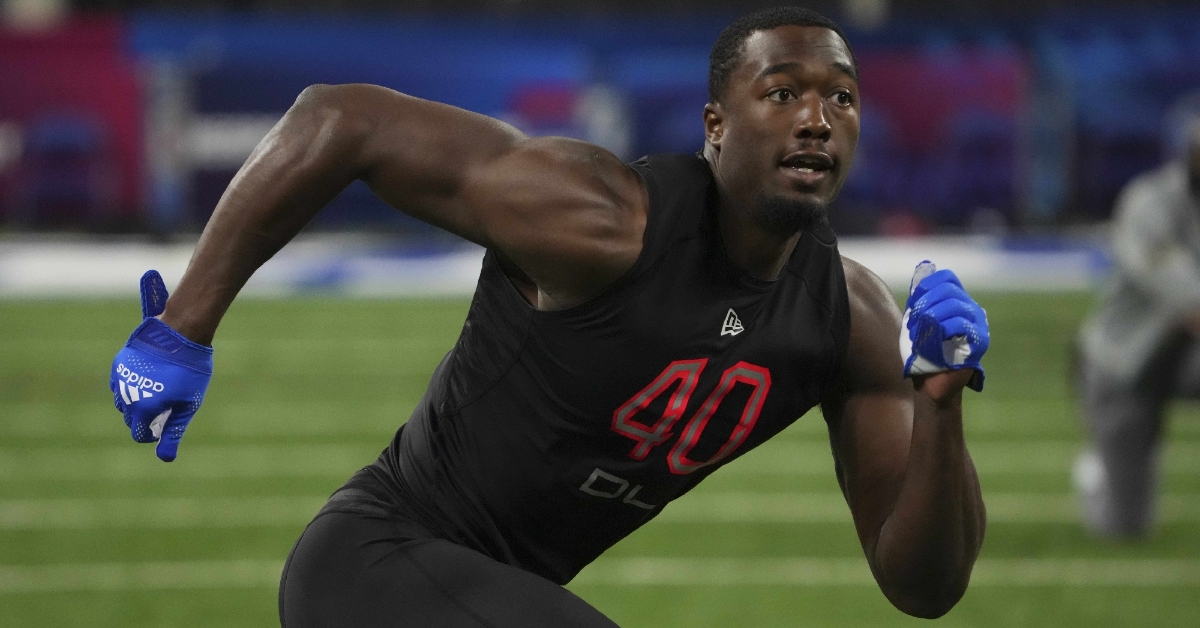 | | |
| --- | --- |
| Getting to Know: Bears DE Dominique Robinson | |
---
Not only did the Bears make one trade to get into the fifth round of the 2022 NFL draft, but they traded again with Cincinnati to gain a second pick in the fifth round. This was something the Bears did a lot of during day three as they went from having six picks at the start of the draft to finishing with 11.
After using their first pick in the fifth round on the offensive line, the Bears returned to the defense to address the EDGE rush position and took Dominique Robinson out of the University of Miami (OH). Listed as a third or fourth-round talent, the 6-5 253-pound Robinson slipped to the fifth round, and now the Bears have a chance to strike gold with him.
Comparable to Whitney Mercilus, who went on to have a great career, Robinson has a chance to make this team and be given an opportunity to contribute in specific packages right away. Once a solid QB in high school, Robinson signed as a WR out of high school and had 156 yards receiving and four scores as a freshman.
It wasn't until the 2019 season when he made the move to defense, and the rest is history. 2020 was supposed to be a breakout year for him, but after COVID shortened their season, Robinson settled for just 2.5 sacks that season. One year later, things were back to normal, and that is when Robinson flashed his true potential.
Despite not starting a single game this season, he was a blossoming talent that tallied 29 tackles, 8.5 TFL, and 4.5 sacks. That production earned him third-team MAC honors, and you have to wonder what he could have done had he started even a handful of games.
Given the athleticism from being a QB and WR, Robinson has all the intangibles to be a reliable player who could have an impact career in either the 3-4 or 4-3 system. Despite making zero starts and having limited experience at the EDGE position, Robinson showed plenty of potential, and that is what the Bears are banking on at this point.
He's quick off the snap, using plus fluidity, athleticism, and bend to trim the edge and assail the pocket. However, he needs additional moves and counters before he's ready to beat pro tackles. He must get stronger and more technically sound in run support. Aligning as a stand-up rush linebacker might help expand his range as a playmaker in space. Robinson projects as an unpolished gem with a high ceiling and stable floor.
Whenever you draft someone, you always try and find what stands out over others in the same position. For Robinson, his previous offensive skill set allows him to be more explosive than many realize. That gives him an edge against slower offensive linemen, which is huge at the next level.
With less than two years of defensive experience, most scouts expected him to be raw and unpolished, but Robinson showed he was more natural than anything. Not only is he quick, but his ability to suddenly change directions torments offensive lineman as they are not quick enough to recover. He is fluid in space, knows how to attack the B-Gap, halts runners in the backfield, and is just a tough guy for blockers to contain.
Given all those strengths, you have to wonder why he fell so far, especially when he graded as a third-round option. For starters, his lack of experience mixed with the NFL speed and experience could alter his growth as a player. Teams that run downhill will challenge him early as he must learn how to take on multiple blockers.
He also has limited go-to moves at this stage, so if a team knows his go-to move, they take it away from him, forcing him to do things he isn't comfortable with. Robinson also trusts his athleticism too much, which often sees him overpursue a QB or ball carrier.
Even with all that, Robinson is a raw talent with plenty of attributes the Bears love. He is not someone who will start right away, but he will push for playing time. If given a chance, he is someone who can produce and could be one of those late-round surprises this season.