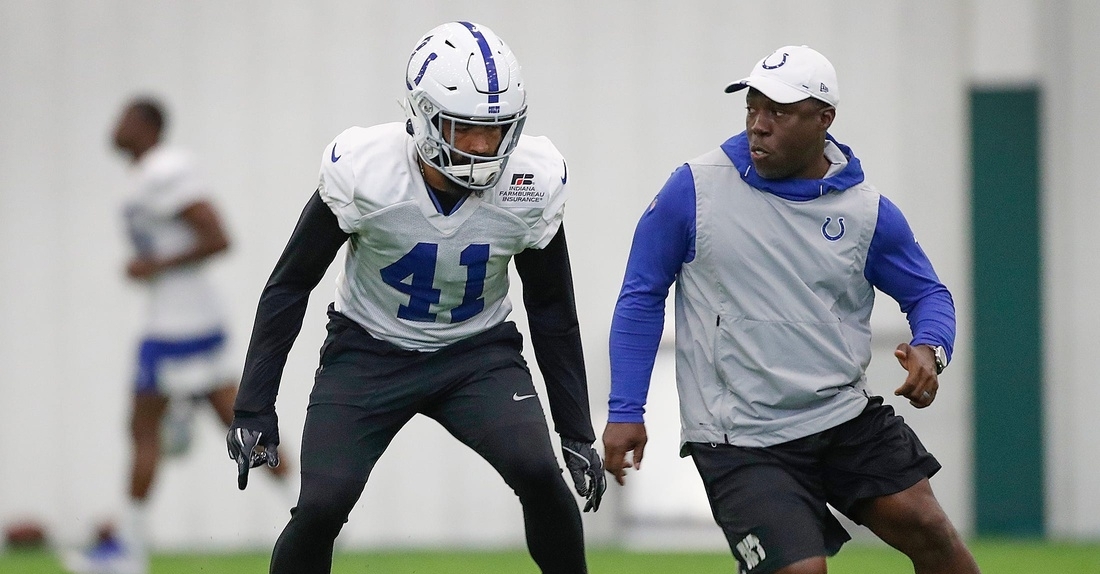 | | |
| --- | --- |
| Getting to Know: Bears defensive coordinator Alan Williams | |
---
| | | |
| --- | --- | --- |
| Thursday, February 3, 2022, 12:00 PM | | |
It has been less than a week since the Bears hired their new head coach, and now things are starting to take shape on the coaching staff. We have seen Joe Berry and Luke Getsy added to the offensive side of the ball, but now Matt Eberflus is bringing in a familiar face to coach up the defensive side of the ball. That man is his former college with the Indianapolis Colts in Alan Williams.
The former defensive backs coach of the Colts coached with Eberflus the past few seasons and is very familiar with how his defenses work. Since Eberflus was hired, fans heard Williams name thrown around as a possible coaching hire from the Colts staff. Obviously, he respects Eberflus enough to leave the Colts and come aboard as the Bears defense will once again have a brand new look next season.
These two have been coaching together the past four seasons, but Williams has plenty more experience than that. At 52 years old, Williams already has nearly 30 years of coaching experience under his belt, which is a ton of experience for a guy his age. Since the day he graduated college, Williams has been circling the NFL landscape, and that type of experience is hard to find at any level.
20 of his 29 years of experience has come at the NFL level, so he has seen plenty of different offensive looks over the years and knows a thing or two about what he is doing. Williams has had stops with the Buccaneers (2001), Colts (2002-2011), Vikings (2012-13), Lions (2014-17), and then the Colts again, where he has been since 2018.
Not only does Williams bring plenty of familiarity with him after working with Eberflus the last few seasons, but his extensive amount of work experience is hard to find, which makes him an ideal candidate to call defensive plays for the first time. Most of his coaching background hovers around defensive backs, and that is an area that the Bears struggled with at times last season, so maybe Williams can help that group improve.
Given that the defense will be having their third defensive coordinator in as many seasons, it will be interesting to see how Williams handles things and organizes that unit. There is plenty of talent on that side of the ball, but a lot of that talent is aging or underperforming, so perhaps he can save some face with them. This is also his second stint as a defensive coordinator, previously holding that position with the Vikings. Leslie Frazier was calling the defensive plays those seasons, so this will be his first crack at calling his plays on defense.
The most refreshing thing to take away from these recent hires is that Eberflus has said Getsy will call plays on offense while Williams will call plays on defense. That means that each side of the ball will have its own coach leaving the head coach to oversee things and trust his staff. Trust is crucial for any first-year head coach, and the Bears know all too well that if you can't trust your staff, for example, Matt Nagy, your results will not be there no matter how talented you are.
The Bears defense has been the team's strong suit for a long time, but things haven't been as good over the past few seasons. After Vic Fangio orchestrated the No. 1 defense in 2018, he left to take the Denver Broncos job turning things over to Chuck Pagano. There were moments when the Pagano-led defense lived up to that billing, but there were also times when they took a step back, which is why Sean Desai filled in last season.
The first-time defensive coordinator did a great job last season, but he will not be around on this new staff, so now it is up to Williams to get this defense back to that elite status. If the Bears want to take over the NFC North and not give it back, this first-year coaching staff needs to come together in a hurry.
Sure, there will be bumps along the way, but Eberflus has done an impressive job putting together a great staff that will bring plenty of experience with them. Things are looking up for Bears fans, and the sooner the season starts, the sooner fans will have the same excitement they have been waiting for.