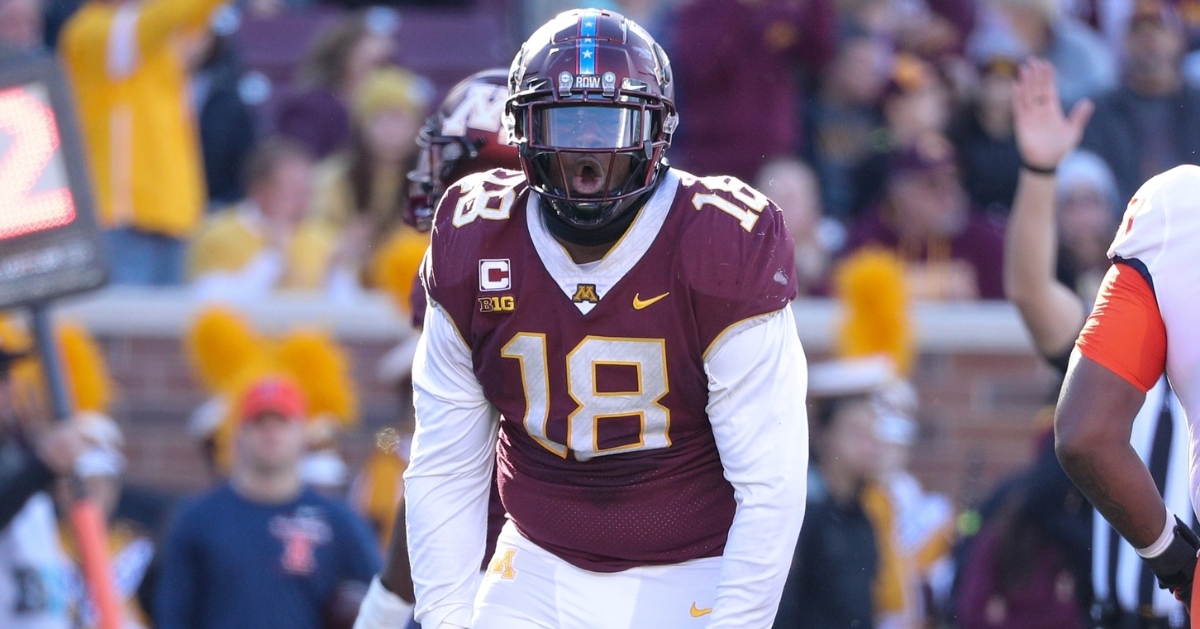 | | |
| --- | --- |
| Getting to Know: Bears DL Micah Dew-Treadway | |
---
| | | |
| --- | --- | --- |
| Tuesday, June 7, 2022, 10:11 AM | | |
We have reached the final new addition to the Bears roster among rookies with the conclusion of the undrafted portion of the roster. While it has been noted that the Bears did an excellent job adding undrafted free agents to this roster, 90 percent of them will not make the team, but it is still good to have extra bodies in camp.
The ones with the best shot at making this team are on the offensive side of the ball, while there are some intriguing options on defense. Micah Dew-Tredway is one of those intriguing options as he will look to impress the Chicago Bears this summer during training camp.
The 6-4 308 pound Treadway hails from the University of Minnesota and will look to bring some much-needed depth to the Bears defensive line. Initially a Notre Dame recruit, Treadway saw very little playing time in his first two collegiate seasons and transferred to Minnesota.
Once he arrived in Minneapolis, Treadway continued to struggle to get consistent playing time, but once he did see the field, he often performed pretty well. Across his three years in Maroon and Yellow, Tredway saw action in 25 games, making 39 tackles. Seven tackles came as tackles for a loss, while he added 1.5 sacks. Treadway also knocked down two passes and forced two fumbles, so you can see some of what he brings to the table.
As mentioned above, this guy had plenty of potential, but never had a real opportunity to start. The fact that he signed with the Bears and Chicago is keeping him long enough leads me to believe that Matt Eberflus and company see something in him that others don't, and they may want to see what he can do in a camp situation.
When you look at his overall size, you can see that he is the perfect size for a DL spot, even as a role player or specific package design scenario. One of the things that he has going for him when it comes to his size is the quick first step that he has off the snap, which allows him to be explosive off the snap.
Treadway plays with good lean, keeps his feet moving, and works hard to make plays. He does a great job changing directions and knows how to get down the line when pursuing a ball carrier. It will take hard work to make this team, but given what the Bears see on film, it looks like they are willing to see what he can do.
Given that he had minimal playing time across four years in college, you would think that has to be somewhat of a concern, as does a lot of his overall game. Treadway is someone who often gets out of his stance too quickly, and when that happens, he becomes an easy target.
Despite having that explosive first step, he rarely gets penetration if he does not get the first step on opponents. That will go well in the NFL, especially when you look at how quick the league is. Treadway also must improve his fundamentals to make him a better player in the long run.
Treadway flashed ability the past several seasons and has a next-level body. However, he will have no future at the next level unless he learns to play with leverage consistently. Playing with potential and playing to potential are two different things.
From a potential side of things, there is no question that Treadway has potential and puts that on display quite frequently. However, unless he can do that consistently, he will have a short NFL career, if an NFL career at all.