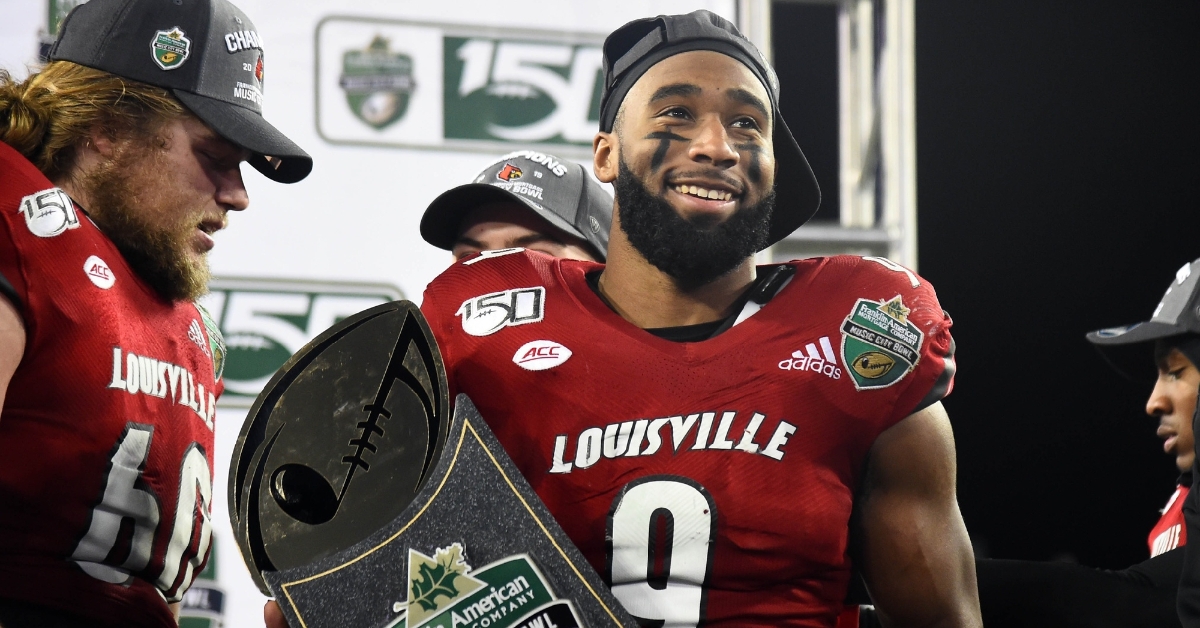 | | |
| --- | --- |
| Getting to Know: Bears LB C.J. Avery | |
---
| | | |
| --- | --- | --- |
| Thursday, June 2, 2022, 11:32 AM | | |
If the Bears are looking at their undrafted free agent class with hopes of finding a diamond in the rough, they sure have plenty to choose from. What started with 16 signings is down to 15 as Master Teague was let go within a week after signing.
Those other 15 players, however, are still with the team and, from all accounts, are going to get every opportunity to not only showcase their skills at rookie camp, but may have a chance in training camp. Ryan Poles made it a point to focus on defense first in the NFL draft, while the Bears' undrafted player pool was heavily invested on the offensive end.
That doesn't mean there weren't any good defensive players left, as Jack Sanborn was a great chance to make this team. Apart from Sanborn, there may not be a player capable of producing at an NFL level, but C.J. Avery out of Louisville is undoubtedly going to try.
At 5-11 and 227 pounds, Avery is tiny for a LB, which is something you see a lot at the collegiate level from lots of programs. Small or not, that doesn't take away from the job he did on the Cardinals defensive side of the ball, as he found himself contributing as a freshman and only got better each season.
Across his five-year career, Avery saw action in 54 games, with a large majority of those games coming as starts. Avery was known as a tackling machine during that time as he accumulated 349 total tackles. 199 of them came via solo tackles, with the rest of them coming as assisted tackles. Regardless, Avery had a knack for always being around the ball, and that is something that the Bears will love about him.
Along with constantly taking down ball carriers, Avery is also very athletic and didn't hesitate to put that on display. Along with all those tackles, Avery logged 20 tackles for a loss, including a career-high 6.5 in 2021. He also tied his career-high in sacks this past season with three and finished with 8.5 sacks for his career.
His 16 pass breakups are outstanding for a LB, as are his four forced fumbles and two fumble recoveries. Avery also collected three career interceptions with 68 yards of returns coming from those picks, including one that he ran back 40 yards. Any way you look at it, you can't hide the numbers as his career was impressive, and now he is looking for an NFL opportunity.
While the numbers are great, what about the attributes that make him stand out. For one, he is an extremely hard-hitting LB who comes with average size and speed. That is refreshing to hear, as his lack of elite size doesn't affect his physicality on the field. Not only is he great in zone coverage, but he plays a heads-up style of football and has shown the ability to display terrific awareness on every play.
Avery gets depth on pass drops, plays off blocks, and gets to the ball handler to make the tackle in space. A heavy hitter who is quick to read and diagnose plays and remains disciplined with assignments. He sells out on the blitz and is forceful up the field.
There are not too many times when you look at an undrafted player and can make a case about them being drafted. This is one of those instances as I feel he could have been a fourth or fifth-round pick.
Everything about him fits what the Bears new regime is doing, but there are still some things about his game that he needs to work on. For starters, Avery lacks a closing burst and shows little in the way of pursuit speed. You would never guess that based on the production, but his pursuit speed will be tested in the NFL. His lack of height results in coverage mismatches as bigger TEs will often exploit him over the middle of the field.
That will be challenging to fix, but there is still plenty to work with when it comes to improving as a player. Avery is a hard-working, run-defending linebacker with size limitations. He projects on the inside of a 3-4 alignment but lacks upside potential. Either way, this was a signing worth making for Chicago, and he could potentially fill the role of reserve LB.