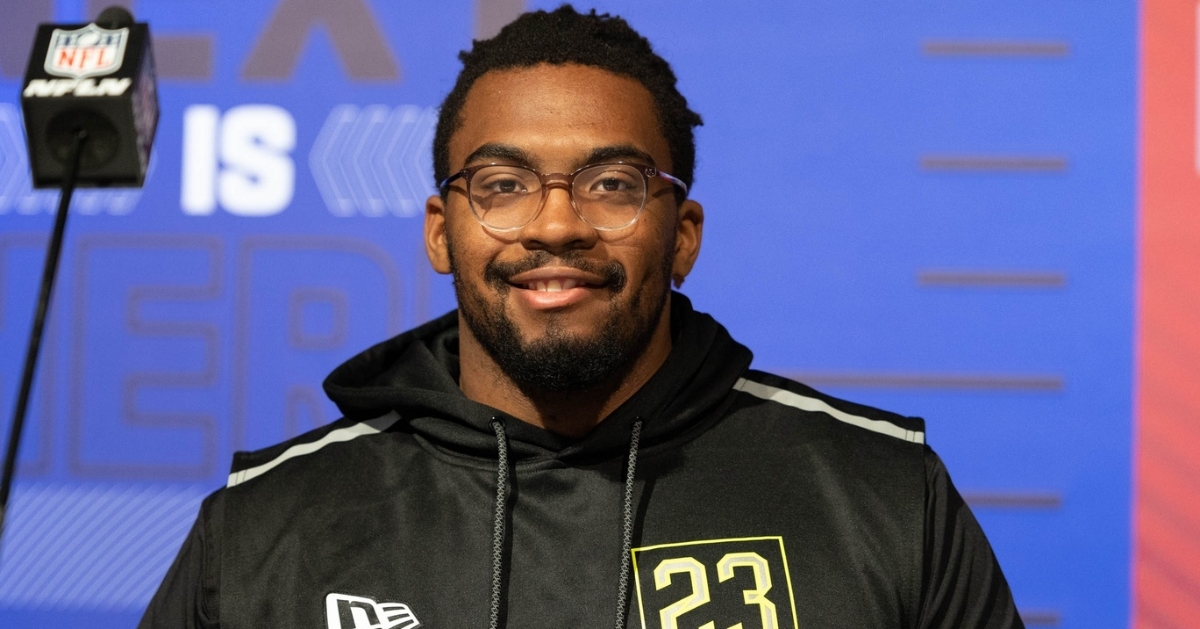 | | |
| --- | --- |
| Getting to Know: Bears OL Braxton Jones | |
---
| | | |
| --- | --- | --- |
| Thursday, May 5, 2022, 8:27 AM | | |
Adding secondary help, check, check. Adding WR help, check. Through the first three rounds of the NFL draft, the Bears addressed two of their more pressing needs and did so in style. Not only did they get one of the best pure speed guys, but they added a pair of first-round talents in that second round to help improve an aging defense.
Despite those moves, Ryan Poles still had to figure out what to do with the offensive line, which continues to be an issue for Chicago. You saw the Bears put more of an emphasis on that last season, but after another sub-par and down year, more work needs to be done.
It may have taken five rounds and a trade with Buffalo to get it done, but the Bears finally added OL help in drafting Braxton Jones with the 25th pick in the fifth round. The 6-5 310 pound redshirt senior spent his college career with Southern Utah, where he anchored the offensive line.
Although not the biggest name in the draft class, Jones did earn first-team All-Big Sky not once, but twice with both those honors coming the past two seasons. After starting all six games during their spring season, Jones was back at the tackle position where he started every game this fall.
Before earning his first-team honors the past two seasons, Jones earned second-team honors in 2019, so you can see how durable and skilled he is. One thing that scouts fell in love with when it came to Jones was that he had moments where he flat out overwhelmed his opponents. Whether that was because he played in the FCS or not will be found out soon enough, but you have to take note of that when you see it.
Even though he overmatched most of his opponents, he will need better technique at the NFL level, or he doesn't stand a chance. Despite his great quickness off of the snap, Jones is not a great run blocker as his pad level is often too high. FOr a run-first team like the Bears, that will have to change.
When you get down to day three in the draft, most of the players you are selecting are reserve-type players who are just looking for a chance. Given that Jones has enticing size, it made sense why the Bears looked his way. His run blocking may not be great, but he can explode off the snap and does a much better job keeping the QB upright in pass protection.
Jones also has a reputation for playing through or after the whistle, as he refuses to let his man get away until he is forced. When you look at his film, there are many intriguing aspects to his game, and those could come out if given a chance. However, the overall weaknesses may outweigh his strengths, and the Bears understand that.
He doesn't have the best lower body strength despite bringing great size to the table. That alone is why he is not great at run blocking because he doesn't get into the second level enough. Jones is also very lazy with his hands, and when that happens, he sometimes panics. Perhaps the biggest flaw to his game right now is containing the interior rush, as he has a tendency to lineup outside which allows defenders to beat him inside.
Like most late-round picks, there are a lot of rough edges to Jones and his game which will take some time to figure out. However, there is plenty of skill to work with, which could give the Bears a valuable reserve line option for the next several seasons.