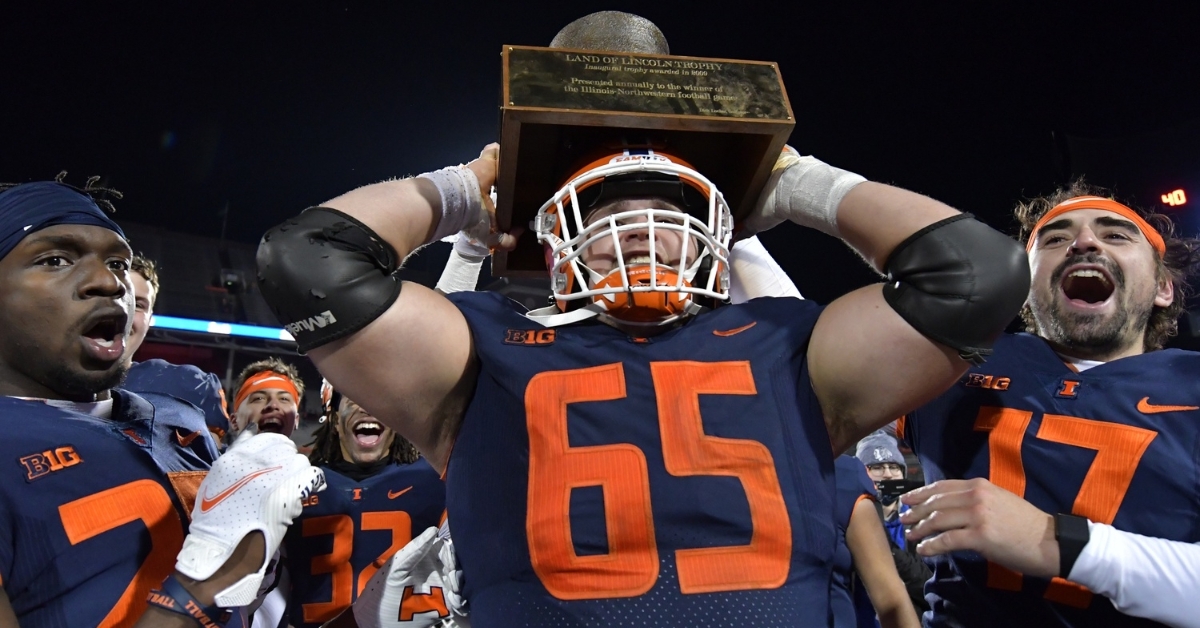 | | |
| --- | --- |
| Getting to Know: Bears OL Doug Kramer | |
---
| | | |
| --- | --- | --- |
| Wednesday, May 11, 2022, 8:54 AM | | |
Of all the offensive line positions on this team, the center position has been the least of the Bears worries the last few years. Despite that, it didn't stop Ryan Poles from taking a center in this year's class as he selected the University of Illinois center Doug Kramer in the sixth round.
In Chicago, the name Kramer rings a bell as arguably the best QB in franchise history played with that same last name. The 6-2 299-pound center is nowhere near the same level as Eric Kramer, but he is someone who will give you his all as he fights for a spot on the 53-man roster.
Going back to his freshman season under Lovie Smith in Champaign, Kramer was a factor from the beginning where he started eight games, but missed four due to injury. Over the next two seasons, Kramer was not only helping to anchor the interior part of the Offensive line, but started all 24 games while earning Honorable All-conference recognition in 2019.
That season didn't end the way he had hoped, as he missed the team's bowl game and then went on to miss three of his team's eight games in 2020, dealing with COVID early on. After electing to return for an extra season, Kramer not only earned captaincy for the third time, but once again played in all 12 games and was voted to the second-team All-Big 10.
If you like someone durable, then Kramer is your man, but he is also someone who brings tons of experience with him. A five-year starter for the Fighting Illini, Kramer is a zone-scheme center who moves reasonably well for his size. That is the type of offense the Bears continue to focus on, so bringing in a player who knows a scheme like that makes a ton of sense.
Another thing that stands out when it comes to Kramer is five years of starting experience. This guy has already played a ton of football and, apart from an early career injury, and COVID would have played in every single game during his NCAA tenure. You can't coach that, and the Bears are looking for more durable bodies on the offensive line.
You also have to like the fact that he is like having another coach on the field, as he can identify things based on how teams lineup. His above-average athleticism allows him to slide extremely quickly into pass protection while keeping his feet moving through the initial contact from the defense.
Kramer also recognizes where the blitz is coming from and will often slide to that side of the line after the snap. One thing the tape does show is how much he hustles on every play and just plays until that whistle is blown. In other words, this is a football player and will fit in perfectly with the Bears Mantra.
As expected, there are plenty of weaknesses in his game that helped him fall to the sixth round, and a lot of those need to be addressed if he wants any playing time. One thing you can't fix is his lack of reach and overall size, as he is a smaller guy for his position.
That alone makes it hard for him to move around, as the center position is his only option. His lack of size does him little good against powerful bull-rushing tackles as they tend to plow right through him and push him back into his QB. If anything, Kramer is a hometown, or a home-state kid playing for the team he grew up watching. That alone is a dream, so anything after that is considered a win.