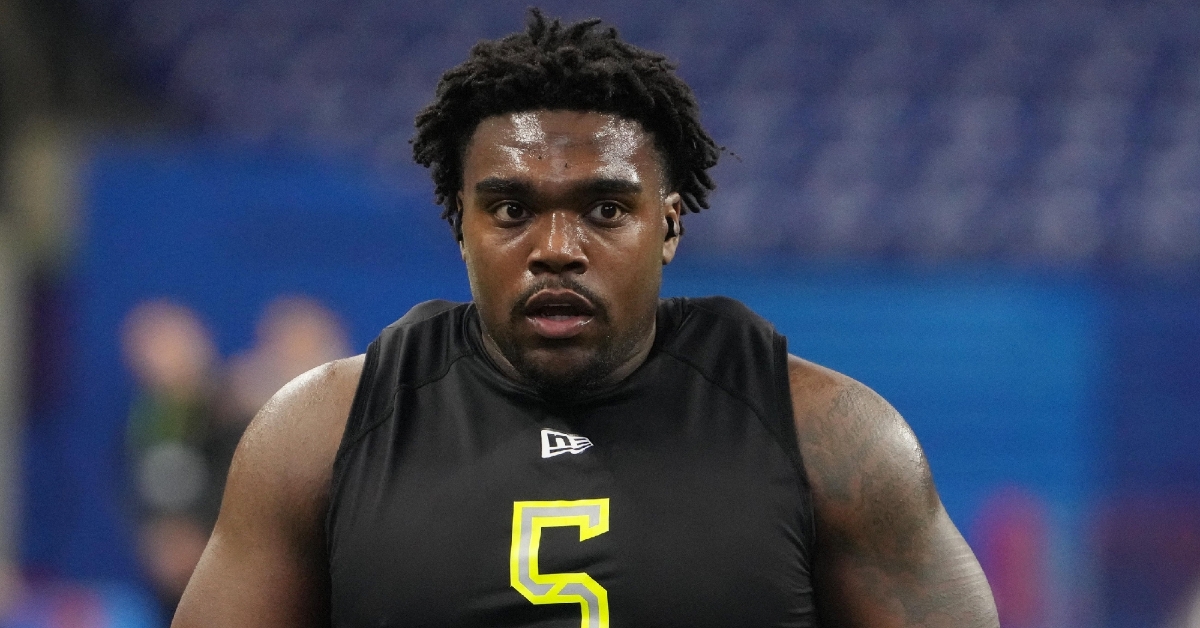 | | |
| --- | --- |
| Getting to Know: Bears OL Ja'tyre Carter | |
---
| | | |
| --- | --- | --- |
| Thursday, May 12, 2022, 11:38 AM | | |
Although the offensive line wasn't a primary focus for the Bears in this year's draft, that didn't stop Ryan Poles from adding to it when he felt the need. It took two days to get that first offensive lineman, but once the first one-game many more followed.
As the Bears were set to pick in round seven, after trading to gain this pick, the big 6-3 311 Pound Carter was selected by the Bears and will now give them offensive line depth. The former Southern University guard, Carter, will have his work cut out for him if he wants to make this team.
Seen as a seventh-round pick by most experts, this is a classic take the best available player pick and hope it sticks. Carter's path to the NFL was not one you typically see, as he was recruited as a basketball player out of high school. He chose football over basketball in the end and enrolled at Southern.
Carter was an immediate contributor for the Jaguars as he started five of the nine games he played in as a freshman. One year later, Carter started all 13 games and then all five during their COVID shortened spring season. His final year in college saw him start 11 games as he earned second-team all-Conference honors. After receiving first-team awards during the COVID spring season, Carter has put the work in to earn his accolades.
When you think about offensive linemen, Carter is the exact make-up of someone you think of. He offers excellent size, but he brings great strength to the table mixed with grit and tenacity. Carter also showed plenty of versatility as he switched from tackle to guard this season.
Although someone who is tactically sound, Carter still needs a little bit of work understanding where he needs to be on plays. Carter is known as a great run blocker, and despite a lack of overall explosiveness, should he get his hands on you, good luck getting away.
Moving him from tackle to guard is a dream scenario as he offers the perfect size for that position. His strong lower body allows him to anchor his feet into the ground, while his length allows him to grab leverage on his opponents.
Carter is one of those blockers that coaches like to call a mauler where if he gets his hands on you, he will not let you go. Known as a run blocker now, Carter needs a ton of work regarding pass protection. Should he figure out how to do that more consistently, this guy could land himself a backup role for years to come.
There are not too many times when you can say you got a steal in the seventh round. If things pan out the way they could, Carter is one of those cases where he could be a steal. If that happens, the flaws in his game need to get ironed out; otherwise, he will struggle to see the field.
His lack of explosiveness off the snap sometimes gets him out of position, ruining his overall technique. While running inside is not an issue for Carter, should teams go with more of an outside zone read, he is very slow to get out of his stance, which will be a problem at the NFL level.
Despite doing a great job of pushing his opponents back once he latches on, Carter is not athletic and will struggle to make blocks in open space against quicker defenders. This is one of those picks you may not hear a lot from for a couple of years, but a project nonetheless that the Bears wanted to have.