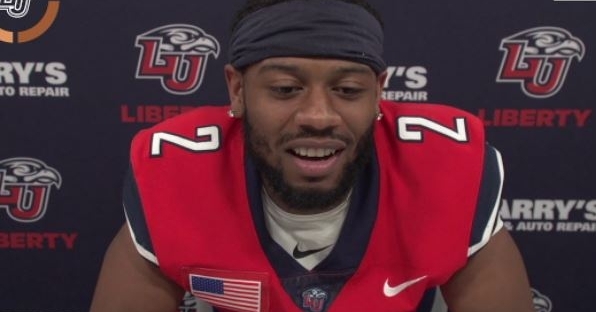 | | |
| --- | --- |
| Getting to Know: Bears WR Kevin Shaa | |
---
| | | |
| --- | --- | --- |
| Monday, May 16, 2022, 11:29 AM | | |
Over the last few weeks, we have spent plenty of time getting to know the 2022 draft picks. While they will garner a bunch of the attention, other players will be joining the Bears this season.
Immediately following the draft, the Bears signed 16 undrafted free agents to their roster, and all of them will be given a chance to make this team. Over the next few weeks, we will be looking at these players and what makes them intriguing options.
After taking just one WR in what was draft class loaded with WR talent, the Bears doubled down and took four receivers via the undrafted waiver wire. The first of those WRs was Kevin Shaa, who was catching passes from Malik Willis at Liberty.
At just 5-10 and 166 pounds, Shaa is very undersized for a WR, but is a typical small school product that doesn't get the looks larger players would. If it helps Bears fans, Shaa plays much bigger than his frame indicates, which is always a plus for smaller players.
Known for his 4.3 40 speed, Shaa is bringing an element of speed to the Bears roster, which they haven't had at the WR position in quite a while. That was a focus for this team this offseason, so adding a speed factor via the undrafted free agent market is a pleasant surprise.
Shaa spent his first two seasons at City College in San Francisco before transferring to Liberty. As you would expect, given his size and speed, Shaa is known as a big-play receiver who averaged better than 18 YPC in back-to-back seasons. Although his game is predicated on speed and beating defenders over the top, he does a great job tracking the football and can make contested catches.
At this point in his career, if Shaa does, make the Bears roster, he will be nothing more than a backup receiver who will see most of his playing time on special teams. However, when many scouts had him graded as a sixth-round player, there is a ton of value when it comes to him and his game.
Take a look at this season, for example. Share hauled in just 28 catches for Liberty, but came away with 516 yards with six scores. That translates to 18.3 YPC, so the big play ability was clearly on display right from the start. Going a bit further, Shaa had four years of production with the Flames giving them 82 catches for 1364 yards and 12 scores.
Those may not equate to an excellent season average in terms of yardage, but he is a big-play receiver who is good to give you one home run ball a game. When you look at his numbers and compare them to other drafted players, it is easy to see why he went undrafted.
He is a small body receiver, but he is coming from a smaller program which also hurts his case. Going back the last 20 years and comparing him to other players of his size, only Hollywood Brown and Desean Jackson were top 50 picks as smaller receivers have a tough time getting a chance.
If Shaa wants to make this roster, he would need to prove he can play special teams and return kicks which he doesn't have experience doing. That alone will make it hard for him to make this roster.
That means he will need to wow the Bears during camp and prove he can change the game, similar to how Jackson did for all those years. Shaa has plenty of hurdles to climb, but he has the speed that can change the thought process of a defense. Look for him to land on the practice squad roster for now, and then who knows.