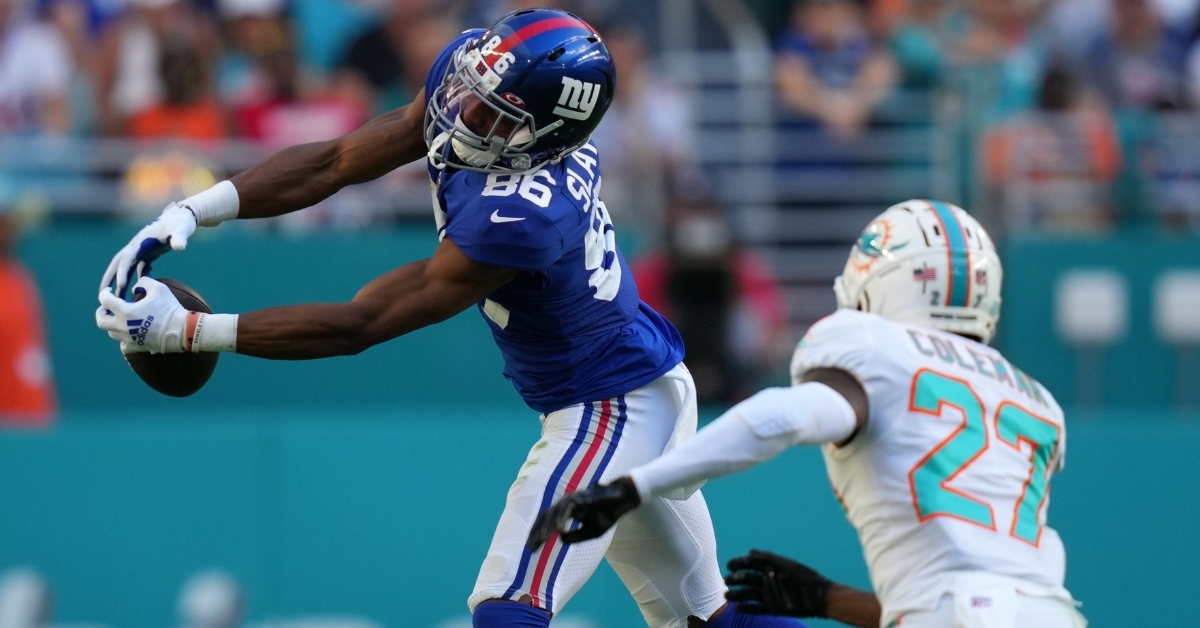 | | |
| --- | --- |
| Bears News: Giants reportedly open for business on more than just Kadarious Toney | |
---
With the draft roughly 36 hours away, you would think all the NFL news would surround that topic. Instead, we are one day ahead of the NFL draft, and the trade discussions continue to heat up, especially around the New York Giants organization.
We have already discussed the possibility of 2021 first-round pick Kadarious Toney being shopped, but with the Giants being so tight against the cap, another WR is popping up. This one comes with more NFL experience and, for what it is worth, would be a better option than Toney as Darius Slayton has seen his name land on the trade discussion board.
Not only has his name landed on it, but the Giants have already taken phone calls on him which shows how serious they are about moving him. Given how strong the WR class is in this year's draft and how great a free-agent class it was, fans have to be disappointed at the Bears. Sure, they brought in a few guys to fill holes, but none of them were noteworthy enough to be the reliable No.2 alongside Darnell Mooney.
Adding a guy like Slayton would make fans forget all about that and could alter what the Bears have in store for the NFL draft. Unlike Toney, Slayton is a seasoned vet who played exceptionally well his first three years in the league. After making 920K last season, Slayton is set to make nearly three million this year which could still be considered a bargain. However, moving him seems like the logical answer when you are as cash tight as the Giants are, and the Bears need to get in on this.
The Giants have roughly 5.8 million dollars in cap space as things sit right now. Considering you need 12-18 million to sign all of your draft picks, it doesn't seem possible to keep Slayton, so expect to see him moved sooner rather than later. With the Bears having more than 14 million left in cap space, this is a move they could realistically make and still have room to sign all their picks.
Slayton burst onto the scene where he put up 740 yards on 48 catches to go with eight scores as a rookie. One year later, he brought in 50 catches for 750 yards, but only three scores as the Giants offense took steps back. Hoping to break out in 2021, Slayton slowed due to injuries and had his season cut in half.
However, when he was in the game, the numbers were good, but not great. Across 13 games, Slayton had 26 catches for 339 yards to go with two scores. Looking at these stats, you are sensing a trend that Slayton was good when the offense was good, but bad when it played bad. Regardless, he is worth taking a shot on, especially when looking at his price tag.
Unlike other high-profile receivers that demanded a lot on the trade market, Slayton isn't going to be that guy. In fact, he is someone you could essentially make a trade for and only have to give up one pick in the process. To make things more interesting, he wouldn't command anything higher than a fourth-round pick, allowing the Bears to keep their second and third-rounders while adding him to the WR room.
That not only makes the offense better and more diverse, but the picks they saved can now be used on other positions making this team deeper across the board. The Bears are still one of those teams looking for a true No.1 WR. Slayton is far from that guy, but he is a valuable piece to use as a solid No. 2 or No. 3 option. Of all the trades floating around, this one makes the most sense for Ryan Poles.
Upgrade Your Account
Unlock premium boards and exclusive features (e.g. ad-free) by upgrading your account today.
Upgrade Now