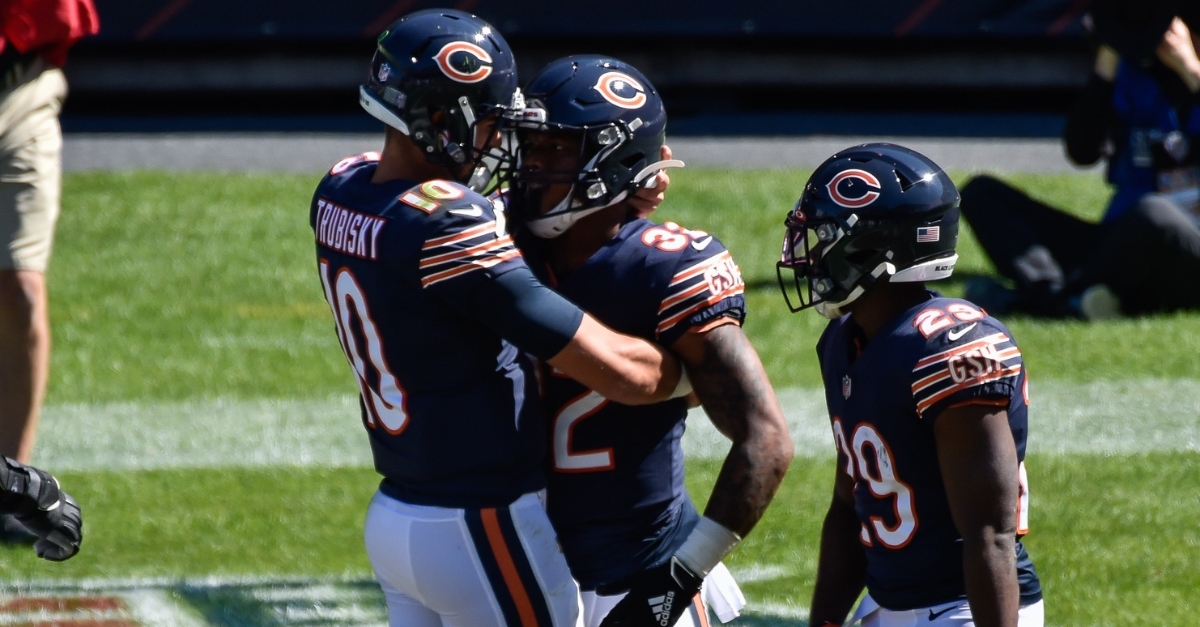 | | |
| --- | --- |
| Grading the Bears offense through two games | |
---
It seems like forever since the Bears have started a season 2-0. Well, here we are in 2020, and the Bears are sitting tied for first in the NFC North with Green Bay. Unlike the Packers, the Bears wins haven't been pretty and very easily could be 0-2 instead of 2-0. A win is a win in the NFL, and the Bears are finding ways to win right now.
Two games into the season and we still have a lot to learn about this team, especially since we didn't have a preseason this year. Like most teams, I said that it could take three of four weeks for teams to find their rhythm before they start looking like the team they want to be.
Here is how I would grade the offense through two games thus far.
Quarterbacks: C+: The Bears are 2-0 behind Mitch Trubisky, but for the most part, it hasn't been pretty. Out of eight quarters this season, I would say that Trubisky has played well in two of those quarters, maybe three. The rest of them have left us wanting more. Against the Lions, Trubisky struggled through three quarters before playing the best quarter of his life in the fourth.
Against the Giants, he played decent in the first half but didn't do much in the second half to put the Giants away. He continues to show flashes of success, but at the same time, continues to show moments of frustration and regression. The Bears need him to be consistent.
Watch this moment between Mitch Trubisky and Khalil Mack.

Wow.

(Video via @ChicagoBears) pic.twitter.com/wY0J3FQNtz

— Daniel Greenberg (@ChiSportUpdates) September 23, 2020
Running Backs B-: The Bears emphasized running the ball this offseason, but through two games, they haven't generated the success they expected. A lot of that has to do with David Montgomery not being fully healthy, but the Bears need more out of that unit.
They are doing better this season as opposed to last because they are using more than just one back, which keeps defenses guessing who will be on the field next. They are also getting more consistent yards per carry, helping keep the offense on the field longer than in seasons past.
Week 2 broken tackle leaders (PFF)

1. Austin Ekeler (11)
2. Ezekiel Elliott (9)
3. Joe Mixon (7)
T4. Josh Jacobs (6)
T4. Alvin Kamara (6)
T4. David Montgomery (6)

— Ian Hartitz (@Ihartitz) September 22, 2020
Wide Receivers A-: Even though Trubisky still hasn't shown us the consistency we had hoped he would, the receiver play has been outstanding this year. Obviously, you have Allen Robinson and Anthony Miller stealing the show, but now the Bears have other players stepping up, making that much deeper unit.
Darnell Mooney caught his first touchdown last weekend, Javon Wims and Riley Ridley are seeing more time on the field as the Bears have six men they can count on in the passing game. If they continue to play the way we have seen them play through two weeks and Trubisky starts to show some consistency, you will see an offense take that next step and make Chicago hard to beat.
Maserati Mitch buys time and finds Darnell Mooney for the TD ??

13/18
159 yards
2 TDs

(via @NFL)pic.twitter.com/efC3wSHaR5

— B/R Gridiron (@brgridiron) September 20, 2020
Tight Ends D+: The tight end position was an issue last season, and outside of a Jimmy Graham touchdown reception in week one, they haven't done much so far this season. Cole Kmet is going to get more involved as the season goes on, and once, he does Chicago could use more two-tight end sets to confuse defensive fronts.
?? KMET ??@NDFootball's @ColeKmet reels in his first NFL catch... and it's a first down!#IrishInTheNFL #GoIrishpic.twitter.com/v4CkuiPsqM

— The Fighting Irish ?? (@FightingIrish) September 20, 2020
On the other hand, Graham seems a bit more energized than he has been in seasons past, but still isn't doing much on the field. Maybe it is the play calling that Matt Nagy and company call, but Graham and the tight ends need to get more involved. That is a big part of Trubisky's game, and the more he utilizes them, the more success the team has offensively.
Offensive Line C: The men protecting Trubisky up front are still a work in progress, and we have seen that through two games. At times, the lineman play very well, which allows the Bears offense to do their thing on the field. There are also times when they can't block at all, which hinders overall offensive production teams.
Offensive line giving Tarik Cohen a big hole pic.twitter.com/LXPX5JnJoX

— Bears Film Room (@BearsFilmRoom) September 17, 2020
Offensive line play has been the biggest reason for the Bears offensive struggles regardless of how Trubisky and others play. It is up to them to give the team time to throw and run, and they need to protect the assets behind them. They have been fortunate enough to get against a pair of bad teams so far, but as the season gets tougher, they need to pick it up.