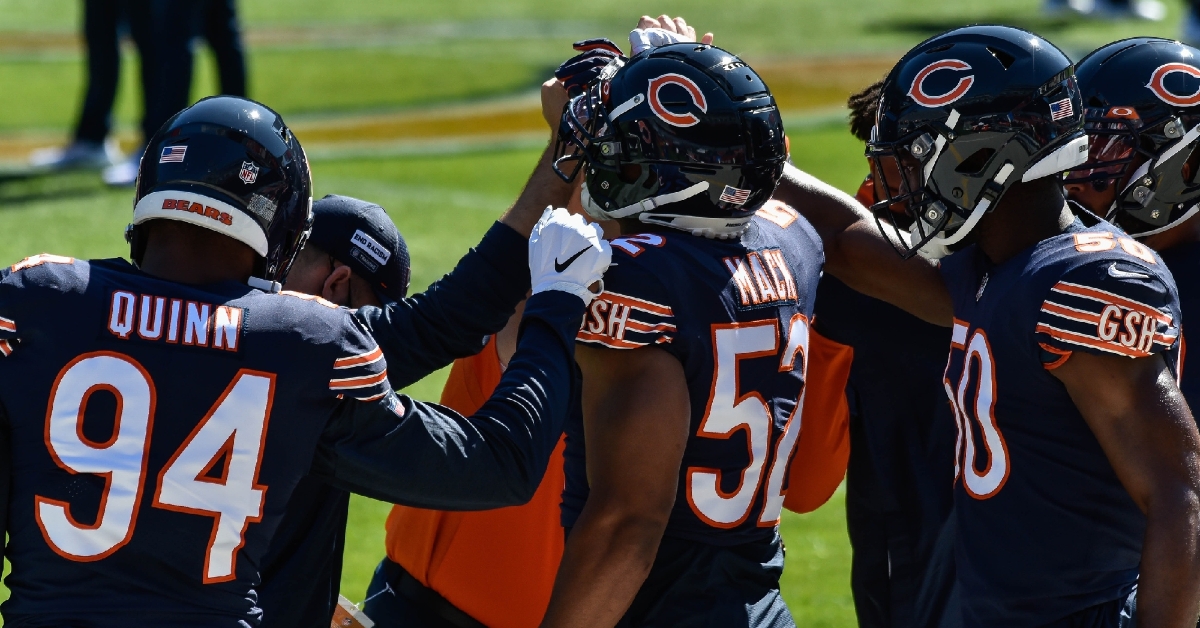 | | |
| --- | --- |
| Grading the Bears offense through two games | |
---
| | | |
| --- | --- | --- |
| Thursday, September 24, 2020, 2:31 PM | | |
Yesterday, we took a look at the Bears offense through games and graded them on their overall play. Today it is time for the defense as we look back at what we have seen thus far. Until something drastically changes, the Bears will be known as a defensive team, and no one will argue that at this point.
Their Defense sets the tone and makes things easier for the offense as that side of the ball has the potential, but continues to struggle, putting it together consistently. This season, the defense has not played at the level we have come to expect from them, but they continue to find ways to win games sitting at 2-0 right now.
Granted, their opponents they have seen this season don't have the best offenses in the world, but it is a little concerning to see them struggle for a majority of the game. However, the good thing is that when they need the Defense to step up, they have done so, which is a big reason why they are sitting 2-0 right now. This is how I would grade the Defense through two games so far.
Defensive Line B-: We knew coming into the season that the Bears would be down Eddie Goldman as he opted out of the season. Akiem Hicks is back and healthy, but the Bears primary run stopper is not playing. You can see how much Goldman means to this defensive front as the Bears have not done a great job stopping the run.
Adrian Peterson gashed them in week one at 35 years old, and the Giants had Sequon Barkley picking up some nice yardage last week before going down with an ACL. Even his backup, Dion Lewis, was getting yards, which is not a good sign. Chicago will see Todd Gurley again this weekend, so look for some more big gains on the ground. The Bears need to do a better job stopping the run if they want to get to where we expect them to be.
Linebackers B: The linebackers are the heart and soul of the Defense led by Roquan Smith, Robert Quinn, and Khalil Mack. Quinn hasn't played a ton through two games, and Mack still isn't producing at his 2018 level. Last week against the Giants, the Bears linebacker group looked much better as Quinn took the field despite being limited on snaps.
The more time he sees on the field, the more dangerous this defense will be. It is only a matter of time until Mack starts to hit his stride, and once, he does it will be a nightmare for offensive coordinators. Stopping Mack is hard enough, but seeing both Mack and Quinn barreling down on your QB is not something anyone wants to see. I expect to see significant improvements across the next two or three weeks from this unit.
Watch this moment between Mitch Trubisky and Khalil Mack.

Wow.

(Video via @ChicagoBears) pic.twitter.com/wY0J3FQNtz

— Daniel Greenberg (@ChiSportUpdates) September 23, 2020
Secondary A-: Despite replacing Prince Amukamara with rookie Jaylon Johnson and still searching for a long-time running mate next to Eddie Jackson, the Bears secondary has been sound through two games this season. Yes, they have given up some big plays across the first two games, but a lot of that has to do with the front seven not getting to the QB forcing the secondary to work that much longer to cover their men.
#Bears vs #Giants Eddie Jackson @BoJack39 Touchdown negated by pass interference. Explained, with the rules.

This was a bad call. pic.twitter.com/aDlnTpVWGJ

— Mike Brez (@mikebrez5) September 22, 2020
Outside of a handful of passes here or there, the Bears are still forcing interceptions and are doing a great job of preventing the big play. Take away the drop from D'Andre Swift in week 1, with the game on the line, the secondary has come through in back to back weeks. I like how this unit is playing right now, and I would say they have impressed me the most on the defensive side of the ball so far.
Special Teams B+: Special teams is always a tough one to grade as you have to look at kicking and returning. From a kicking side of things, the Bears would get an A– for that portion of their game. Cairo Santos has done an excellent job filling in for injured Eddie Pinero while Pat O'Donnell continues to be one of the game's better punters.
Return game: B-: Not much the Bears can do when they don't get many chances to return the ball. Kickoff returns are becoming less frequent, but the punt return game could use a little work. The coverage has been good, but the Bears do not create enough space for their men to get the job done.
At this point, I am not worried about the return side of things, as it is what it is. I am just hoping the kicking game continues to play at the level they are now. We have seen too many occasions where the Bears season ended with special teams' miscues. Maybe this will be the season special teams saves their season.