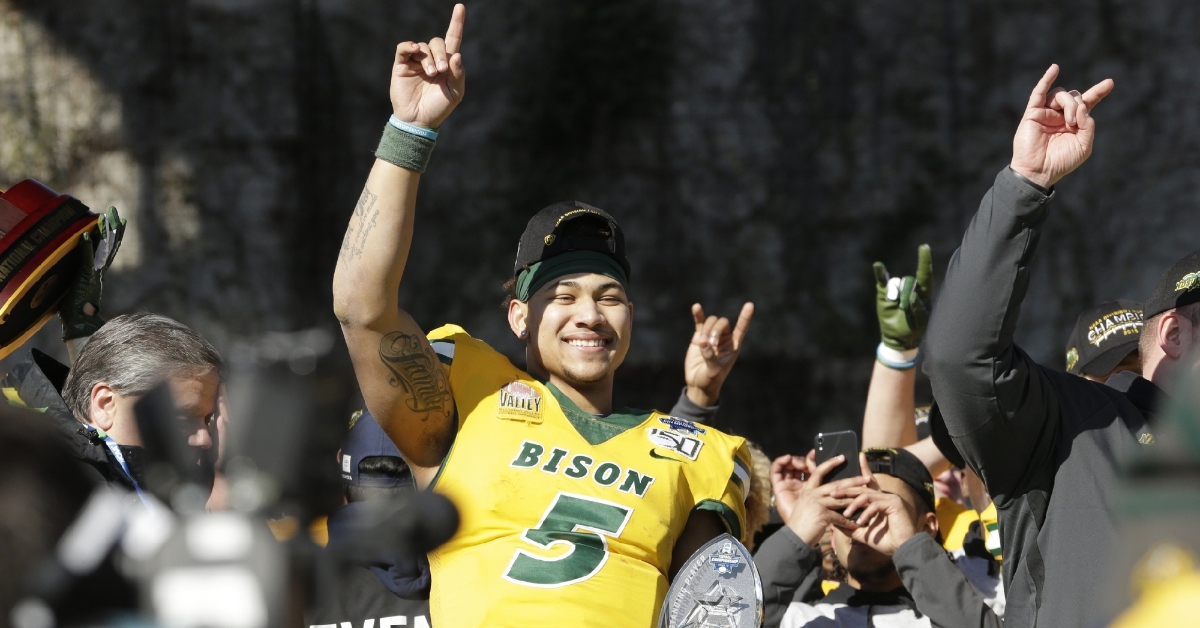 | | |
| --- | --- |
| If the Bears want to make a splash, trade up for QB Trey Lance | |
---
| | | |
| --- | --- | --- |
| Thursday, April 22, 2021, 9:48 AM | | |
There are many questions heading into this year's draft, but one thing we do know is there is a lot of quarterback talent. As much as five if not six quarterbacks are projected to be taken in the first round, with four or five coming in the first 15 picks.
With the Bears picking 20, it is doubtful they will be lucky enough to land one of these players, but there is a chance. Over the past week, Ryan Pace has discussed the possibility of trading up in this year's draft to get one of the five best QB's. For that to happen, the Bears will have to give up a lot, and I don't know if they have the capital to do it.
However, the Miami Dolphins could hold the keys to the Bears making a move as they have started to take calls regarding their no. 6 pick. No one knows how serious those calls are, but if the Dolphins are looking to move down, the Bears need to get in on the action and try to land the No. 6 pick. In doing so, they will put themselves in a position to get a top QB, and Lance could be the guy.
Lance is the biggest wild card among the QB's in this year's class, mainly because he opted out of the 2020 season and plays at FCS level North Dakota St. From a measurable side of things, Lance has everything you are looking for standing at 6-4 and weighing 224 pounds. Lance has proven to be an elite talent on the field even though he played in just 19 games across his Bison career.
17 of those 19 games were starts, and Lance put on a show when on the field. For his career, which includes his lone start this season, Lance completed 65.4% of his passes for 2947 yards, 30 touchdowns, and just one interception. He also used his legs a ton carrying the football 192 times for 1325 yards and 18 scores. Those numbers are incredible but what is even more incredible is the one turnover in 19 games as he doesn't give the ball away.
Along with all the statistics that catch a scout's eye, there is a lot off that field they love about him, including the 2019 Walter Payton Award. He also received the Jerry Rice Award in 2019 and the Missouri Valley Football Conference player of the year. Once viewed as the top prospect with Trevor
Lawrence, Lance has fallen off slightly and is now graded as the third or fourth-best QB in this class. That doesn't mean he doesn't fit the bill of a franchise signal-caller that the Bears desperately need.
Something that scouts love about him is that he is a film junkie. He will be the first one in the film room and the last one to leave as he studies so much film, not just on his opponents but breaking down his game. Given protection, Lance goes through his reads very quickly and often finds a fourth or fifth option. If he isn't protected, he has no problem tucking the ball and taking off downfield.
Above all, Lance prides himself in taking care of the football, as his lone NCAA turnover came in his only game this season. He brings a lot to the table for any franchise interested in him, and his traits are hard to find. However, the limited starting experience is undoubtedly a question, as is the FCS competition he faces.
While Carson Wentz hails from the same school as Lance, Wentz at least had multiple years as a starter and played against some very high-level opponents in the non-conference schedule. While Lance had success in his first year, he didn't play up to his expectations in his lone game this season, and there is no telling how he would have finished the year.
Trading up to draft Lance would remind Bears fans of the Mitch Trubisky situation, but it would be a leap of faith and putting confidence in the kid. Unlike Trubisky, Lance is far more talented with the arm, and his sky is the limit as we don't know how much he could improve his skillset. Lance has a rocket for an arm, has good foot speed, is athletic, and is hard to bring down.
Not only that, but he is a good decision-maker who has poise, is willing to take shots downfield, and has a championship makeup. Put all that into one player, and you have a very special talent capable of turning any franchise around from the day he steps on the field.