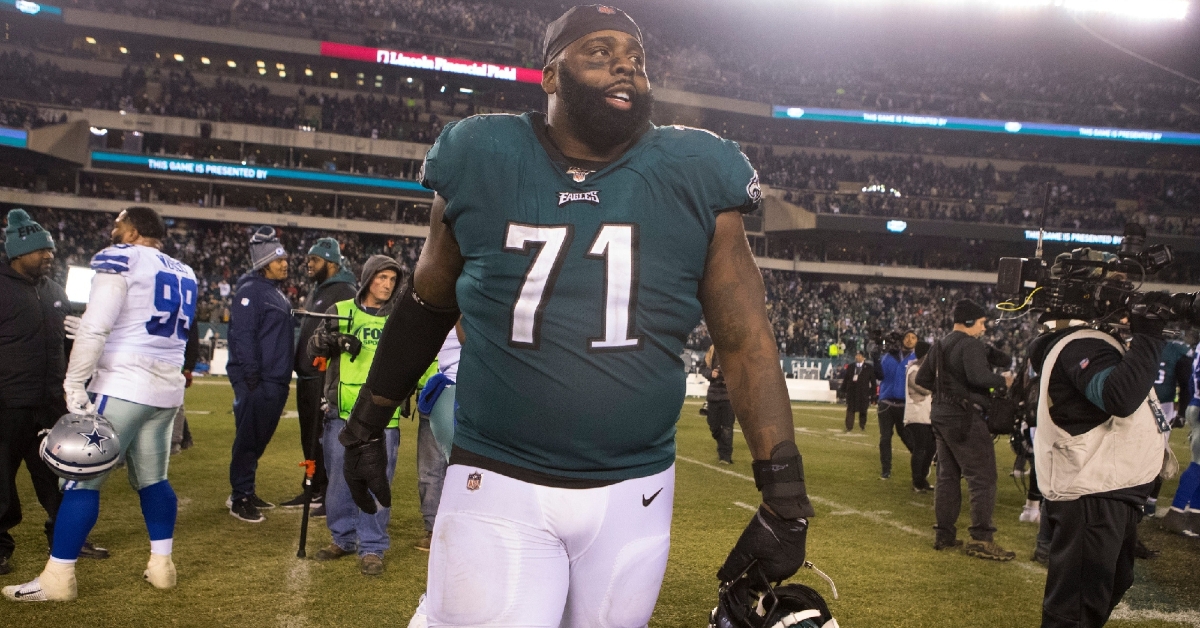 | | |
| --- | --- |
| Jason Peters was a steal for the Bears | |
---
Lost in a weekend that saw the Bears win their first preseason game behind a fabulous Justin Fields performance was an under-the-radar move that could have significant implications for the Bears roster. With 2021 second-round pick Tevon Jenkins still nursing a back injury and limited in what he can do, Ryan Pace went out and found some help for the offensive line.
It was not just any old help either, but a savvy veteran who was a nine-time pro bowler with the Philadelphia Eagles in Jason Peters. I know what most fans are probably thinking, why sign a player 39 years of age to help this offensive line when you have younger options. 39 years old or not, Peters is still a good player, and this could turn into a steal of a deal for Chicago.
Not only did they add someone very familiar to playing at a pro bowl level, but they got him on the cheap, signing him to a one-year two-million-dollar contract that includes a 250K signing bonus and in-game bonuses also. Not bad for someone accustomed to playing at a high level as a unit that was behind the eight-ball now seems better than before.
Given that the Bears got him as cheap as they did, I have to wonder why no one took a run at him or offered him more money. Who knows, maybe they did, and maybe having Juan Castillo, who coached Peters in Philadelphia, was a huge selling point for him. Whatever the reason was, who cares, and now Peters is aboard to add to a line that continues to lose guys.
No one will expect Peters to come in and play at a pro bowl level given his age, but if he can produce at even the modest level, you're looking at an upgrade from what Chicago had in the past. I am not sure how much he has left in the tank, but if he has anything left and chooses to unload the tank, not only will the deal pay for itself, but it will look like a bargain with each passing day.
Another thing this deal does for the Bears, it brings in a veteran offensive lineman who knows how to win and will be a leader to the younger guys in the locker room. He has experience working with Castillo and knows what his system looks like, which is also a big plus. This gives the Bears a chance to move Jenkins along slowly to make sure he is fully ready to contribute this season.
Signing Peters to the deal in hand also leaves the Bears with around five million dollars remaining in cap space. Although not a lot, it is something and a better position than many expected them to be in this season. That amount of cash may let the Bears bring in one or two players to tie up some loose ends if they need to add depth once the season begins.
Peters is not only a good tackle, but one of the biggest tackles in the game, standing at 6-5 and weighing 428 pounds. Not only did he cross paths with Castillo, but Matt Nagy, Bill Lazor, and John DeFillippo worked with him during their time in Philadelphia, so there is plenty of familiarity with him on this team. Having that much connecting with a new organization is crucial, especially when Peters knows what most of these guys like to do.
The only downfalls I see with this deal are the age coming into this season as it will be his 18th professional season and the fact that he hasn't played an entire season since 2018. Going a bit further, and he is four years removed from his last pro bowl season, meaning his best days are long behind him. Still, Peters has something left to prove and will do what he can to show that on the field this season. Ideally, the Bears would love for him to play an entire season, but in this case, they may not need him to.
Should he miss a game from time to time, look for the Bears to plug in Jenkins or other pieces if they are ready to go. Peters is being brought in as a placeholder this season, to begin with, so it is only a matter of time until the young kids get their turn. Whatever the season has in store for Peters, the Bears made an excellent choice to bring him aboard, and they will reap the rewards from it.
Upgrade Your Account
Unlock premium boards and exclusive features (e.g. ad-free) by upgrading your account today.
Upgrade Now