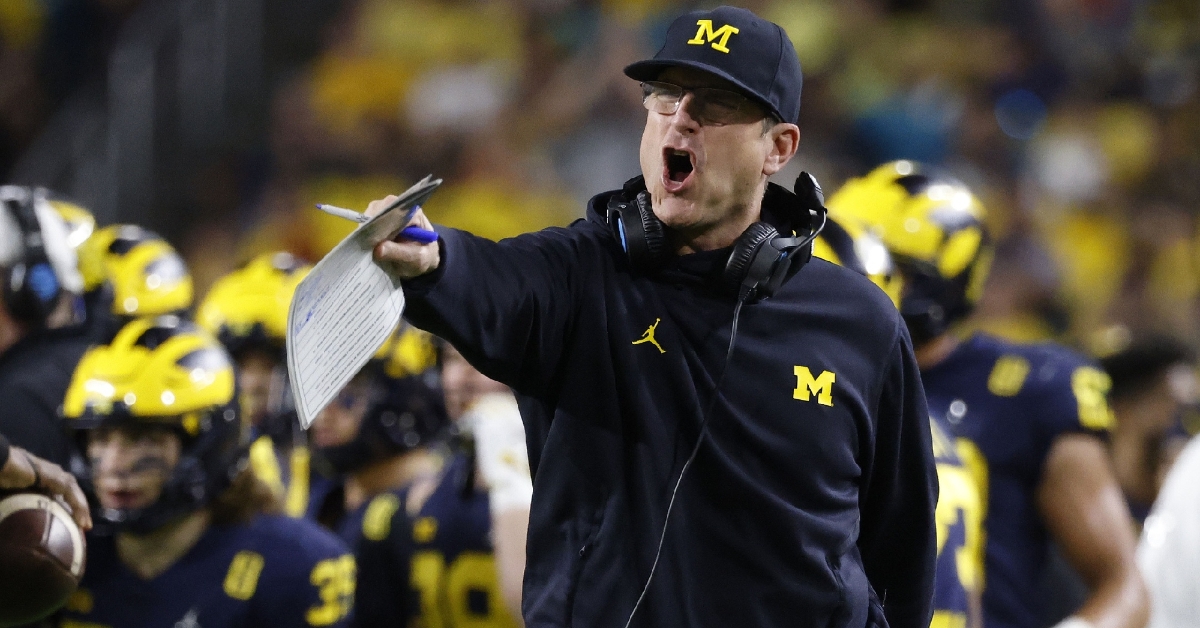 | | |
| --- | --- |
| Jim Harbaugh linked to Bears if he returns to the NFL | |
---
| | | |
| --- | --- | --- |
| Thursday, January 6, 2022, 10:56 AM | | |
Much like every other NFL season, Black Monday will be wild following week 18. For those not familiar with Black Monday, it is the day after the regular season ends where coaches on the hot seat find out their fate for next season. Matt Nagy has been on the hot seat for a while now, but has already been informed he will not be returning next season. That news shouldn't shock anyone, but can't be made official until Monday.
That means that Chicago will most likely be in the market for a new head coach, and you can bet the organization wants to get this one right. Since Lovie Smith was fired, the Bears have gone through Marc Trestman, John Fox, and Nagy. All were supposed to bring something unique to the table, and all had one good season at the helm. Outside that good season, they were less than appealing, which is why the organization is in their position.
This team needs a dramatic facelift and needs a new voice in charge that can get the most out of this team. The consensus is that the Bears will look to hire an innovative and up-and-coming assistant coach with hopes of installing life back to the franchise. Sometimes that works, and sometimes it doesn't. Either way, the Bears need to make sure they hire the best man for the job.
Sometimes that even means bringing in former head coaches who have had success in the past, and that list will be just as long with potential candidates. One coach who is well-known across the collegiate and NFL circuit and well known to the Bears is Jim Harbaugh, who may be tempted to return to the NFL. Not only that, but he has had his name linked to Chicago should he want to return to the NFL sidelines.
Harbaugh was a first-round pick of the Chicago Bears in 1987 and spent seven seasons as the Bears QB. A respectable, but not great QB, football has always been in his blood, so you knew he would get involved in coaching. Much like his brother John and his father Jack, Harbaugh did join the coaching ranks after his playing days were over and has become one of the most successful coaches both at the NCAA level and in the NFL.
Harbaugh started his head coaching career at San Diego University before moving on to Stanford from the NCAA side of things. During his three-year tenure with San Diego, Harbaugh went 29-6, including back-to-back 11-1 seasons. That left him searching for a bigger gig which is when he took the Stanford job. Once again, Harbaugh had immediate success despite only lasting at the program four seasons. Harbaugh posted a 29-21 with the Cardinal, and led them to their first-ever 11-win season in 2010 that earned a berth in the National Championship game.
Following that National Championship appearance, the NFL came calling, and Harbaugh remained in California, moving up the coast to San Francisco. Typically, college coaches have a tough time adjusting to the NFL, but not Harbaugh, as he had instant success. Not only did he post a 44-19-1 mark with the 49ers, but he made three consecutive NFC championship games and one Superbowl appearance where he lost to his brother and the Baltimore Ravens.
That kind of success is not hard to come by, but instead of sticking around and remaining in the NFL, Harbaugh bolted for his alma mater in Michigan. Unlike his previous stops, where he lasted four years or less, Harbaugh has now been at Michigan for seven seasons and has had a great run. Despite a couple of rough seasons, including a 2-4 2020 season, Harbaugh bounced back with a 12-2 mark this season, clinching the BIG 10 title and appearing in the college football playoffs. That leaves him with a 61-24 mark with the Wolverines, and he is now 119-51 as a college head coach.
Whether you like the guy or hate him, you can't argue with his success at both the NCAA and NFL levels. Harbaugh is part of a rich coaching family and knows what he is doing as a head coach. Looking at his track record, before getting the Michigan job, Harbaugh was never a guy who liked to stay in one place more than five years, so there is that to consider.
It doesn't seem like Harbaugh would leave Michigan for any NFL gig. If you listen to reports, the Las Vegas job and the Bears job seem to be the two he would consider if it came down to it. If the Bears are interested in building a winning organization again, how could you not look at Harbaugh? Regardless of your feelings towards him, the man flat out knows how to coach and would have this organization winning games in a hurry.
We saw what Michigan did when he beat Ohio St. with him at the helm. Can you imagine what the city of Chicago and the Bears would do if he not only gets them into the playoffs consistently, but landed them in the Superbowl? Harbaugh is a name that should never be overlooked if you want to fill a coaching position.