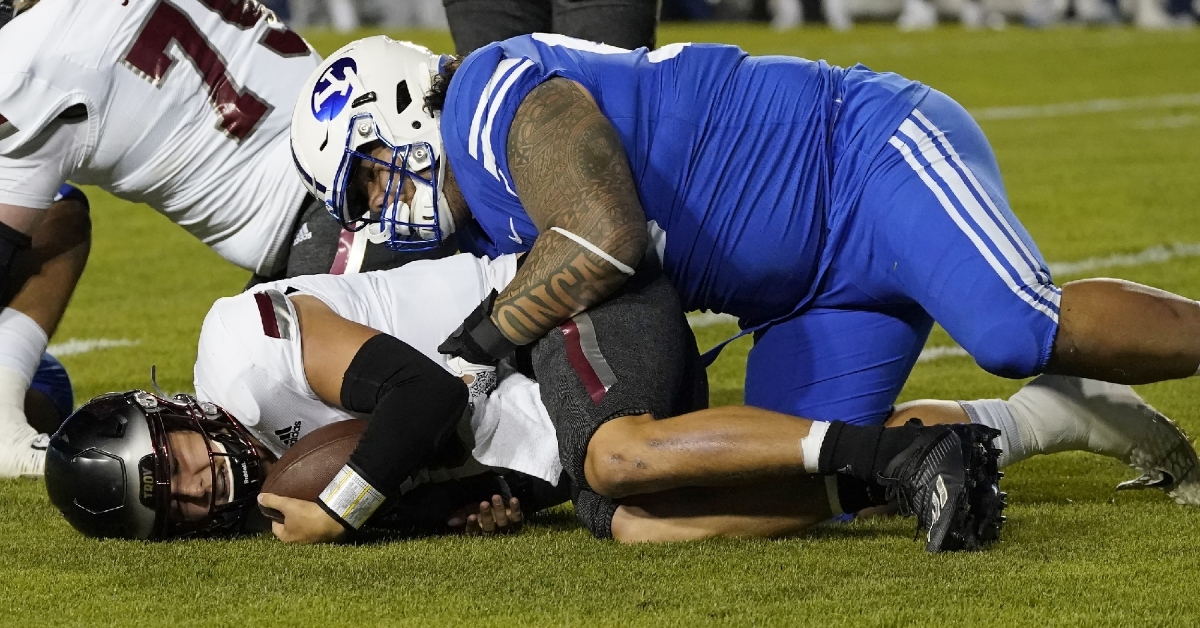 | | |
| --- | --- |
| Khyiris Tonga is intriguing DT for Bears | |
---
With the 250th pick in the seventh round of the 2021 NFL Draft, the Chicago Bears were back on the clock, set to make their final selection of the draft. However, after sticking with offense most of the draft, the Bears focused on defense for their last two selections, including this one at 250.
BYU defensive tackle Khyiris Tonga was added to the Bears with this selection and is an intriguing prospect. Say what you want about seventh-round selections, but the Bears received a B+ grade for Tonga in this spot, so there is a lot to like about the pick. The defensive line wasn't a significant area of concern for this team, especially with Eddie Goldman returning.
That didn't stop the Bears from adding a nice developmental prospect type of player in Tonga to the mix. Not only will he have a chance to learn behind Goldman, but also Akiem Hicks as the Bears have one of the better defensive fronts in the NFL.
Any young player would be lucky to develop behind a unit like this, so you can bet Tonga isn't taking his chance for granted.
Tonga is a mountain of a defensive tackle that falls similar into the mold of both Hicks and Goldman size-wise. He is big, physical, and isn't afraid to show versatility across the line. Not only is he a powerful run stuffer, which is his specialty, but Tonga has also demonstrated the ability to get after the quarterback making him a dual-threat upfront. That is something that you need in a nose tackle with this becoming a pass-happy league.
The 325-pound Tonga was seen as someone who had sixth-round potential but is still a developmental piece that the Bears are looking to mold. The original Utah commit switched to BYU and became a force from day one. He played in 13 games in 2017, making two starts where he recorded 19 tackles, four tackles for a loss to go with two sacks.
Tonga once again played in all 13 games one year later but started eight of those games this time around. With increased playing time comes an increase in numbers as Tonga recorded 30 tackles 4.5 for a loss with two more sacks added to his name. He then lost 35 pounds heading into his Junior season and finished his final two years in college with 81 tackles, seven tackles for a loss, and 3.5 sacks.
Tonga had moments last season where he showed what he was about on the field, but the jump in the competition will be a challenge for him. Although not the most explosive of defensive tackles, his initial quickness will give him an early advantage on his defenders to establish significant leverage and position on them. However, he has lots of upside when you look at what he does well and may struggle to be anything more than a reserve defensive tackle.
Tonga is a big DT and is the perfect size to play that position at the NFL level even after losing 35 pounds. He eats up space up the middle to stop the run and often required a double-team to keep him from getting into the backfield. For being as big as he is, Tonga is an active tackler, which is a plus at the next level.
Tonga also not only reads and reacts to the plays in front of him but uses his brute strength to push away blockers to free himself up to make plays. Once he gets a hold of you, it is game over as he finishes his tackles with a thud.
With all the positives to his game, why did he last so long in the draft? Well, for starters, Tonga is quicker than explosive for initial contact, which doesn't bode well at times. In addition, he doesn't have the greatest form when on the field, so he often attacks with his head down and loses ground on bigger physical offensive linemen.
He is a straight-line pass rusher and will never succeed if forced to chase someone down the line. He has the strength to do great things, but his limit range in burst will keep him very limited to what he can do at the NFL level.
Tonga will beat up on undersized offensive linemen, but outside that is only alright as a player. When you line up with players bigger than him or like his size, he is not the same player. He needs to play with the same level across the board to maximize his potential.