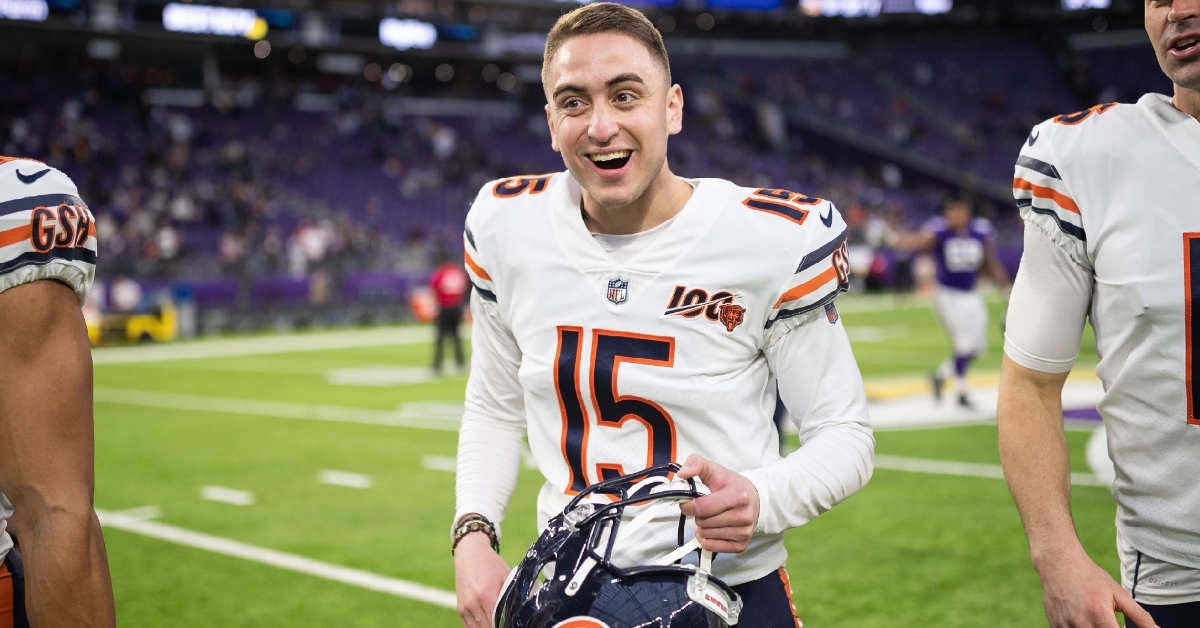 | | |
| --- | --- |
| Kicking depth is a smart thing for Bears | |
---
Last season, the Bears made it clear that they needed some kicking competition in camp to avoid another Cody Parkey let down. With Elliot Fry and Eddy Pinero battling it out during camp, Pinero won the job in week three of the preseason, which prompted the release of Fry shortly after. The job was Pinero's, and unless something drastic happened, it was his to lose.
Pinero got off to a solid start and showed the Bears organization that he was the right choice. Then midway through the season, Pinero had a rough stretch of games where he struggled to make kicks, causing some questions and concerns consistently. Looking to respond from that adversity, Pinero responded to the season's final six games, where he became one of the leagues' most accurate kickers in the last month of the season.
The way he finished the season earned him the kicking duties once again this year, but it isn't as clear cut as you may think. For the most part, Pinero was solid in his first season with Chicago, but he still had stretches of inconsistencies that the Bears want to avoid. With no one on the roster to challenge him last year, Chicago was forced to let him battle through it, which worked in their favor. What happens if those struggles come back this season or heaven forbid Pinero gets injured? Do the Bears have a backup plan to get by.
Of course, they do as Matt Nagy has made it clear that Chicago will be carrying two kickers this season. Whether by design to bring in competition for Pinero or just as an insurance policy, but it has been made clear that the Bears will carry two kickers this season. Although one may be on the 53-man roster with one on the practice squad, this is still something that will raise your eyebrows as Nagy is looking to establish the best team possible.
Nagy told reporters that the team would carry two kickers this season. Although that could change as teams have until September 5th to finalize their rosters, Nagy seemed adamant about that statement as he wants multiple positions ready in case of an emergency. Honestly, that is very smart, especially not knowing the effects COVID will have on an NFL roster this season.
So, who will be joining Pinero this season in Bears camp? Well, it is none other than our old friend Cairo Santos who the Bears signed last week. With the practice squad rosters being expanded this season and those players' eligibility much different from in seasons past, it is sensible that the Bears would do something like this for depth purposes.
Santos could be the emergency option, and by all accounts, it appears that will be the case. Given the COVID pandemic and Pinero's injury history having a kicker with NFL experience waiting in the wings is smart. It would allow the Bears to continue watching Santos in practice instead of spending time trying out kickers should they need one at some point.
There are far worst options than a 28-year-old Santos as your emergency kicker. Since coming into the league in 2014, Santos has made 108/134 field goals, which comes out to be 80.6%. Add in his 161/167 (96.7%) extra point percentage, and you can rely on him to get the job done. Santos doesn't have the most accurate leg or the strongest leg for that matter, but if you can put him in the right position, he can make the kicks for you.
He is a kicker that I would trust for short periods, but if the injury or whatever happened to be season-ending for Pinero, I might consider other options. While the Bears may be the first team to openly admit that they will carry two kickers this season, look for other teams to follow given the expanded practice squad rosters this year. Coaches will want insurance policies, and it is better to have them now instead of too late.