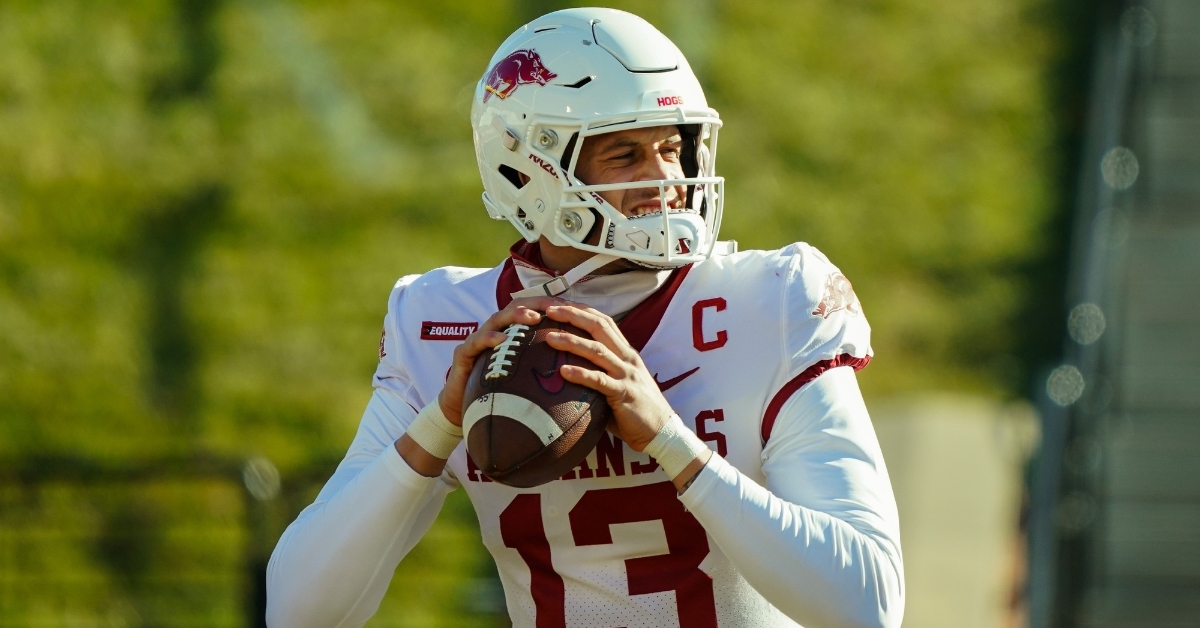 | | |
| --- | --- |
| Mid-round QB options for Bears | |
---
| | | |
| --- | --- | --- |
| Friday, March 12, 2021, 11:14 AM | | |
Every Chicago Bears fan knows this team needs to upgrade at the QB position. The question is, how do they do it? Do they mortgage their future by going all-in guys like Deshaun Watson and Russell Wilson? Or, do they potentially overspend on a free agent to get the most out of them right now? Regardless of what the Bears are thinking at this point, there is work that needs to be done at the QB position.
Not only would Chicago love to have Watson or Wilson, but they would instantly become one of the NFC favorites if those moves are made. However, when you look at the rest of this roster, mortgaging your future to go all-in on one guy doesn't seem like a logical fit, and either does spending in free agency when you don't have many funds to work with.
That leaves the NFL draft route once again, where the Bears failed miserably last time out with Mitch Trubisky. This year's draft is loaded with QB talent, and there could be as many as five taken in the first round. Chicago shouldn't be one of those teams to go QB in the first as they need help in other areas like the offensive line.
However, with two Compensatory picks added to the middle round of their selections, Chicago may look to go QB in the middle rounds, allowing them to use Nick Foles or someone else as a one-year bridge QB.
There is a pair of SEC QB's who I think could fit this team well in Felipe Franks of Arkansas and Kellen Mond of Texas A&M.
Feleipe Franks: Starting with Franks, where despite the rough go of things for the Razorbacks, he has put up great numbers. Arkansas hasn't seen play from the QB position like this since Ryan Mallet was setting school records across the board. At 6-6 and 234 pounds, not only is Franks fast with a big arm, but he runs a 4.5 40, which has drawn some comparisons to Dante Culpepper.
The highly recruited 4-star QB in high school, Franks was ranked as the fifth-best QB in the class of 2016 and 65th best overall. After initially committing to Florida, Franks elected to transfer to Arkansas, where he immediately became the starter. After putting up great numbers in two seasons at Florida, Franks struggled during his junior season, eventually losing the starting job to Kyle Trask.
In his lone season with the Razorbacks, Franks completed 68.5 % of his passes for 2107 yards to go with 17 TD's and just 4 INT. He finished his college career with 6700 yards passing 55 TDS and 21 INT. Although his arm isn't elite, he does have arm talent and can make most of the throws you expect him to make. His overall size makes it easier for him to see over offensive lineman and is tough to bring down. Add in the ability to run if needed, and you have a solid foundation to build around.
Franks has improved immensely but still has work to do. Not only does he need to be more consistent with his throwing, but also in his progressions. He tends to read coverage a bit late, which won't work in the NFL. With a year to learn the NFL speed, he could be great for this team.
Kellen Mond: Sticking with the SEC, and you will find another possible mid-round QB talent in Kellen Mond. The 6-2 205-pound Texas A&M signal-caller showed flashes of greatness his entire career and had the Aggies looking like the team from the Johnny Manziel days. Mond may not have had the greatest in terms of consistent success, but he was born to start at the NCAA level and soon the NFL.
A rare four-year starter at an SEC program, Mond started 46 career games as a collegiate QB going 26-20 as a starter. Although he only completed 59% of his passes in his career, Mond still threw for just south of 10,000 yards to go with 71 touchdowns and just 27 Interceptions. His senior year is where he put himself on the map, completing a career-high 63% of his passes to go with 19 touchdowns and just three interceptions.
Along with excellent passing, skills comes the rushing side of things, as his legs played an equally important role in his success. Not only did he top 1600 career rushing yards, but he added 22 touchdowns on the ground giving him nearly 100 total touchdowns as a player. Mond has the potential to be a dual-threat QB but needs to be more accurate with the football.
Not only does Mond have good arm strength, but he makes throws look real easy given his effortless release on the ball. You are looking at someone who will complete way more passes, a few more tweaks, inconsistency, and mechanics.
While the accuracy may draw some red flags, the biggest concern for Mond is that he has been a streaky player. There have been moments where Mond plays at a Heisman level and has the offense cooking. However, there have also been times where he has looked lost on the field. If Chicago is going to invest in him long-term, the consistency needs to get better. Otherwise, he could be another version of Mitch Trubisky.