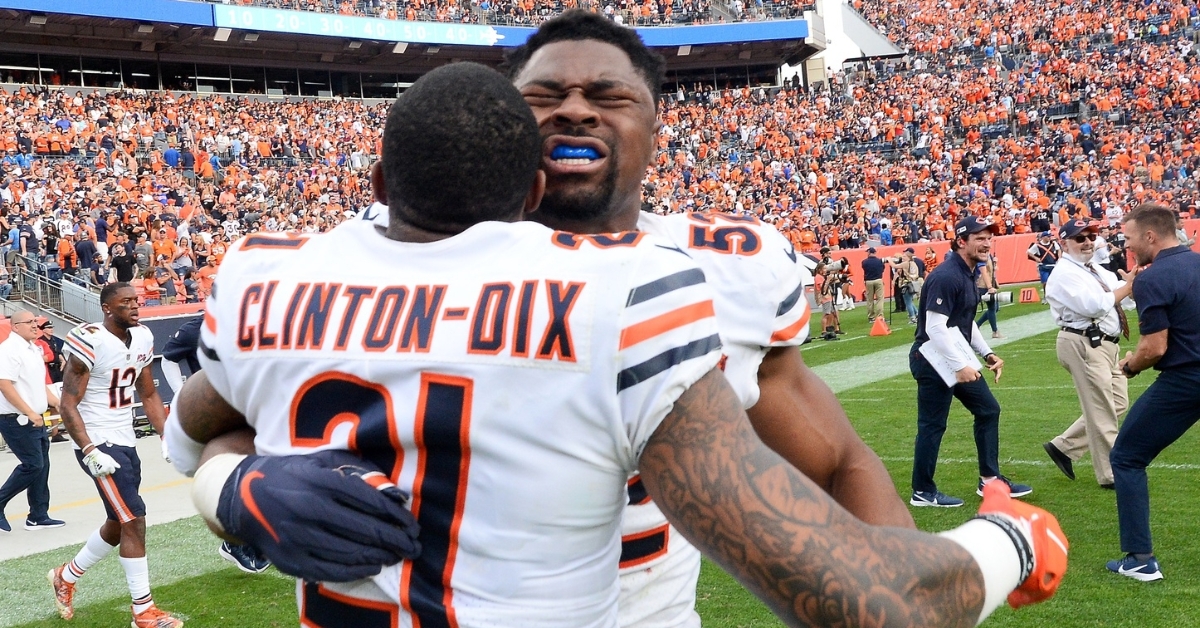 | | |
| --- | --- |
| Prediction, Three keys to Bears-Lions matchup | |
---
| | | |
| --- | --- | --- |
| Saturday, November 9, 2019, 8:58 AM | | |
This Sunday is a big game for the Bears as their season could very well be over with a loss. As of right now, the Bears don't appear to be in a good position to make the playoffs unless they can go on a run now. It has happened in the past, and it could happen again, but as of right now, the Bears have shown no signs of life in that direction.
This week is especially crucial as it is a division game against the team closest to the Bears in the Standings. Here are three things I am looking for ahead of this week's matchup.
1. The playoffs start now:
This one is as clear cut as it gets as the Bears need to be playing at a playoff level from here on out. As of right now, the Bears sit at 3-5 and are two games behind Minnesota for the final playoff spot. Sure, a lot can happen the rest of the season, but if they Bears don't go 7-1 in my opinion, I don't see how they make the postseason because 9-7 won't cut it in the NFC right now.
For that to happen, the Bears need to be in a must-win mode now and treat every game like a playoff atmosphere. As I mentioned, a 7-1 finish must be the bar if they expect to make the postseason so Chicago must come into each week with a win or go home attitude at this point. I am not saying a remarkable finish can't be done, but given what we have witnessed this season, what confidence do you have that they will be able to put that together.
2. Duplicate last season's performance:
I am not talking about season record as the Bears already have more losses than they did all last season. Instead, the Bears should be focusing on what they did against the Lions a season ago and look to duplicate that as best as possible.
Much like in 2018, the Bears will be facing the Lions twice in November. In the first meeting last year, Mitch Trubisky lit the Lions secondary up for what may have been his best game as a pro. Two weeks later, Chicago called on Chase Daniel to lead the way, and he came through on the road on Thanksgiving. Something worked last season, given how both QB's earned wins in two different weeks.
Both teams were entirely different a season ago, but Chicago still has some good film to look at. Playing the way they did against the Lions as season ago will be hard to do this year, but Chicago very quickly could figure out a way to have success against a team that is starting to fade.
3. Get creative:
One of the biggest compliments Matt Nagy received before coming to Chicago was his creative mindset, as he learned from Andy Reid in Kansas City. Last season that creativity was put to good use as the Bears offense, although stale at times really performed well when it mattered most.
This season things have gone south and continue to get worse with each passing week, especially offensively. Nagy has plenty of weapons on the offensive side of the ball that quite frankly hasn't performed well at all. He needs to reach into his bag of tricks this week to not only get creative but to put his players in the best position to succeed.
Whether that means putting Tarik Cohen out wide more often or getting Cordarrelle Patterson more touches, Nagy has plenty of options he could use to throw defenses off guard. It still comes down to the players to execute, however, no matter how creative they may get. I am hoping this week is a wake-up call in the Windy City before it is too late.
Prediction: Bears 23 Lions 17:
A few weeks ago, I would have taken the Lions in this one as they seemed to be playing inspired football. Well, that has changed a lot over the past few weeks ever since the Lions hearts were ripped out against the Packers. Since that loss, Detroit has been in a funk losing to Minnesota and the Raiders in that time frame.
Much like the Bears, they are in desperation mode at this point and can't afford another loss. If this game were in Detroit, I would go with the Lions. Since the Bears will be at home and less than ideal weather is expected, Chicago should figure things out enough to hang on for the win keeping postseason hopes alive for one more week.