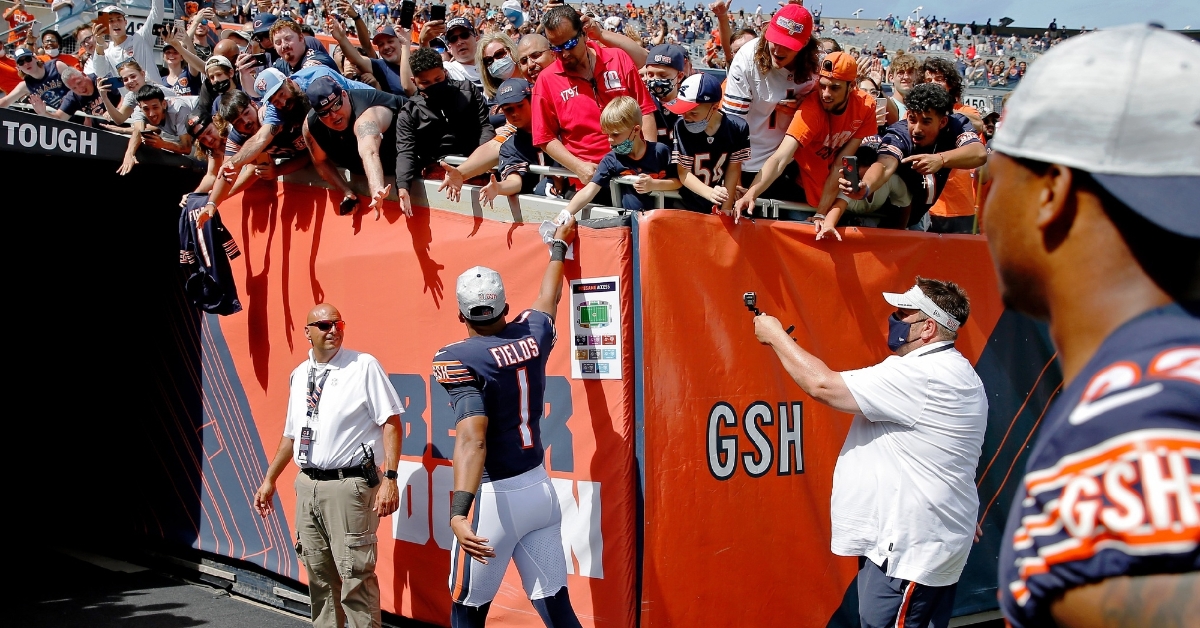 | | |
| --- | --- |
| Preseason Week 2: Three Things to watch during Bears-Bills | |
---
| | | |
| --- | --- | --- |
| Friday, August 20, 2021, 9:52 AM | | |
The 2021 preseason is unlike anything fans have seen before, as that has gone from four games down to three. That means that week two of the preseason is the midway point as the Bears press on to begin their regular season.
When you typically talk about the midway point of the preseason, you are generally looking at week three, also known as the dress rehearsal, where the starters play most of the game. This year will be different as the starters may play into the second quarter, but not much more beyond that. If you ask me, this will be the most crucial week for rookies and bench players, as this could be their last significant game action of the preseason.
Coming off a nice win against Miami last week, the Bears will face another tough test as the Buffalo Bills come to town. Loaded with talent on both sides of the ball, Buffalo made the AFC title game a season ago, and many experts feel they are a team to be reckoned with in the AFC. This is only a preseason game, so don't expect the starters to be out there the entire time, but the Bears better be ready this weekend.
How much will Justin Fields play, and how is his groin?
The biggest takeaway from the Bears week one win was the play of rookie Justin Fields, especially in the second half. After struggling to find his rhythm in the first half, Fields began to settle in during the third quarter, and both rushed and threw for a touchdown in the Bears win.
Not only was he taking snaps with the No.1's this week in practice, but there was a possibility that he would start this week with Andy Dalton entering in the second quarter. After missing time this week due to a groin injury, I have a feeling Dalton gets the start, and Fields will once again be subject to mainly second and third stringers this week.
At this point, that is ok as there is still one more week to go to see what he has. Given that his legs are a huge part of his game, you want that groin to be 100%, so you don't risk further injury. I will be watching how Matt Nagy handles that groin injury and if he adjusts his play-calling accordingly to try and limit the use of his legs. Fields played two quarters in week one, and it would be great for him to get about the same amount of time this time.
From @NFLTotalAccess: The #Jets lost big-money pass-rusher Carl Lawson for the season, while the #Bears will likely have QB Justin Fields on Saturday vs. the #Bills. pic.twitter.com/FdBxBfxLDJ

— Ian Rapoport (@RapSheet) August 19, 2021
Mitch Trubisky to start
While Fields is the QB of the future for the Bears, there was a time when Mitch Trubisky was looked at as the savior when the Bears traded up for him in 2017 to take him No.2 overall. Instead, the Bears received four years of inconsistent play out of him, which forced Chicago's hand to decline his fifth-year option making him a free agent at the end of last season.
Trubisky ultimately chose to sign with Buffalo, where he will now back up ALL-Pro Josh Allen. Saw what you want about Trubisky and his play. There were moments when he showed he could be the leader of this team, but he also had moments that left fans scratching their heads. Many feel that Nagy ruined his development as a player, and some even wish he was still here instead of Dalton.
If you listen to some of his press conferences this season, it seems like Trubisky has a chip on his shoulder for how things ended in Chicago. He not only has a chance to prove they made a mistake choosing Dalton over him, but he can do it in front of the Soldier Field crowd. I expect him to get booed heavily when on the field, but there will also be those fans who will cheer for him and appreciate what he did when he was here.
#Bills announce that QB Josh Allen will not play Saturday vs. Chicago, so Mitchell Trubisky is set to start against his former team at Soldier Field.

— Ari Meirov (@MySportsUpdate) August 19, 2021
How will the secondary perform?
One of the most significant turnovers on the Bears roster happened on the defensive side of the ball in the secondary. Not only did the Bears part ways with Kyle Fuller, but they signed Desmond Trufant to take his place while several other players have been brought in to plug holes. That leaves second-year pro Jaylen Johnson as the team's new No.1 corner after having a great rookie season.
This will be the position to watch on Saturday after Tua Tagoviola had moments of greatness against them last week. Yes, the Bears did force a turnover off him, but he moved the ball exceptionally well through the air last week in his few series, which is a cause for concern. Both Allen and Trubisky are better QB's than Tua at this point in their career, and they have a boatload of weapons to throw.
That all starts with Stephon Diggs, who led the NFL in receiving yards a season ago and had a breakout season. Diggs is looking to put an encore season on the board this year now that he is entering his second season with the Bills and has torched the Bears in his career as a member of the Vikings. In nine career games against Chicago, Diggs has averaged 94 yards receiving to go with seven touchdowns.
It will be tough for him to reach those levels in a preseason game, but he will be a test for Johnson and the rest of this secondary. When you look at some of the receivers and QB's the Bears will face this season, this is a perfect early season test for them and how the revamped secondary will perform. Chicago needs to make a statement early and prove that new faces can still have the same results.
Like Tashaun Gipson, Eddie Jackson sees a breakout season for Jaylon Johnson.

Said Jackson: "Three-Three is going to have a big, big, big year this year. You can see it. His approach, his mindset, his work. ... I feel like he's going to have a very big year and a great career."

— Chris Emma (@CEmma670) August 19, 2021