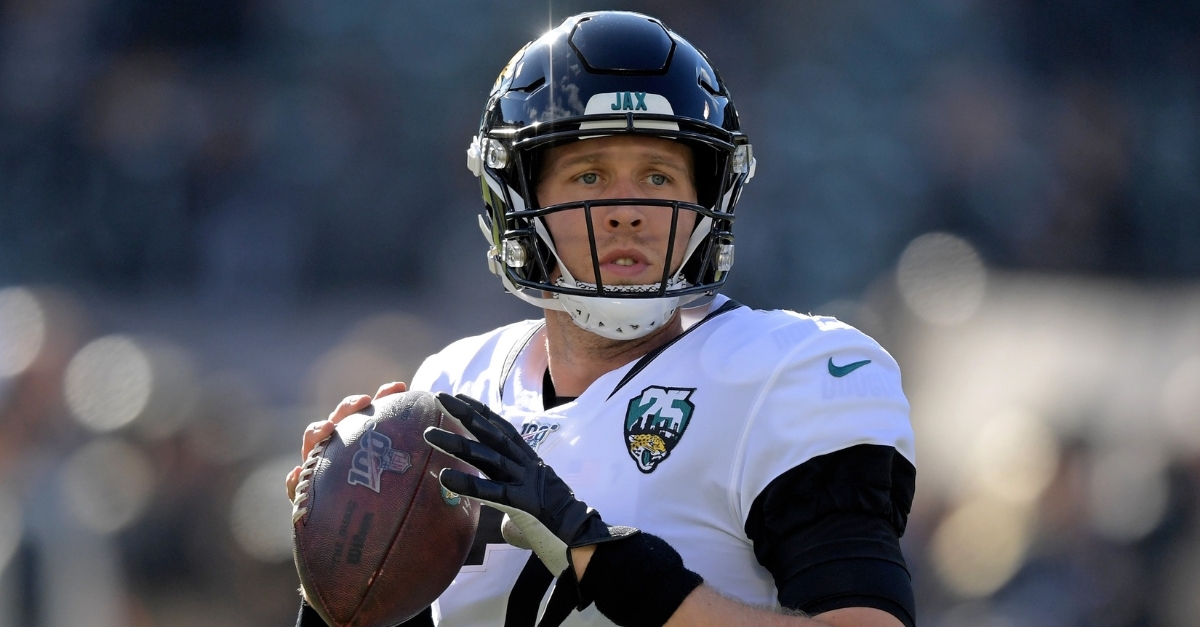 | | |
| --- | --- |
| Projecting the Chicago Bears Depth Chart: Offense | |
---
Now that the draft is officially over, teams have begun their off-season workouts in preparation for training camp. While this offseason is going to be completely different from all workouts being done virtually, players are still participating and know what to expect as the offseason continues.
With that being said, it is time to look at the Bears depth chart as it sits right now and how I think the starting lineup will look come week one.
Today we will start with the offense and move to the defensive side of things tomorrow.
With new offensive coordinator Bill Lazor taking over, the Bears are expected to be better. The question is, how much better can the offense be.
QB: Starter Nick Foles, backup Mitch Trubisky: By trading for Foles, the Bears pretty much made up their minds about what they feel toward Trubisky beyond this season. If that wasn't a clear indication, then declining his fifth-year option should have been. Now add in the fact that Matt Nagy said there would be an open competition at the QB this season, and that should be all you need to know.
Foles may not have some of the physical tools Trubisky has, but he does know how to win and win big games. That is something Trubisky has struggled to do. While I don't believe either of them is the future for this team long term, Foles is a better fit in the Nagy system playing for it both in KC and Philadelphia. We have seen what happens when he is in the right system, and I expect him to be the starter out of camp.
RB: Starter David Montgomery, backup Tarik Cohen and Artavis Pierce: One of the easiest roster locks on this year's team is that of the starting RB position in which Montgomery should have that locked down. He took over for Cohen in week five last year and never looked back, producing solid numbers that should get better with more blocking.
Cohen may not be the starter on the depth chart, but he will be heavily involved, especially in the passing game and punt return game. To me, Cohen has never been an every-down back and has always been a swiss army knife that can do so much more. Look for undrafted rookie Pierce to not only make the team out of camp but possibly challenge Cohen for a few snaps.
WR: Starters Allen Robinson and Anthony Miller, backups Riley Ridley, Ted Ginn Jr, Darnell Mooney, and Javon Wims. The Bears have a ton of WR's on their roster, and I expect seven to make the team, but realistically only six because Cordarrelle Patterson will be primarily special teams, so I won't list him with the WR core.
With so many receivers on the roster, playing time will be hard to come by unless, of course, your Robinson and Miller, who are clearly the best on the team. Adding Ginn, this offseason will be huge for the deep passing game, and Mooney, Ridley, and Wims should contribute throughout the season. The only issue I have at this point is that I don't see the Bears running too many three WR sets. I instead expect Two WRs and two TE personnel most of the season.
TE: Starters Jimmy Graham, Cole Kmet and backup Jesper Horsted. The TE position is the biggest question mark for this offense minus the two starters. With so many TE's in the room, you are looking at six or seven being cut prior to the season. Horsted has the best chance of making the cut although he won't see much action.
Instead, look for Graham and Kmet to be the primary TE targets as the Bears will utilize a lot of two TE sets this year. Graham may be the starter by default right now, but Kmet will ease into that role throughout the season and will become the Bears' top TE option at the end of the season. This is precisely the type of offense Foles thrived in with Philadelphia when he had Zach Ertz and Dallas Goddart at the TE spot.
Offensive Line: Starters LT Charles Leno Jr (backup Rashaad Coward) LG James Daniels (Backup Corey Levin) C Cody Whitehair (Backup Arlington Hambright) RG Germain Ifedi (backup Alex Bars) RT Bobby Massie (Backup Jason Spriggs). Although the Bears offensive line unit was together the final 10 weeks of the season, they still struggled much of the season compared to what they looked like in 2018.
With that being said, many thought Chicago would spend a lot of time adding to that line, which is why it was shocking when they didn't do much to improve it. Guys like Massie, Leno Jr, Daniels, and Whitehair will all be back this season as they have the communication you look for in an offensive line group. Ifedi was one of the more under the radar signings this spring, and Spriggs has some starting experience under his belt, so that immediately makes the line much deeper than in years prior.
I don't expect them to be one of the better units in the league, but they will be better than the 2019 version of themselves. Any sort of improvement will be huge in both the running and passing game as more time to throw will allow Foles to do his thing while more holes in the running game will open the passing game up. Look for the Bears offense to be more fluid and consistent this season.

Tags: Bears Football
,
David Montgomery
,
Tarik Cohen
,
Allen Robinson
,
Anthony Miller
,
Riley Ridley
,
Javon Wims
,
Cordarrelle Patterson
,
Jesper Horsted
,
Rashaad Coward
,
James Daniels
,
Cody Whitehair
,
Alex Bars
,
Bobby Massie