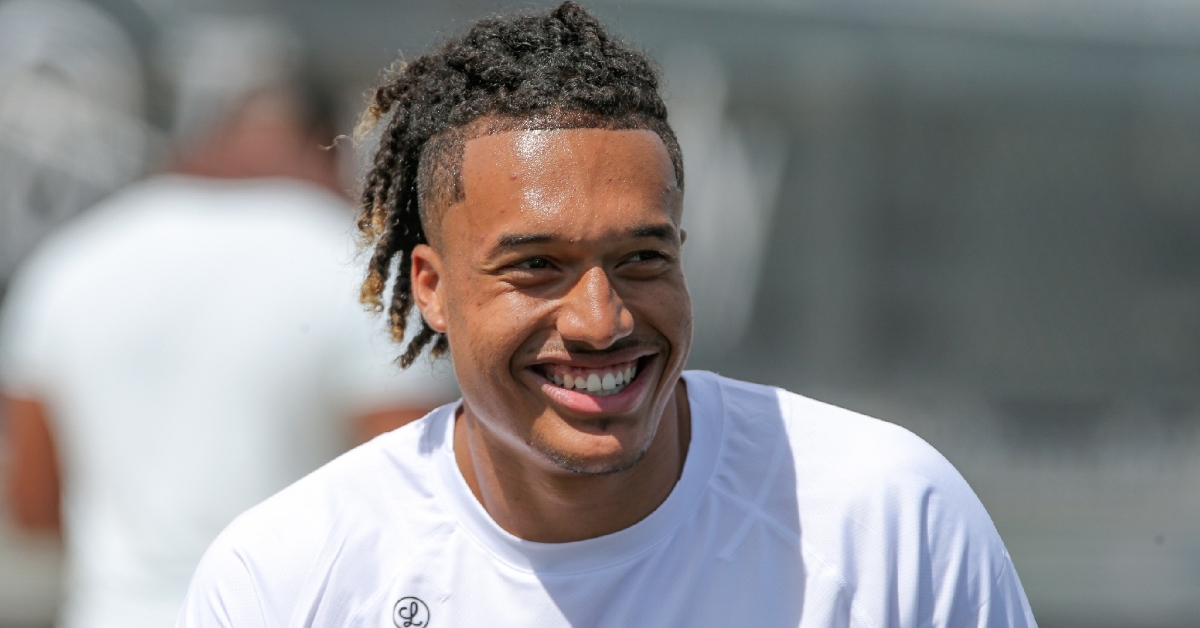 | | |
| --- | --- |
| QB prospect Kellen Mond sees a 'connection' with Bears | |
---
| | | |
| --- | --- | --- |
| 2021-04-07 10:51:29.0 | | |
With the NFL draft happening at the end of this month, now is the time when rumor mills galore will begin to fall. Chicago has been looking at building up their offensive line and being discussed with every potential QB across the board. The more you look at it, the less likely it seems they will target QB in the first round, but that doesn't mean there aren't great day two options.
Kellen Mond is one of those day two options, and if you talk to Mond, the feeling seems mutual as to what he could bring to the Bears. Chicago was in attendance for Mond's pro day, and Mond had great interactions with the people in attendance.
According to Chicago Tribunes' Colleen Kane, Mond said recently, "I've had a lot of interactions with the Bears, and I definitely see a connection. I don't want to say any names, but I'm definitely excited, especially them being able to watch me in person."
That sounds like someone who not only enjoyed meeting the Bears brass but sounds like someone who would love to play for them for a long time.
Not only that, the way Mond talks makes it sound like there is mutual interest between the two sides as a potential day two option for the Bears. Mond is also excited to show the Bears what he can do in more of an individual one-on-one workout to hopefully get them to the point where they feel he is their man moving forward.
The SEC is known for having excellent college QB's, but many don't pan out once they hit the NFL stage. Mond is looking to change all that and is the best QB to come out of Texas A&M since Johnny Football amazed us nearly eight years ago. When you look at his overall resume and body of work, it speaks for itself regarding what he can do.
He is a four-year starter that played in perhaps the toughest conference in the country. Mond is also a dual-threat QB who knows how to use both his arm and his leg while posing a low interception rate which is always a good thing. He is also one of the senior bowl standouts, which is another intriguing thing to add to his resume going forward.
Chicago has been looking into quarterbacks during the draft process, but Mond is one of the ones they seem very high on. When you not only send your QB coach but two scouts to watch him and talk to him at his pro day, you can clearly see there is a lot of interest there. This is the part of the process where interest only goes so far, and it now becomes a matter of how interested the team really is.
Mond gives the Bears a unique talent set that, yes, Mitch Trubisky may have had, but Mond does it better. Chicago has never really had a dual-threat QB, and that is precisely what Mond is. He would add a new wrinkle to this offense that desperately needs a jumpstart. He wants to impress the Bears, and that alone should have fans excited because he clearly wants to be in the Windy City.
Mond does have some work to do in terms of consistency, and that is something the Bears want to see from him. Even if he goes out and impresses fans in a televised workout, they are not who he needs to impress. He needs to impress the coaching staff and the front office, and from all accounts, he has done that so far.
When you look at what he has done with Jimbo Fisher and at Texas A&M the past four seasons, you can see why the Bears are so high on him. His sophomore season was the best of his career in terms of stats, throwing for 3107 yards to go with 24 TDS and nine ints. Despite his overall numbers decreasing a bit the past two seasons, Mond not only improved his completion percentage but cut down on the turnovers.
His 63.3% completion percentage was a career-high this season, and his three interceptions to 19 touchdowns was a career-low. For his career, Mond was just short of 60% completion percentage while still managing to throw for over 9000 yards to go with 71 touchdowns and 27 interceptions. He also added 1609 yards rushing and 22 scores on the ground showing how versatile he can be.