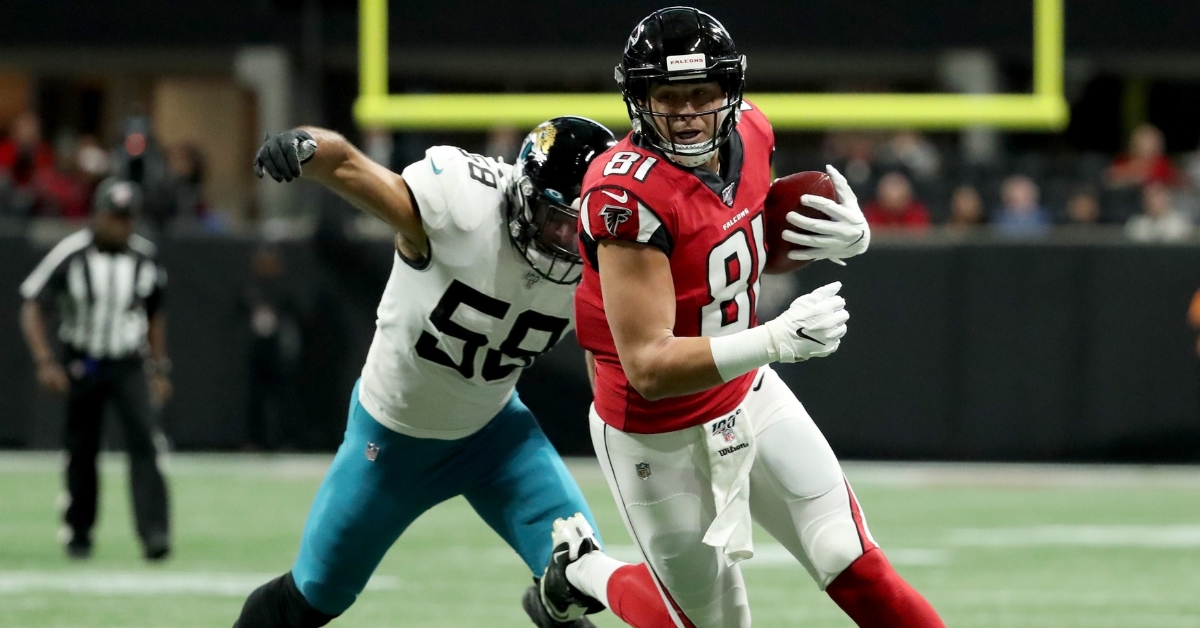 | | |
| --- | --- |
| Quick fix begins at tight end for Chicago Bears | |
---
| | | |
| --- | --- | --- |
| Tuesday, March 3, 2020, 9:05 AM | | |
The Chicago Bears do not seem to know how to fix their offense. One minute it is a bigger ground game and more production out of their running backs. The next minute it is more production and more consistency from their wide receivers, especially the younger guys. It almost always comes back to the quarterback inconsistencies. However, if head coach Matt Nagy wants to fix his offense and have some semblance of the Chiefs offense he left to run the show in Chicago, he may want to fix the tight end position.
You see, Kansas City's offense revolves around the tight end position. They count on it being productive and opening up other options. Case in point, Chiefs tight end Travis Kelce had almost twice as many receptions as any other player on the team at 97. He had more total yards than any other player on the team with 1,233 yards from scrimmage. In contrast, the Bears' tight ends only had only 46 receptions and 46 total yards from scrimmage. The wide-open high flying offense the Bears were banking on Nagy bringing with him was lost on the tight ends he inherited. Add an injury to Trey Burton, and the tight end production was gone.
While the news and rumors swirl around who the Bears will pick up at quarterback to push or overtake Mitchell Trubisky, the real question is who they will get for the QB's top target. They need to start at tight end. Most of the hype this upcoming free-agent market for tight ends revolves around the Falcons Austin Hooper. The Bears probably cannot afford his hefty price tag with the limited salary cap they have. A better direction may be to take a chance on San Diego's Hunter Henry. With Henry being prone to injury, the Bears could pick him up on a short term contract for a reasonable salary. If things work out, as I believe they would then they could sign him to a bigger deal once more cap space is available. Henry is being courted as the second coming of Gronkowski in New England, so the competition for him may be very heated.
Other options could be pay dividends.
Eric Ebron from Indianapolis was a teammate of Trubisky's at North Carolina and could be potentially be signed to a middle range salary. Although his numbers were down in 2019, he was very productive in 2018. Having played in the run and gun offense with Trubisky in college, Ebron would fit the Kelce prototype very well. Another option that could even be a better bargain for the Bears is Jason Witten. He is a big producer and wants to play a few more years. His age and his durability may help make him a cheap option for the Bears for a couple of years if he can stay healthy.
One other guy that might be worth a look or two is Nick Vannett from the Steelers. He would add valuable depth for the Bears, especially if Trey Burton can return to his from 2018, before his injury. Many may speculate that Burton may be traded, but it is an option for the Bears to keep him and sign a reliable back up or two.
Let's come around full circle to Hooper. He is definitely the cream of the crop as far as production goes. The Bears could spend a considerable amount to land Hooper, and that would signal management's commitment to improving the offense. To stay competitive in the NFC North, Nagy and company have to get better, and that improvement starts with the tight end.