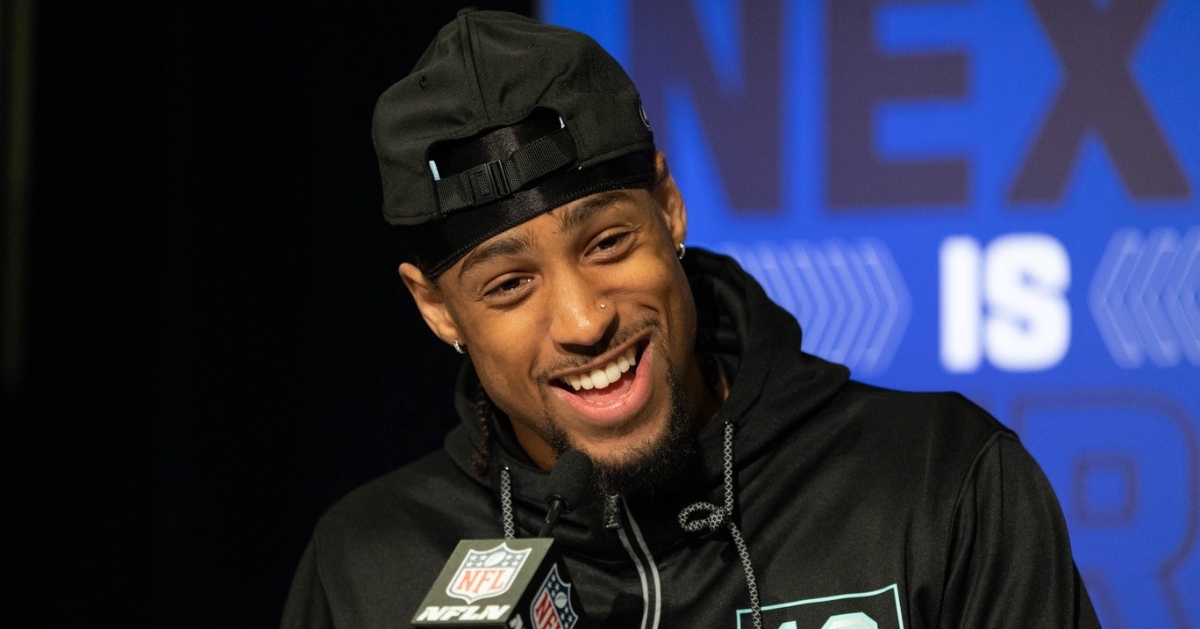 | | |
| --- | --- |
| Recent Mock Draft has Bears zeroing on CB Kyler Gordon in Round 2 | |
---
| | | |
| --- | --- | --- |
| Wednesday, April 13, 2022, 6:00 PM | | |
Washington Corner Kyler Gordon showing up on Bears Radar
By Dustin Riese
We continue to make our way toward the NFL draft with another prospect focus. For the longest time, it has been expected that the Bears would target offense first, with defensive additions coming later in the draft. While that still may be the case, Ryan Poles has other decisions to make on this roster if he wants to get them competitive once again.
Apart from the offense and their needs on that side of the ball, the Bears also need some help on defense, especially at the corner position. With Jaylon Johnson as the team's No. 1 CB, Chicago is looking for someone to pair alongside him to give them an improved secondary.
With that notion, recent draft projections have the Bears not only focussing on defense first at pick No. 39, but targeting a cornerback where Washington University product Kyler Gordon comes into play. I understand that Mock drafts mean nothing, but they are used to identify team needs and who they should target if available when they pick.
While most people envision the Bears going OL or WR at No. 39, Mel Kiper Jr sees the Bears going CB and identifies Gordon as an option. That should tell you the caliber of talent Gordon is when you look at some of the needs of this team and the projection that he could be your first pick.
Washington has had a long history of successful corners, and Gordon is another one added to the list. Knowing that and how much he could help the Bears and his defense Gordon is becoming an ideal and logical selection for the Bears at 39. Should go offense at 39, look for Gordon to be a possibility at 48, which is the Pick they received in the Khalil Mack deal.
Taking Gordon in the second round would be a wise move, but the key is if he is available. Although he is the fifth-best corner in this draft, he is also ranked the 31st best prospect. In other words, he does have first-round talent associated with his name, but could fall to the second round like Johnson and become a major steal.
Looking at his play style and overall measurables, Gordon is the perfect size for a lockdown corner as he stands 6-2 and weighs 200 pounds. He has shown some explosiveness to close down when beaten, and his ability to play press coverage off the line allows him to lock down on receivers.
Gordon also does a great job protecting from the over-the-top throw, which has become a huge thing in the NFL these days. One scout has even gone as far to compare him to Marshon Lattimore, which is a great comparison. If Gordon turns out to be anything close to what Lattimore has become, Chicago would not only have a steal in him, but a future lockdown No. 1 corner for the next decade.
A little bit more inexperienced than some of the top prospects in his class, Gordon has seen the second-most snaps without allowing a touchdown playing 436 snaps since allowing his last touchdown in coverage. That is amazing when you think about it and something this Bears defense could desperately use.
The thing that separates him, even from the best corners in this class, is his ability to read a receiver's route and react to it. There were many times when Gordon would beat a receiver to the spot and made it look like he was running the route for him. He is also great at defending the jump ball, which shouldn't surprise when you look at his 6-2 frame.
That put together gave him a coverage grade of 90.9% last season, which is the highest season grade since 2018. Not a burner, Gordon still runs a 4.52 with his 40-time and is more than adequate to keep up with some of the fastest players in the league.
Across his first three seasons with Washinton, Gordon accumulated just 60 tackles and failed to record an interception. Then comes 2021, where he played more consistently, notching 46 tackles to go with his first two interceptions.
You would like to see more than two interceptions, but he also defended seven passes giving him 11 for his career. The bottom line when it comes to Gordon is that he will not be the first corner off the board, but he will also not be a bad player. This would give the Bears their first lockdown combo since Kyle Fuller left, and that will be crucial to containing the QBs in the league.
https://www.youtube.com/watch?v=qtT0QMhuRYQ