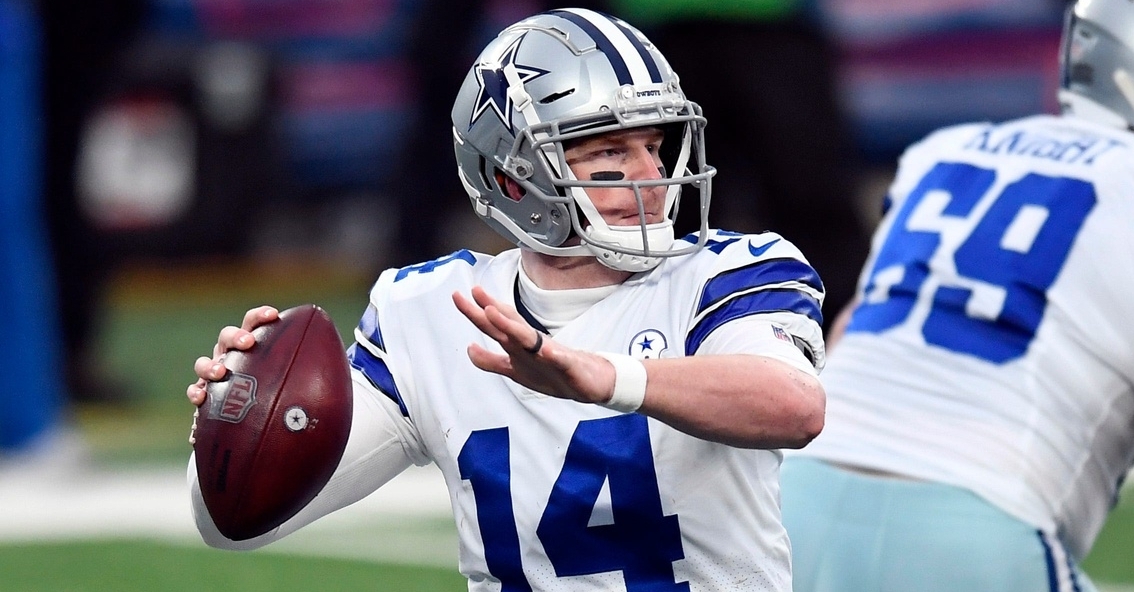 | | |
| --- | --- |
| Report: Bears signing quarterback Andy Dalton | |
---
| | | |
| --- | --- | --- |
| Tuesday, March 16, 2021, 5:03 PM | | |
The Chicago Bears have secured a new quarterback for the 2021 season.
Former Cowboys quarterback Andy Dalton has signed a one-year, $10 million deal plus $3 million in incentives according to multiple reports.
NFL Network's Ian Rapoport has the latest news on the signing.
"Chicago has been circling on Andy Dalton for a few days, with the 49ers among the other teams to have interest," he posted. "Now, it's Chicago with a real chance to start."
The Bears had a "very aggressive pursuit" of quarterback Russell Wilson but Seattle told them they were not trading him at this time according to ESPN's Adam Schefter.
Schefter said the following on ESPN SportsCenter on Tuesday night.
"I know Nick Foles is there but I think Andy Dalton goes in there as the guy that will end up being the starting quarterback for the Chicago Bears."
In 2020, Dalton threw for 2,169 yards with 14 passing touchdowns and 8 interceptions for a QBR of 53.8.
He will be reunited with Bears offensive coordinator Bill Lazor in Chicago.
More to come on this breaking story.
Obviously, Twitter had their opinions on the new quarterback for the Bears:
Chicago made "a very aggressive pursuit" of Seahawks QB Russell Wilson, per sources, and the Bears were told that Seattle is not trading him at this time.

The Bears were one of four teams Wilson's agent named as a place of interest. Now Chicago has an agreement with Andy Dalton.

— Adam Schefter (@AdamSchefter) March 16, 2021
Understanding that options were extremely limited, the idea of hitching your wagon to Andy Dalton as your likely starter in a year when your organization must win is scary.

Immense pressure all around in Chicago.

— Field Yates (@FieldYates) March 16, 2021
Andy Dalton is signing a one-year $10M deal with the Chicago Bears, per @AdamSchefter

Dalton: 69.6 PFF Grade in 2020 (23rd) pic.twitter.com/7fFZzBTEb3

— PFF (@PFF) March 16, 2021
Andy Dalton is about as uninspiring a signing as you could have dreamed up for this Bears offseason.

— M@ (@MattSpiegel670) March 16, 2021
Breaking: Andy Dalton is signing a one-year deal with the Bears on a $10 million deal, with the chance to earn another $3 million in incentives, sources tell @AdamSchefter. pic.twitter.com/tKo0PXFH2i

— SportsCenter (@SportsCenter) March 16, 2021
Matt Nagy and Ryan Pace were basically told "win in 2021" to save your job. Now it all rides on Andy Dalton. ??

— Ryan McDowell (@RyanMc23) March 16, 2021
Andy Dalton makes me miss Mitchell Trubisky. Already.

— Matt Lindner (@mattlindner) March 16, 2021
Chicago Bears have made their much-anticipated QB splash... pic.twitter.com/8RwjhAQohe

— NFLonCBS (@NFLonCBS) March 16, 2021
Bears fans waiting to get a new QB

Bears sign Andy Dalton pic.twitter.com/Ey7kY6jaYX

— Aldo Soto (@AldoSoto21) March 16, 2021
So the #Bears are either doing one of two things:

• Paying $10 million to a backup for Russell Wilson
• Hitching their job security entirely on the shoulders of Andy Dalton

Regardless of what way you look at it, this signing at that price makes absolutely no sense. None.

— Jacob Infante (@jacobinfante24) March 16, 2021
#Bears fans expecting Ryan Pace to take big swing, hoping for Wilson or Watson understandably frustrated and disappointed. This is far from a home run; this is hitting to the right side to advance the runner. Signing Dalton inspires nobody. Serviceable QB -- the latest one.

— David Haugh (@DavidHaugh) March 16, 2021
You could've had Andy Dalton last year.
But you couldn't wait to give up a 4th rd pick when you lacked draft capital. Now you couldn't wait to spend $10-13 million on Dalton when you lack cap space. pic.twitter.com/cVEhNbALEH

— Silvy (@WaddleandSilvy) March 16, 2021
You're backed into a corner, jobs are on the line, and you choose Andy Dalton as your QB to save your job???????? pic.twitter.com/IgmwgcebVr

— ?? (@downbadbears) March 16, 2021
QBs Ryan Pace has mortgaged our entire future to acquire:
- Mike Glennon
- Mitchell Trubisky
- Nick Foles
- Andy Dalton pic.twitter.com/6a8zoy6uQh

— Art?ras Karnišovas Fan Club (@arturasfanclub) March 16, 2021
Just told my Dad the Bears signed Andy Dalton pic.twitter.com/5jXC5SmUyi

— Dave (@runbackdave) March 16, 2021
How do you make things worse for missing out on Mahomes and Watson?

You trade for Nick Foles, then sign Andy Dalton. #Bears

— Bear Report (@BearReport) March 16, 2021
when your parents say they're coming home with a brand new Russell Wilson

vs

when they show up with an Andy Dalton from the 99 cent store pic.twitter.com/ZfDGYtHxyr

— Rodger Sherman (@rodger) March 16, 2021
With the addition of Andy Dalton, the Bears Super Bowl odds at William Hill go from 40/1 to....50/1!

— Darren Rovell (@darrenrovell) March 16, 2021