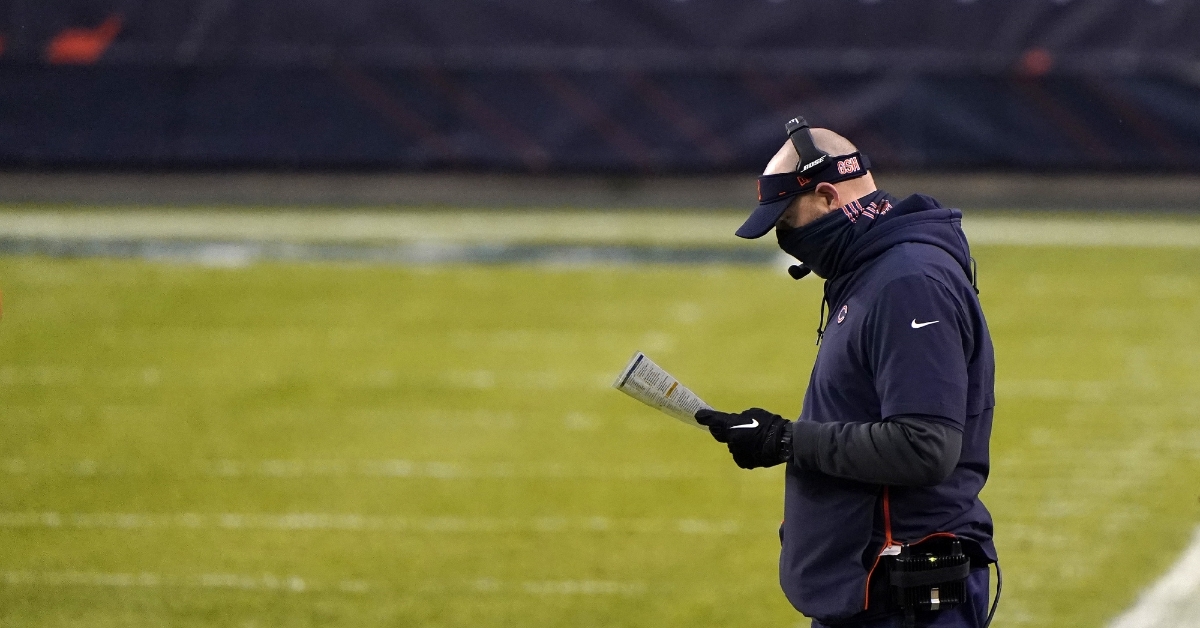 | | |
| --- | --- |
| Rock Bottom: Three Takeaways from Bears' embarrassing loss to Lions | |
---
| | | |
| --- | --- | --- |
| Monday, December 7, 2020, 10:12 AM | | |
Things are going wrong as the slide continues for the Bears. Following a horrific 34-30 loss at the hands of the Detroit Lions on Sunday, the Bears have now dropped six straight, and the sky is completely falling on them. Their record sits at 5-7, good enough for last place in the NFC North, and their playoff hopes appear to be dashed.
After such a promising start to their season, it is amazing how fast and how far this team has fallen. It's almost as if they were a completely different team back then playing with some extra bounce in their step. Obviously, injuries have taken their toles on this roster, but for the most part, this is the same team that started 5-1.
Changes need to be for this roster to reach their ultimate potential, and I expect a lot of names to be moving on from Chicago next offseason as this could be the start of another rebuild.
Here are some takeaways from the game on Sunday:
The most Bears way to lose: Coming into the Lions game, many felt this was a now or never type of game with the Bears needing a win to keep slim playoff hopes alive. For the most part, Chicago was living up to those projections as their running game coupled with strong play from Mitch Trubisky had the Bears comfortably in front 30-20 with less than a quarter to go.
After the Lions made things 30-27, the Bears needed to take as much time off the clock as possible to keep Trubisky unbeaten against Detroit and to end the skid. Instead, the Bears found the most Bears way to lose yet. After a strip-sack of Mitch Trubisky led to the Lions grabbing a late lead, Chicago moved the ball at will into Detroit territory.
That was until Allen Robinson went don't short of a first down on third, bringing up fourth and short. Needing a first down to stay alive, David Montgomery was stopped on fourth and short giving the ball back to the Lions with less than a minute to go. When things are going bad, this is what happens, and it puts an icing on just how bad things are right now.
Mitch Trubisky on how he felt walking off the field after his fumble: "I was in shock because I felt like we were gonna win that one."

— JJ Stankevitz (@JJStankevitz) December 6, 2020
Bears defense is getting torched: All season long, we have been harping on the Bears offense for not getting it done. However, it is time to blame that defense as they appear to have given up in recent weeks. Until their last two games, the Bears defense has been the lone bright spot of this team, single-handedly keeping them in most games.
After allowing 41 points to Green Bay last week and 34 this week, things are getting worse by the second. For just the second time all season, the Bears offense put up 30 points. Ironically both times were with Trubisky under center. Normally 30 points for this team is more than enough win games, but suddenly you have a defense giving up 30 points of their own.
Ryan Clark: "Now the Bears are playing complimentary football. Offense sucks and the defense sucks."

Brilliant

— Aaron FitzMagic (@CheapSeats411) December 7, 2020
It was only a matter of time until they started to crack, especially when you look at the level they have sustained all season. That becomes a huge problem because this offense isn't good enough to score 30 points consistently. The more points this defense gives up, the more challenging things will be the final four weeks as the Bears would trade anything for a win at this point.
The Bears secondary hasn't had an interception since Week 6.

The defense as a whole has had eight sacks during the 6-game losing streak.

That's staggering.

— Dan Wiederer (@danwiederer) December 7, 2020
Time for a change: There is an old saying in the NFL and sports, for that matter, that Coaches are hired to be fired. That appears to be the next step for Matt Nagy as the Bears can't afford to bring him back.
After an impressive 12-4 season in 2018, his first year as a head coach, Nagy has struggled to find wins the past two years, winning just 13 games since. They always say it typically takes a coach three years to show what they have, and with this being his third year, Nagy is in over his head.
He was brought here as an offensive guru aimed to rejuvenate and transform this offense. Although there have been times he has done that since 2018, it hasn't happened enough, and now this team appears broken offensively. Not all falls on him, but the play-calling duties did until recently, and that is the biggest concern fans have.
For a guy who claimed to be an excellent play-caller, his calls in Chicago were not very creative and seemed vanilla more than anything. If you watch a Bears game from start to finish, you can practically predict what play is coming based on Nagy's history with this team. That is not going to get it done, and the Bears are in desperate need of a change as the team no longer backs Nagy.
#FireNagy #FirePace #FirePhillips #FirePagano @ChicagoBears pic.twitter.com/vmA2S2SFrH

— BIGNOAH ????BearDownGANG 6Ls in a row?????????? (@NoahBrasos) December 7, 2020