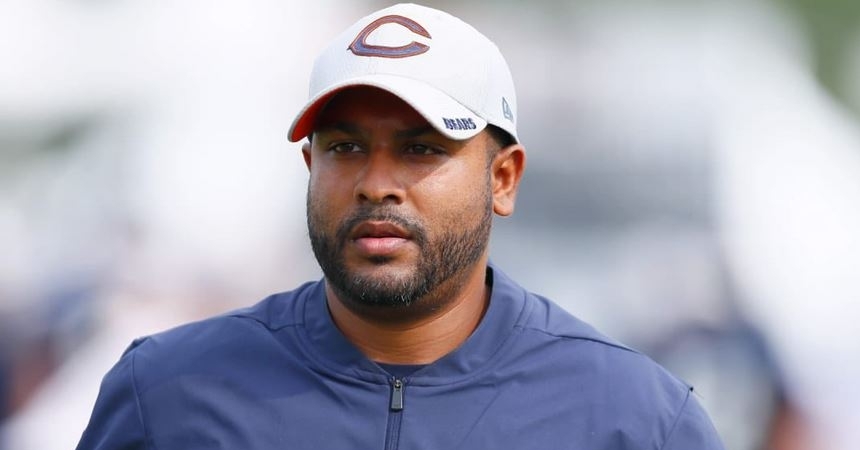 | | |
| --- | --- |
| Sean Desai named to NFL's 40 under 40 list | |
---
| | | |
| --- | --- | --- |
| Thursday, August 19, 2021, 11:34 AM | | |
While there hasn't been much to report outside of the injury issues at Bears camp the last few days, some positive news came out of camp on Wednesday.
That news relates to first-year defensive coordinator Sean Desai as he is looking to bring this Bears defense back to the elite status from 2018.
Not only does the organization feel highly of Desai, but the NFL does too, as he was listed on the NFL's second annual 40 under 40 list. This list is a culmination of coaches and executives from all 32 teams who are not only under 40 years of age but who are considered rising stars in this sport. At 38, Desai not only falls into the age criteria for this list, but many people feel he is entering the steppingstone of what could be a head coaching gig in the near future.
Desai may be entering his first season as the team's defensive coordinator, but he is no stranger to the Bears as this will be his ninth season with the organization. He spent his first six seasons with the team as a defensive quality control assistant before serving as the safeties coach for two seasons. He also worked under veteran defensive coach Vic Fangio for four seasons until he left to become the Denver Broncos head coach.
Not only is Desai entering his first season as the Bears defensive coordinator, but he is making history in the process of becoming the first coach of South Asian descent to become a coordinator. Although Desai is very familiar with this team, he is entering an interesting situation as he looks to continue the defensive mindset in Chicago. Despite the defense getting older at most positions, they still have top-tier talent that revolves around Khalil Mack and Akiem Hicks.
Knowing that and knowing that Desai has plenty of experience working under Fangio, it will be interesting to see if he can bring back the Fangio style defense and have similar success to that of his former college Brandon Staley when he was the Broncos defensive coordinator in 2020. Calling plays may be new to Desai, but looking at the game from a microscope is not new and something that Desai has been familiar with for years.
Desai may not have been the mastermind behind the Bears defense between 2015-18, but he was the right-hand man to the mastermind. In most meetings, Desai would sit with Fangio and reflect on every game while talking things over with Fangio and the rest of the coaching staff. Fangio would explain why certain things happened, what defense was used in certain situations, and why he called certain plays. In other words, he acted like a mentor to Desai as he seems to be a disciple of him.
Even though he followed his lead and looked over Fangio's shoulder, it doesn't mean he will do the same things Fangio did or at least the same way. No one is asking him to put together the same defense as they don't want him to duplicate Fangio. All the Bears are asking him to be is himself. He knows what this defense does well at and what they don't do well at. He is one of the longer-tenured coaches on this team, so the relationship with the players will not be an issue.
Desai has a brilliant football mind, and if he didn't have one, there is no way Fangio leaves him on the staff as long as he did. Now it is time for Desai not only to show the Bears, but to show the world how good of a coach he can be.