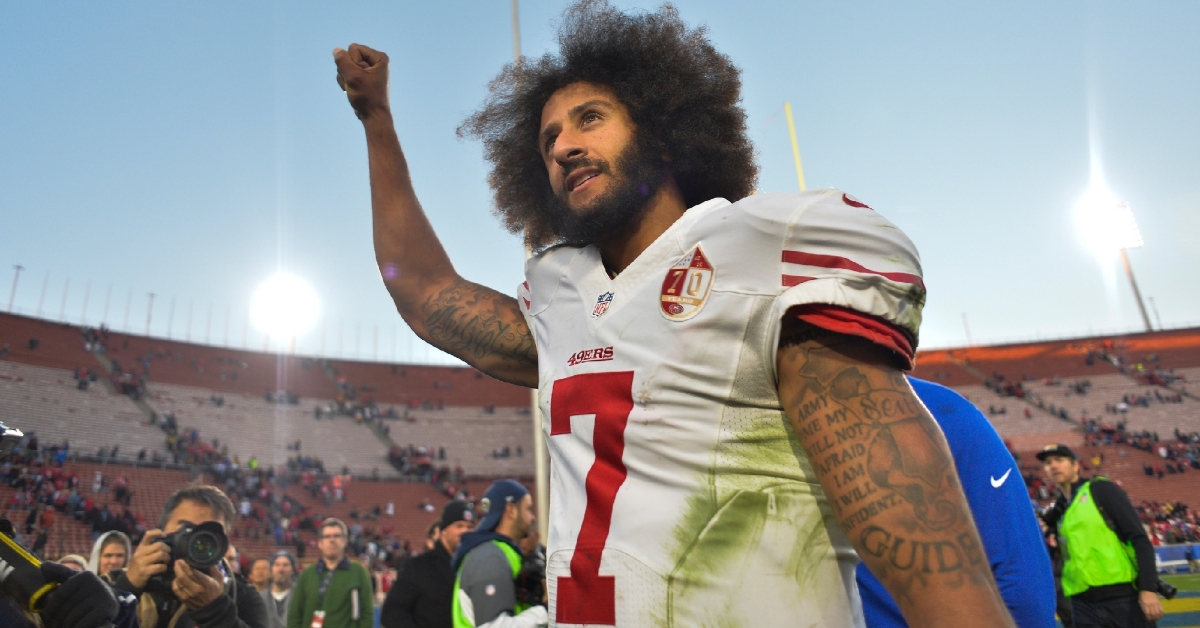 | | |
| --- | --- |
| Should Bears have interest in Colin Kaepernick? | |
---
The ongoing drama between Colin Kaepernick and the NFL has been going on for over four years now, and although quiet as of late still seems like there is no end in sight. Or will there be an end this weekend? According to reports, Kaepernick is holding a private workout in Atlanta this weekend, and all the NFL is invited to come and watch.
What does this have to do with the Bears you may ask, well their QB situation hasn't been the best this season so they may want to take a peek at the 32-year-old to see what he has left in the tank after missing the past three-plus years.
This won't be a regular workout, as the NFL themselves arranged for him to have this opportunity while allowing the rest of the league to see what kind of progress and readiness he has made. Teams continue to question his interest in returning to the league, but according to his agent, Kaepernick most wants to be back and is hoping this is the first step to reaching that goal.
Look for this weekend to be like a small combine in which Kaepernick will perform on-field drills and interviews if coaches ask him to. All clubs are invited to attend, but should they not want to be there in person, a video of everything conducted in the workout will be made for all of them to see.
This might be the most significant development in terms of his return to the league, considering how Kaepernick hasn't thrown a pass since January 1, 2017. Without getting into too much detail, we all know why he is not in the league anymore, documents by his representatives have been put together detailing everything that has happened since he took his first knee. After receiving a very minimal response for nearly three years, something finally changed, and now teams might be intrigued by his workout.
Teams in need of short-term quarterback solutions such as the Miami Dolphins, Cincinnati Bengals, or possibly Denver Broncos, or even teams wondering if their current QB is the right choice moving forward (Bears fall into that list) should do their homework and due diligence regarding his upcoming workout. Take away three years from the game, and many people would laugh and walk away at the thought of a comeback.
However, given what we have seen from Kaepernick in the past and his ability to make plays not just with his legs, but with his strong arm, that alone should be enough to interest at least a few teams to come and witness him on Saturday. At worst, his near 2/1 TD to interception rate should attract teams who are looking for a ball protecting QB.
No one knows what Kaepernick will look like after three years out of football, but at least this way, we can see what he has and if teams are indeed interested in getting him back in the league. Even if they don't feel he is capable at QB anymore, his ability to run the ball could intrigue teams to use him in different ways, much as the Bears do with Cordarrelle Patterson. QB by nature, but Kaepernick is athletic enough to make a positional switch should that be the only way he returns to the field.
I have always been a Kaepernick supporter and have felt he is being taken advantage of and being cast away from this league. Do I agree with how he went about protesting? No I don't, but when you look at players like Tyreke Hill, Kareen Hunt, Greg Hardy, and other players who commit domestic violence and abuse and they are allowed to come back and play what is so hard about bringing back a guy who has a clean record outside of doing something some Americans were uncomfortable with.
Signing Kaepernick will bring a lot of heat and drama to a franchise one way or another, so it will take an owner who doesn't care about any of that moving forward to get the job done. Surely some fans will be furious and may threaten not to watch games anymore, but you will still have those who will support their team no matter what.
At this point, honestly, what is the worst that could happen by signing him. I am going to use the Bears as an example. With Chicago sitting at 4-5 right now, they are in the playoff hunt but slowly fading away. Should the Bears get eliminated from contention say by Dec 1, and they bring in Kap what would be so bad about naming him the starter the rest of the way.
At worst, the team loses the rest of their games, and they get a better draft pick for 2020 to help the team moving forward. On the other hand, let's say the Bears are 5-7 or even 6-7 and then Kap leads them undefeated down the stretch to finish with a respectable record. That would give the Bears some thinking going forward as to planning for the future of the franchise.
Whatever happens on Saturday, I do expect not only the Bears but several teams in the NFL to watching this workout very closely. It may not happen this year, but should Kap do what he believes he can, I wouldn't be shocked to see him back in this league next year playing for someone as a backup or even a starter given the situation.
Upgrade Your Account
Unlock premium boards and exclusive features (e.g. ad-free) by upgrading your account today.
Upgrade Now