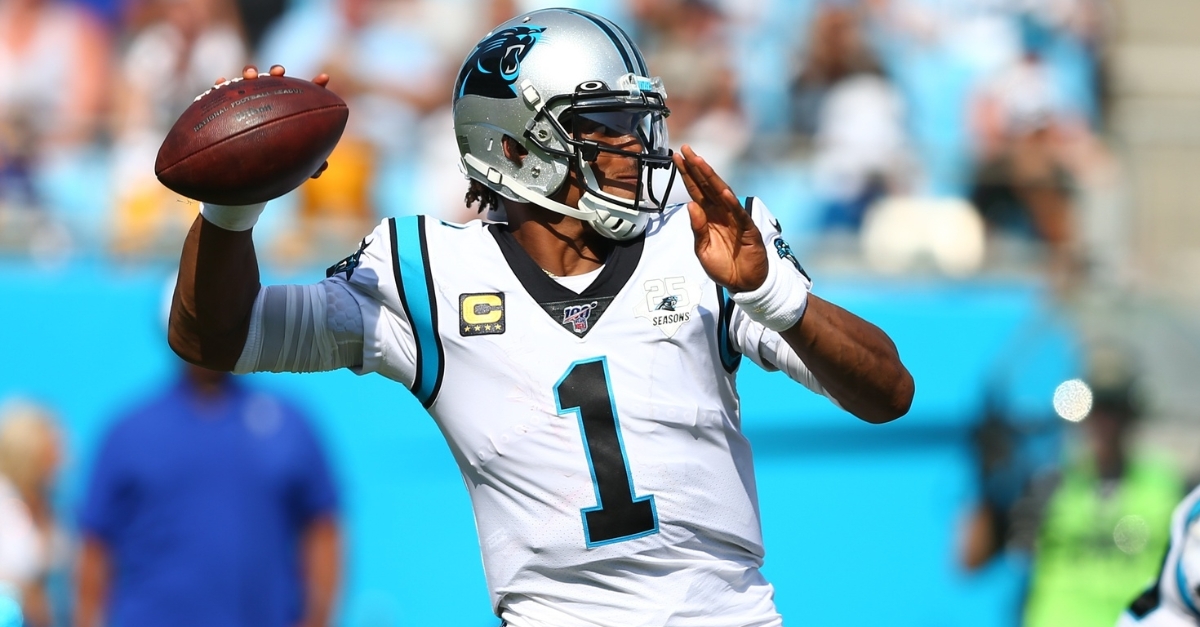 | | |
| --- | --- |
| Should the Bears trade for Cam Newton? | |
---
| | | |
| --- | --- | --- |
| Tuesday, October 22, 2019, 1:31 PM | | |
Since the departure of Jay Cutler from Chicago, the Bears have been searching for a franchise quarterback that they could build around, hoping to reach another Super Bowl. After a breakout year from Mike Glennon in Tampa Bay, the Bears decided to give him a four-year contract with hopes of making him the man long term.
That experiment was over almost as fast as it started as the Bears went on to draft Mitch Trubisky a few months later, trading up to No. 2 to get him. After receiving much criticism, Trubisky became the teams full-time starter in week 6 of the 2017 NFL season before leading the Bears to the playoffs last year. The Bears appeared to have their man under center for the next decade. Or so they thought.
Since the postseason loss last season, Trubisky has not been himself and has even gone backwards in terms of his overall development. That has sent the Bears offense into a tailspin, which is why they sit at 3-3 so far this season. With the rest of the NFC North bosting QB with the likes of Aaron Rodgers, Matt Stafford, and Kirk Cousins, it is safe to say to the Bears may have a quarterback issue as they try to piece the rest of the season together.
When the Bears drafted Trubisky, they received a lot of criticism mainly since they traded up to get him. Not only was he a reach at the No 2 pick, but he was graded as a third-round talent, meaning if the Bears wanted him that bad, he still would have been available in the second round where they didn't need to give up a pick to get him.
Taking a chance on a player is one thing, but taking a chance on a player who was a one-year starter in college is a completely different story. Sure, his numbers were good as a junior at UNC throwing for nearly 4000 yards to go with 30 touchdowns and six interceptions, but his previous two seasons before that were average at best. This led many to believe that Trubisky was a three-year project in which he needed a few seasons on the bench to develop before he would be ready to start.
Keep in mind, this was the same draft that had both Patrick Mahomes and Deshaun Watson taken after Trubisky, and we have seen how those two have panned out with their respective teams. The three-year project turned into five weeks as Glennon went down injured against Green Bay in week five of the 2017 NFL season and never returned. That forced the Bears to pull the trigger on Trubisky earlier than they expected, but it was his team now.
Knowing that he would indeed go through some growing pains, the Bears struggled to get much going in 2017, settling for another last-place finish. They then spent 2018 not only hiring a new coaching staff but spending a ton of money to help the Bears give Trubisky plenty of options moving forward. Year two was much better for Mitch as he helped the Bears to a 12-4 record and NFC North title. Even with that solid season, many still were not sold on the QB as the defense was responsible for much of that success.
Hoping to prove the doubters wrong this season, Trubisky has fans ripping out their hair as he has taken major steps back instead of developing into a great QB. This leads me to my next question, what did the Bears see in him to not only pass on Mahomes and Watson but to trade up to get him in the first round?
The front office had to have seen a lot of film on him, or this may not have been the guy they chose. Maybe they felt Mahomes numbers were inflated because he played in the Big 12, which is a league with no defense. Well, Mahomes has proved to everyone that the numbers he put up in college will continue into the NFL as he is opening eyes with his play at the QB position. Regarding Watson, both him and Trubisky came from the same conference, so they faced the same teams during the season.
If you go strictly by an eye test, Watson was a million times better than Trubisky, and the numbers clearly show that. However, the talent around Watson is also far superior to what Trubisky had, so the Bears had to take that into account too when looking at his numbers. Had Trubisky had the weapons that Watson had, maybe he would have been a better prospect coming out of college.
Another reason I think the Bears liked Trubisky is that he was a young and raw talent that didn't know the type of QB he was yet. Both Mahomes and Watson both knew who they were as a player and have not changed. Trubisky had only one year as a starter under his belt and was still learning who he was as a starter. The Bears may have liked that because it gave them the options to make him who they wanted him to be while gearing the team around his strengths.
I think it is safe to say that in year three of the Trubisky experiment, the Bears in trouble at the QB and may be searching for answers soon. So far, Trubisky has relied on a good running game and an elite defense to help lead to wins. When forced to put the game in his hands, he has not been able to get it done as his development seems to have stalled.
Looking at what I have seen from him this season, it appears as though he still doesn't know who he is as a quarterback quite yet. He used to be a guy, not afraid to use his legs. Now it seems like he is turning into a pocket passer, which is not his strength. Matt Nagy and the coaching staff need to come up with some game plan to get Trubisky comfortable so they can start to utilize his strengths once again.
Future at the QB position?
Should Trubisky continue to struggle, I don't see the Bears wanting to draft a QB only to start from scratch once again. Instead, I look for them to field maybe a trade for a veteran QB that is a perfect fit for the offense. One name that continues to pop up is Cam Newton, who is currently injured in Carolina. With Kyle Allen leading the Panthers to 4-0 in his starts, it would not surprise me at all to see Newton be on the block next season.
Should he become available, would and should the Bears make a play for him. Not only does he have better intangibles than Trubisky but give the man a great defense, and he will lead you to the playoffs. He is used to not having a ton of weapons as his legs make up for a lot of lacking weapons. With the Bears wanting to run the ball better, having Newton in the fold could make all the difference in the world.
I am not saying the Bears should pull the trigger now and do this. What I am saying, however, is that Chicago should start looking at if Trubisky is the answer long term or not. After all, the Bears won't have this defense forever and need to win now before it is too late.