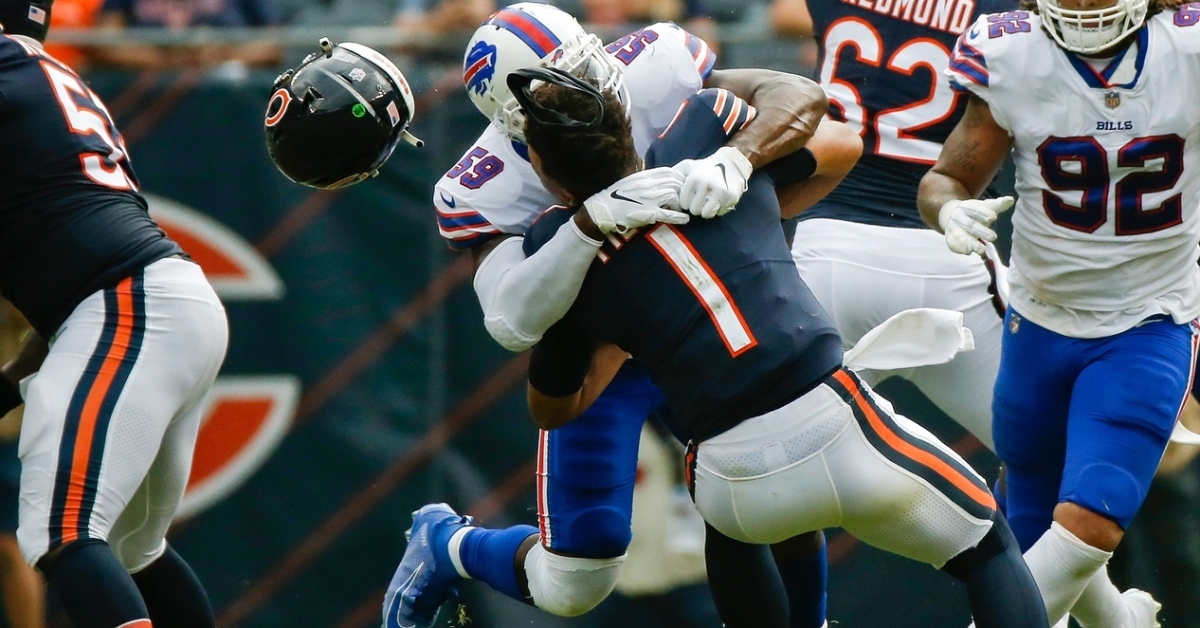 | | |
| --- | --- |
| Takeaways from Bears' blowout loss to Bills | |
---
CHICAGO – Saturday went about as bad as things could go for the Chicago Bears (1-1) as they proved to be no match for the Buffalo Bills (2-0). Preseason or not, the Bills made a statement, and they continue to show why they could contend for the Super Bowl again this season after coming up one game short last year.
Led by one of the rising quarterbacks in the game in Josh Allen and a boatload of offensive weapons, including the league's leading receiver I Stephon Diggs, Buffalo will once again be a team to reckon with this season. Hoping to dodge a bullet with Allen and Diggs not playing, the Bears hoped to get the best of their old friend Mitch Trubisky who returned to Soldier Field.
What was an emotional day for him turned into a nightmare for Chicago as the Bears fell behind early and often and could not recover. Devin Singeltary opened the scoring with a 14-yard TD run in the first quarter before Trubisky found former Green Bay Packer Jake Kumerow for a four-yard strike later, putting the Bills up 13-0.
Still holding that two-score lead in the second, Reggie Gilliam started to take over using a pair of one-yard touchdown runs to build a 28-0 lead. If not for Rodney Adams incredible 73-yard score, the first half as a complete wash with Tyler Bass adding a pair of field goals to send the Bears into the locker room down 34-6.
Things continued to be a struggle in the third offensively for Chicago as they couldn't move the ball against that Bills defense. To make matters worse, a special team's breakdown allowed Marquez Stevenson to return a punt 79 yards for another score, putting the Bills up 41-6. Chicago was able to get a little momentum in the fourth, with Khalil Herbert picking up a 13-yard rushing touchdown ahead of Brian Johnson's 54-yard field goal. Even with that, the Bears were no match for the Bills falling 41-15 in preseason action.
Mitch Trubisky gets the last laugh
Mixed with scattered boos and cheers across the field, Trubisky took the field for the first time since being released this offseason. The former No. 2 overall pick of the Bears had an up and down career in Chicago, and fans have been highly critical of his performance.
A lot of people felt he was a bust that never panned out as a starter. However, some people felt Matt Nagy held him back, and they would love it if he were still here with Justin Fields. Now the backup to Allen, Trubisky understands his role and will do whatever he needs to do to help his new team win.
Going against his former team for the first time, Trubisky torched the Bears defense completing 20-28 passes for 221 yards and that one score. He also added 11 yards on the ground with one carry as all those numbers came in just over one-half of play. That would be great numbers had that been an entire game, but with that happening in just over one half, it makes you wonder what if.
Perhaps the play calling was ultimately what did Trubisky in and the reason for his struggles. If that is the case, Fields could go through some of the same issues, and if that is the case, what is the next step for the Bears. Trubisky clearly showed he can still play even if it was against mainly second-stringers. He is a name to watch this season should a team need quarterback help for a starter's role.
Highest graded QBs in Bills-Bears:

?? Mitchell Trubisky - 76.2 ??
…
?? Justin Fields - 64.8
?? Andy Dalton - 52.0 pic.twitter.com/PFKFhqqPvv

— PFF (@PFF) August 22, 2021
Preseason or not, the offensive Line is a mess
Part of the reason preseason games are important is that it gives teams a chance to iron out their weaknesses before the regular season. Despite adding several names to what appeared to be a revamped offensive line, that is still the weakness on this team, and that showed against the Bills.
Not only did the team struggle to move the ball the entire first half, but fans also witnessed a scary moment that almost saw Fields season over before it started. During one of the Bears second-half possessions, the Bills had heavy pressure on the Bears offensive line and were able to get to Fields. Not only did they get to him, but they hammered him as his helmet and headband flew off his head in what was a hard hit.
Thankfully Fields avoided injury on that play, but that was a microcosm of what can happen to Andy Dalton or Fields this season if the offensive line isn't better. With so many new faces on offense, there is no excuse for the Bears not to be more consistent on the offensive side of the ball this season.
Ultimately, their success boils down to how the offensive line holds up. If they play the way they did against Buffalo, it could be another long season for Bears fans. However, if they play the way they did against Miami, you could see a dangerous team because the defense is still good enough to take over games.
Bears OL is in MAJOR, MAJOR trouble...

Don't worry, they got the Rams Week 1... No one to worry about on that front ??

— Ben Fennell (@BenFennell_NFL) August 22, 2021
Rodney Adams is giving the Bears something to think about
Sticking with the offense, and Chicago will have a tough decision to make in the receiver room. Guys like Allen Robinson, Darnell Mooney, Marquise Goodwin, and Darius Byrd should all have roster spots barring injury, but who takes the final two receiver spots is the biggest question.
One player making a case for one of those spots is Adams, who put together another great showing. After leading the team in receiving week one, Adams had another great game hauling in three passes for a team-high 89 yards, including an incredible 73-yard touchdown. That makes two straight weeks he has led the team in receiving, and his connection with Fields is noticeable.
A former fifth-round pick of the Minnesota Vikings, Adams was viewed as a mid-round steal only to see limited action on the field in his five seasons in the league. Hoping for a fresh start with Chicago, Adams was brought in as a preseason body, but his play is starting to turn the heads of the coaching staff.
Not only that, but the connection also he has with Fields is especially important and could ultimately decide his fate on this team. If the Bears plan to go with Fields at some point this season, they will want to give him the most weapons possible for him to be successful. While Adams isn't going to be a top-four receiver, he does have the chemistry with Fields that most of this roster doesn't, and that will go a long way in helping Fields play at a higher level.
Former #Vikings WR Rodney Adams with the long TD catch pic.twitter.com/puw0sRAuy3

— Adam Patrick (@Str8_Cash_Homey) August 21, 2021
Upgrade Your Account
Unlock premium boards and exclusive features (e.g. ad-free) by upgrading your account today.
Upgrade Now