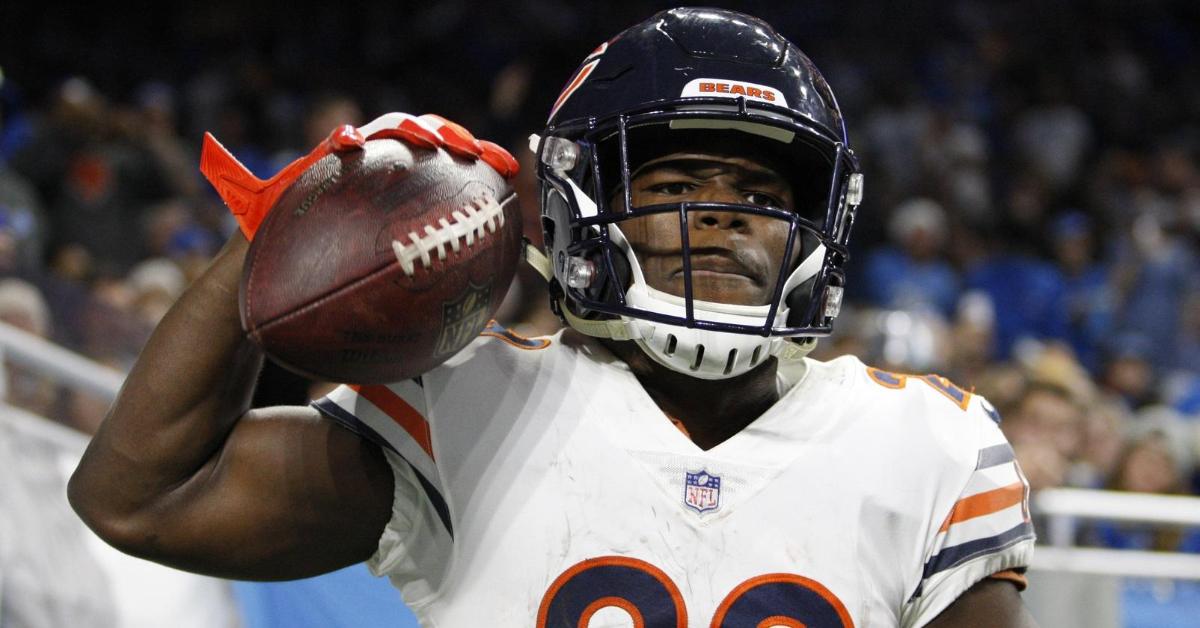 | | |
| --- | --- |
| Bears News: Tarik Cohen continues to work back from a torn ACL | |
---
The NFL is an extremely rough game and one that can be taken away from you instantly. One moment you are on top of the world as one of the best players in your organization. The next, a freak injury throws a wrench in your plans, and you are never the same. That appears to be the story for Bears RB
Tarik Cohen continues to work back from a torn ACL suffered last October.
When Cohen was at his peak, he was the ultimate Swiss Army knife for the Bears. He did it all from rushing the ball to catching passes out of the backfield and even emerged as one of the best punt returners in the game. I am not alone when I say this, but I do miss Cohen on the field more so this season than ever before.
Cohen was always an entertaining player filled with plenty of potential. He was fast, strong, and electric when the ball was in his hands, which is why the Bears moved him around to keep him on the field. Cohen was a significant part of the Bears offense, but he was a fun guy to watch. However, after tearing his ACL in 2020, which cut his season short, Cohen is still rehabbing from that injury 14 months later, leaving his future in question with this team.
One of the hardest workers on the team, Cohen, has attacked his rehab head-on, and it appeared he was on track to return at some point this season. However, according to Head Coach Matt Nagy, Cohen is getting to that point where it is taking him longer to bounce back than he expected, putting his 2021 season in doubt. Should that be the case, he will be going nearly two years from playing a down in the NFL, leaving his future not only with this team but in the league in question.
Typically most players return from a Torn ACL in the 9-12 month timeframe. However, no two players are the same, and Cohen is not one of those players that comes back ready and stronger than before. Despite it being nice to hear that he is attacking his rehab and being engaged in everyday activities, you have to wonder when he will return to the field again.
Not only is it becoming less likely that fans see him this season, but I am also starting to wonder if fans have seen the last of him in a Bears uniform. Keep in mind; this is a guy who was drafted in the fourth round only to produce at such a high level that he earned a four-year contract extension. This is year two of that extension meaning the Bears are still on the hook to pay him even if he never plays for them again.
The Bears offense has certainly suffered since his injury, and you can look at the stats to back that up. However, Cohen is desperately missed in the passing game, especially the screen game, and is missed on special teams now that Cordarrelle Patterson is gone. I would argue that he may not be needed in the running game anymore as David Montgomery and Khalil Herbert are doing more than enough to keep that engine going.
Cohen has/had a significant role on this team as everyone does, but when someone goes down, it is up to other players to pick up the slack. Damien Williams and Herbert have picked up his slack and have created an excellent trio together in the backfield. However, the NFL is a business that thrives off of results, and Cohen isn't giving this team results sitting on the sidelines.
Should Cohen miss this season, he will be entering the next offseason going on nearly two years without playing a down in the NFL. The NFL is hard enough to get by as it is, but when you miss two years of action, it will be hard to come back and be a close resemblance to what you once were. If the Bears feel that he is more damaged goods than anything right now, they may look to move him to create some additional cap space.
If the Bears part ways with Cohen next season, they will create 2.25 million in cap space, but would come with a 3.5 million dead money hit. Not only that, but it is the fine line a team has to cross when it comes to cutting a player due to injury, especially one that has had plenty of success. Chicago has cut players with injuries in the past going back to Zach Miller, so I wouldn't put it past them this season. Regardless, Cohen still has something left and will be a massive pickup for anyone should the Bears move on from him.
Upgrade Your Account
Unlock premium boards and exclusive features (e.g. ad-free) by upgrading your account today.
Upgrade Now