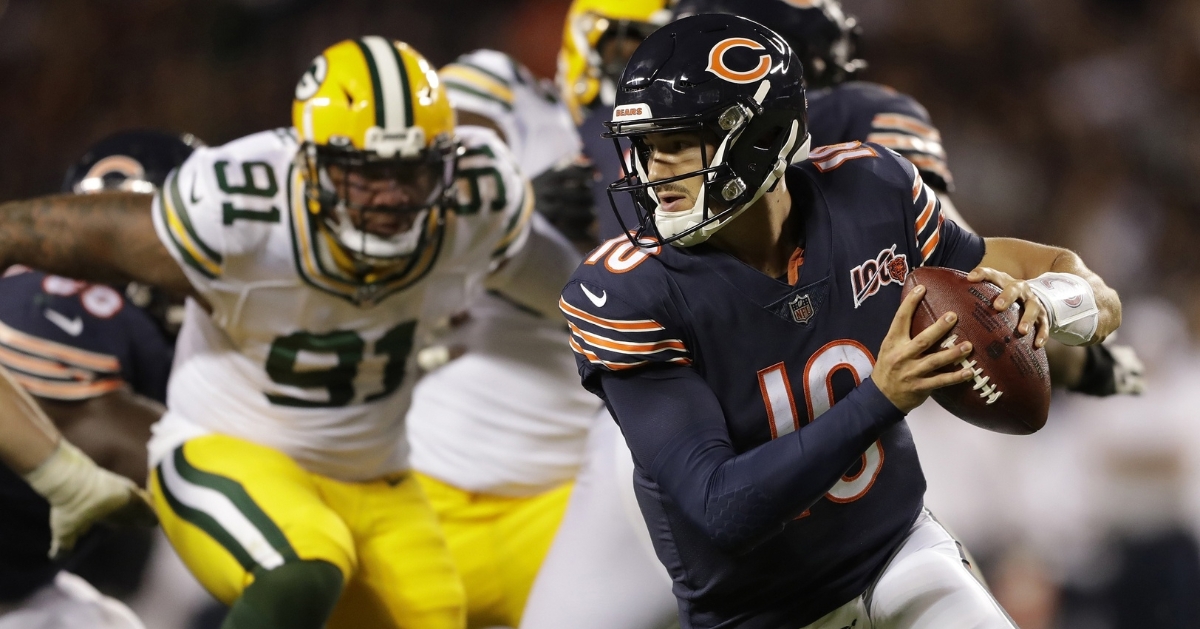 | | |
| --- | --- |
| Three Bears' Takeaways from loss to Packers | |
---
| | | |
| --- | --- | --- |
| Friday, September 6, 2019, 11:45 AM | | |
Now that we have had some time to sit down and digest what we witnessed last night; nothing can change the fact that it was an ugly overall performance from both teams. Last nights 10-3 loss by the Bears brought football back 100 years as this was the type of game these two teams used to playback in the day. Whether it was a great defensive scheme from both sides or just a poor offensive effort remains to be seen, but both teams have a ton of work to do for the rest of the season. Here are three takeaways that I noticed from last night.
1. The Defense is still elite: Many wondered coming into this season how new defensive coordinator Chuck Pagano's defense would look compared to what Vic Fangio had in place. I think we got our answers last night as the Bears defense once again seems to be an elite force to be reckoned with in 2019.
Right from the start, the Bears got in Rodgers grill as they pressured him and eventually sacked him five times. Even though they didn't win the game or force a turnover which has been their mainstay in recent seasons, but they managed to keep Rodgers in check for most of the game with his 47 – yard strike to Marquez Valdez-Scantling as the biggest play of the night. It just so happened that play set up the eventual winning touchdown, but the Bears still were stout on that side of the ball.
I expected maybe some early struggles containing A-Rod with a new scheme, but that certainly was not the case. Chicago once again proved that their defense will be their calling card this season, but they need to generate some turnovers if they want to achieve their goal.
2. Preseason Reps do matter: Say what you want about the preseason and how it may be useless or too long, but preseason reps do matter. That clearly showed on the offensive side of things for the Bears as they looked lost on that side of the ball. For much of the preseason, most of Chicago's offensive starters saw minimal action if any action at all as they hoped rest and practice repetition would translate to week one success.
The problem with that theory is that you cannot replicate game situations in practice no matter how you try. That is what makes preseason reps so important for not just rookies trying to make the team but starters also. I am ok with starters not playing in weeks 1 and 4 of the preseason as those are generally the most vanilla games of them all.
Week 2 I believe the Starters should be out for a minimum of two series with week three being used as the week one dress rehearsal. By having starters take those reps, not only does it allow everyone to be familiar with one another against a different opponent, but it will enable them to be involved in a real-life game situation where they can make mistakes in games that don't matter. After last nights showing, it is evident that the Bears offensive unit did not see enough reps in the preseason. Yes, Green Bay may have an improved defense, but I don't think it was as good as it looked last night. Chicago now has ten days to hit the practice field to get ready for week 2.
3. The NFC North will be a beast of a division in 2019: Last season the NFC North was one of the weakest divisions in football with the Bears running away with at 3.5 game advantage. This season looks to be entirely different as the NFC North may quite possibly be the deepest division in all of football.
I won't say that the North is the best division because the Lions must be consistently relevant for that to happen, but all four teams in this division have gotten better meaning it could be the deepest and most competitive division in 2019. We all know that Green Bay possesses the best QB in the division, but they have never had a real defense. This offseason they went out and invested nearly everything on that side of the ball, and it showed Thursday night.
Detroit hasn't been a relevant team consistently since the Barry Sanders days in the late 1990s. Still, Matt Patricia and his staff have a plan in place, and the Lions have added some nice pieces on both sides of the ball that could see them as a more competitive bunch this season. Minnesota may have the most overall pieces on offense, but they remain a mystery on that side of the ball with Kirk Cousins at QB. The addition of Gary Kubiak as Offensive Advisor may be the single most significant signing in the entire division as I expect their defense to be top 5 material once again.
Then you have the defending champion Bears who did not do much this offseason. Outside of adding a new placekicker, the signing of Haha – Clinton Dix was the lone big move they made as most of their roster remains intact from last season. Whether that was the right thing or wrong thing to do remains to be seen, but the Bears still have as much depth and talent as anyone in this roster.
It would not shock me to see anyone finish with more than ten wins in this division this season. I also wouldn't be shocked to see three teams emerge in the playoffs from this division either as any one of these four teams can emerge as NFC North Champions. With five more division games this season, the Bears cannot hold their heads from this loss. Instead, they need to get right back to the drawing board and get ready for a real black and blue division in 2019.