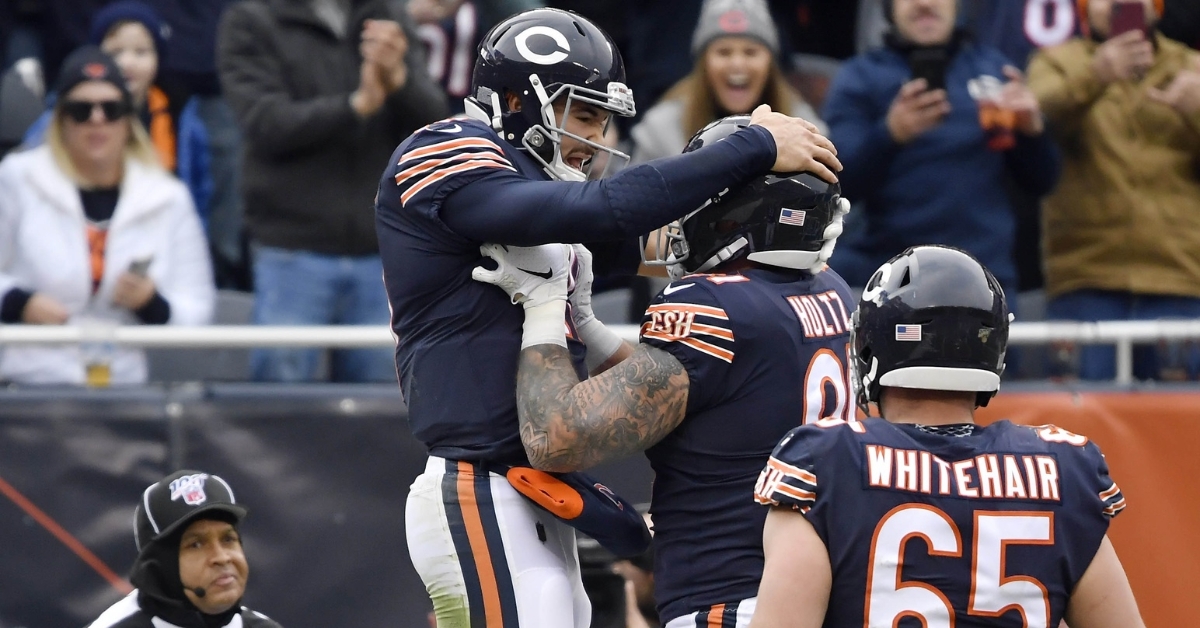 | | |
| --- | --- |
| Three Bears' Takeaways from win over Giants | |
---
| | | |
| --- | --- | --- |
| Monday, November 25, 2019, 11:07 AM | | |
It wasn't pretty. It was downright ugly, but all that matters is the final result at the end. That result happened to go in the Bears favor as Chicago erased a 7-3 halftime deficit to pick up a 19-14 win moving to 5-6 on the season. With a short week this week, it was a crucial win for them as they kept themselves alive in the playoff hunt and have now gained ground on Philadelphia, who lost to Seattle yester.
With the win, Chicago now must hit the reset button immediately as they will be in Detroit on Thanksgiving, looking to get back to .500 for the first time in over a month. Here are three takeaways from yesterday's win.
Robinson backs it up
A week after talking about the players Chicago has on offense, the WR backed it up with his play on the field having one of his best games of the season. Signed last year as a free agent, Robinson has been the Bears leading target all year but hasn't seen the numbers him nor the franchise was expecting to see.
After coming down with a game-high six catches for 131 yards and a touchdown, Robinson can say that is what Chicago should expect from him weekly as he looks to build off that performance down the stretch. I am not saying this will be the type of numbers he puts up every week, but a performance like this can certainly go a long way in turning the Bears offense around.
Chicago not only can count on Robinson, but he can be trusted in crucial spots, which is something Mitch Trubisky desperately needs in his receiving core. Regardless of what happens the rest of the season, Robinson did prove on Sunday that the Bears have a legitimate no. 1 in their core.
Shutting down Barkley was the key
We all knew coming into the game that Saquon Barkley continues to be the motor of the Giants offense as when he goes, they go. With a rookie QB in Daniel Jones under center, the best way to shut the Giants down is to stop Barkley early and force Jones to beat you.
Yes, Jones may have had 2 TD passes to go with 0 INT, but his 150 yards through the air will not beat anyone in this league consistently. The Bears also forced Jones to throw 36 passes a number that the Giants don't want to see from their rookie signal-caller.
The main reason for that was due to the lack of production from Barkley, who carried the ball 17 times for just 59 yards and recorded two receptions for one yard. By shutting him down, the Giants offense became one dimensional, which is not something they are good at this season. This could be a plan for the Bears moving forward defensively as they could focus on shutting down one player each week to make teams one dimensional.
Welcome back Pinero
After two weeks of struggling in the kicking game, Eddy Pinero returned to his early-season form despite missing an extra point. Typically extra points tend to come back and haunt teams, but in this case, it didn't happen. What was good to see was Pinero remaining confident all game connected on his other extra attempt and drilling both of his field goals.
Although both field goals were easy makes with his longest coming from 26 yards out, it was good to see both those kicks go through to keep his confidence going in the right direction. Sometimes for a kicker, all it takes to regain confidence is to see the ball go through the upright. Pinero certainly did that on Sunday, and now Chicago will be looking to see that continue the final five weeks of the season.