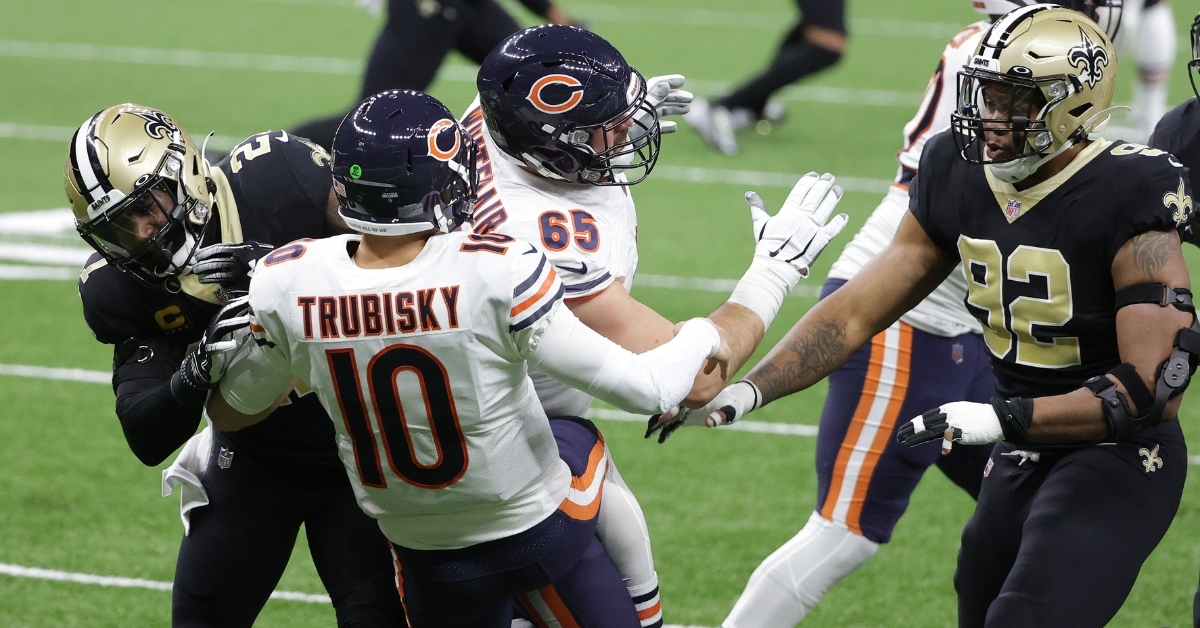 | | |
| --- | --- |
| Three reasons why the Bears are still terrible | |
---
Any time you go into a rebuild as a franchise, there are a lot of factors that come into play. The most apparent factor is going all in on a team you thought had the potential to win, only to have that experiment end with a thud. You also have to look at veteran-led teams with high-paid players that continue to struggle to win games and thus decide to go into firesale mode and trade those pieces off.
The Bears are a bit of both of those, as they went all in with their team in 2018 but then started to trade away those veteran pieces three years later, and Chicago is in this position because of it. While those may be the biggest reasons for the Bears most recent rebuild, several other factors go into play and the Bears need to be held accountable for it.
The QB draft debacle of 2017
The biggest reason for the Bears current state of a rebuild is their QB position, as the Bears haven't been able to find their franchise guy. From all accounts, Justin Fields has the tools to be that guy, but unless he can stay healthy and show more consistency, Fields isn't going to be the answer long-term.
Jay Cutler was the answer for nearly a decade, but since he left Chicago, this team has had the worst luck regarding the QB position. That luck started in 2017 and came full circle a few seasons later as the Bears shocked the world by trading up and taking Mitch Trubisky as No. 2 overall. Everyone knew the Bears needed a QB then, but making that move was a head-scratcher. This guy would've been around in the late first or even the second round, so trading up for him didn't make sense.
The toughest part about that move was seeing Deshaun Watson and Patrick Mahomes both get taken shortly after, and we know how they have turned out this season. Watson has taken a hit the past few years for a variety of reasons, but Mahomes continues to prove he is the best QB in the league, even if he is having a down season this year. No one is going to say had the Bears drafted Watson or Mahomes that, this team would be winning superbowls, but regardless, they would have a franchise QB and one that is better than anyone they currently have.
Velus Jones Jr. has been a bust
The hardest part of the NFL draft is that you never know how a player is going to turn out. There is a lot of luck involved, and the Bears have been very unlucky when it comes to some of their selections. Take Velus Jones Jr, for example, who was drafted in the third round of the 2022 NFL draft.
Entering the 2022 draft, the Bears were desperate to find WRs for their new-look offense, but passed on some of the better targets in the first two rounds. That saw them settle on Jones Jr in round three, as his mix of size and speed was something the Bears were looking forward to having. Third-rounders are not often seen as game-changing players, but many third-rounders have gone on to have tons of success in the NFL.
Chicago hoped Jones could follow that trend, but it has been a nightmare since his arrival. Jones has had a hard enough time getting snaps on offense, but he has had a massive issue fumbling punts. Given his speed, you want him on the field as much as possible, but you won't see time on the field if you can't hold onto the ball.
It has gotten so bad that Jones has been a healthy scratch the past two weeks, and now it seems his days in Chicago are numbered. When you look at the rest of the WRs taken in round three that year, Jones isn't alone, as most of those guys haven't panned out in the NFL. However, guys like George Pickens (Pittsburgh), Skye Moore (Kansas City), and Wan'Dale Robinson (NYG), there were several WRs available in round two that the Bears could have taken, and all would have been a better option than Jones and would at the very least have a role in this offense.
The wrong coaching hires
As much as not having a franchise QB hurts, the Bears have been the worst when picking a head coach. This goes back to Lovie Smith, who took this team to the Superbowl and was fired after going 10-6 a few seasons later. It is unheard of to fire someone coming off a season like that, but the Bears felt he did all he could with the team.
Since Smith has left, Chicago has tried John Fox, Marc Trestman, Matt Nagy, and now Matt Eberflus as their head coaches. Some of these coaches have had success for at least one season, but for the most part, these guys stick around for a few years and get let go because of poor performances. That is the direction that Eberflus is heading in right now.
On paper, this is the most talented Bears team in quite some time, but yet this team continues to be one of the worst teams in the league. That falls on the coaching staff. It doesn't matter how much talent you bring in; if your coaching staff has no clue how to handle that talent, the results aren't going to be good. The Bears have had to deal with that for a decade, and if things don't change for the better soon, they will be stuck in rebuild mode forever.