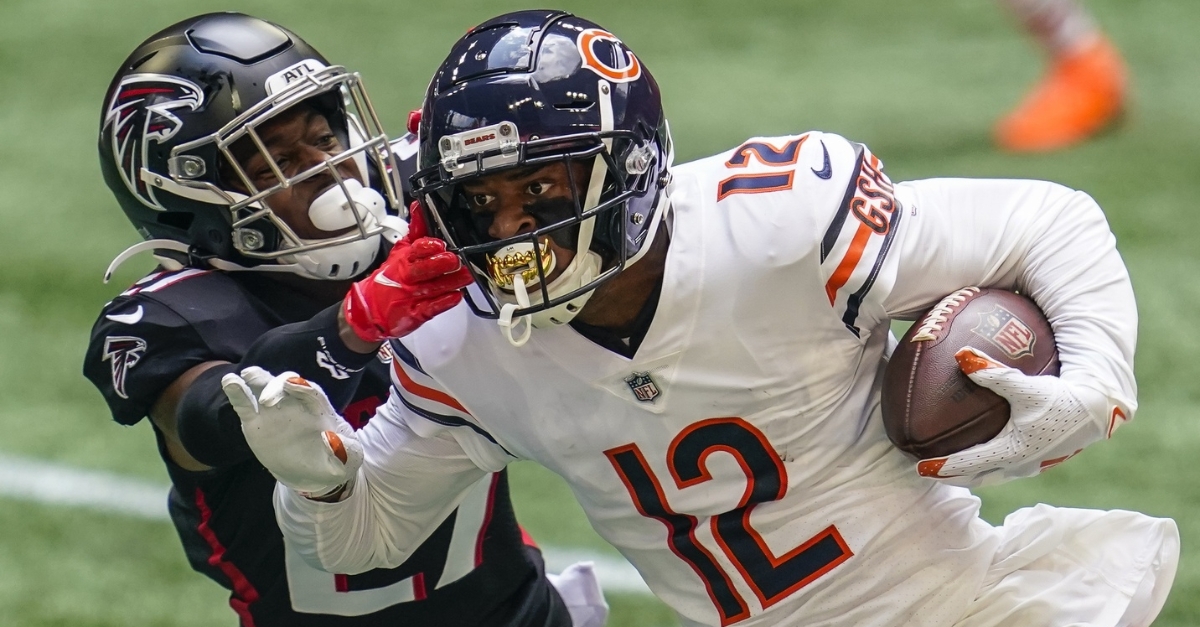 | | |
| --- | --- |
| Three Takeaways from Bears' comeback win over Falcons | |
---
| | | |
| --- | --- | --- |
| Monday, September 28, 2020, 10:04 AM | | |
Are you not entertained? The Bears continue to get it done through the first part of their schedule as Chicago improves to 3-0 on the season. Once again, it was a mix of inconsistent play with some clutch throws in the fourth quarter as the Bears pick up another come from behind win to stay unbeaten and remain tied with Green Bay in the NFC North standings.
Chicago is starting to become the cardiac Bears as they have played in three rather nail-biting, but exciting games to open up the 2020 campaign. All that matters to this point is wins and losses, and so far, the Bears are continuing to find ways to win.
Here are some takeaways from what I saw on Sunday.
Atlanta continues to blow huge leads: As if their 28-3 Superbowl meltdown wasn't bad enough, Atlanta blew a big lead against Dallas in week two in perhaps the worst way. To make matters worse, the Falcons held another big lead on Sunday, leading the Bears 26-10 late in the second half.
As we have seen in the past, no lead is safe for Atlanta as they let the Bears come back to take the lead late, which was enough for a 30-26 Chicago win. With the loss, the Falcons became the first NFL team in history to blow multiple 16-point leads in the first two weeks of the season. This is a reputation that Dan Quinn is starting to have, and his team is letting get in their heads. Fortunately, the Bears were able to capitalize on that and picked up another win.
Let the QB1 controversy begin: Even though Mitch Trubisky was awarded the starting job out of camp, he was always going to be on some leash. If the Bears were winning, most felt like he would remain the starter as you can't bench someone winning games. Matt Nagy didn't feel the same way and decided to go with Nick Foles, which now has implications moving forward.
Across the first two games of the season, Trubisky played three excellent quarters of football but had five not so great quarters. Fortunately, the Bears were winning games and made up for the lack of quarterback play. Yesterday was a different story as Trubisky was not good through two-plus quarters and saw his team down by 16.
Following a horrendous pick in zone coverage, Nagy decided to go with Foles, and that may be the move that makes the Bears better. Take away his early interception, Foles did what Foles does. He comes into a game to relive a starter and puts together an impressive football display to win the game. Watching the game and you could see the offense just seemed to click immediately under Foles, and they looked the best they have looked all season.
Nagy has reiterated that he has not decided on his starter next week but also said he doesn't want to go back and forth either. If you think about the situation, the decision has already been made as Foles will be the starter going forward. Anytime you bench your first-round pick for a backup, that signals the end of the line. Nagy wanted to make Foles the starter this season but knew Trubisky needed a chance to rite the ship. Trubisky had his chance and couldn't take it, so it will be up to Foles now to see if the Bears are a better team with him.
What a throw. pic.twitter.com/cMHDVjCgAc

— Joe Giglio (@JoeGiglioSports) September 28, 2020
Pay Allen Robinson already: Last week, Tarik Cohen signed a nice extension with Chicago. The week before that, it was reported that Robinson wasn't happy with his contract situation in Chicago, and he voiced his displeasure. Fans and players want Robinson to get an extension rightfully, so when you look at the numbers.
Robinson wants to remain a Bear, but you have to wonder if the longer this process drags out, the less likely it will be to bring him back. Enough is enough already as Robinson needs to be paid. The first true No. 1 receiver since Brandon Marshall and Alshon Jeffery, Robinson continues to carry the Bears passing game.
Not only did he haul in 10 receptions on Sunday, but he brought in 123 receiving yards, including a touchdown that brought the Bears within one score late in the fourth.
Most receiving yards after contact in Week 3:

??Alvin Kamara - 98
??Allen Robinson - 43 pic.twitter.com/A6FD5AhwfI

— PFF Fantasy Football (@PFF_Fantasy) September 28, 2020
Robinson continues to show he can be an elite receiver and the Bears need to figure out some extension before it is too late. Should he provide the same production with Foles as he did with Trubisky, there shouldn't be anything left to wait for. Pay the man his worth and keep him in Chicago.
Welcome back to the end zone, Allen Robinson! ?? pic.twitter.com/vwAQhnmFmp

— Onward State (@OnwardState) September 27, 2020