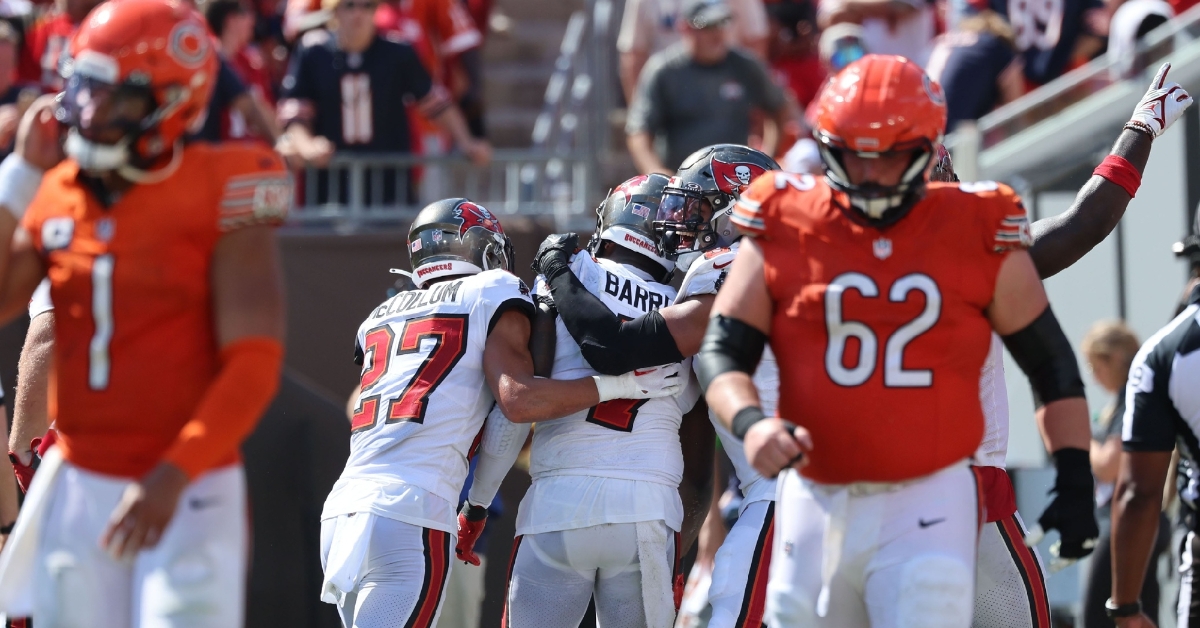 | | |
| --- | --- |
| Three Takeaways from Bears loss to Bucs | |
---
It was another week for the Bears and, once again, another painful performance as the team fell to 0-2 on the season with a 27-17 loss. With the loss comes 12 consecutive losses dating back to last season, as this team is showing no signs of improving in the early going. That has to be the most frustrating piece of them all, knowing how much resources Ryan Poles put into this franchise this season and how much time he has committed to the entire team.
At some point, you will be forced to make some tough decisions, and changes will have to be made, but what those changes are is an even bigger question. Despite the loss, there were some positives to take away, although not many, including Chase Claypool hauling in his first Bears TD. It is no secret that Claypool's time with Chicago has been rocky at best, but at least he was able to do something good on Sunday. Here are some other takeaways from what fans witnessed on Sunday.
Where is the running game?
Despite the Bears struggles as a whole on offense last season, running the football wasn't one of them, as they were the best rushing team in the league last year. Losing David Montgomery we knew would be a huge blow, but adding D'Onta Foreman and Travis Homer via free agency along with Roschon Johnson in the draft was supposed to keep the running game intact, if not better than a season ago.
Instead, the Bears have struggled to run the ball over the first two games and were held under 70 yards on Sunday. Part of that has to do with Justin Fields rushing for just three yards and not running as often as he did a season ago, but the Bears still have plenty of options capable of making plays. Having a healthy scratch in Foreman before the game raises even more questions, as the Bears running game is sub-par. If they can't run the ball, all the pressure falls on Fields, and the fans know how that has gone thus far.
How about that defense?
The next takeaway falls on the Bear's defense, or should we say a lack of a defense. One week after letting Jordan Love gash the Bears for three TD passes, Baker Mayfield took his shots at Chicago as he connected for better than 68% of his passes and more than 300 yards in the win. Any time you allow Mayfield to throw for more than 300 yards, it is a concern, and right now, the Bears defense is a mess.
Sure, not having Kyler Gordon out there didn't help, but the Bears still have plenty of other guys, including Jaylon Johnson, TJ Edwards, Tremaine Edmunds, and Jaquon Brisker, to list a few, and neither of them seems to be doing much of anything, on the field. Everyone knew the Bears would struggle to get after the QB, but I don't think anyone expected the secondary to struggle this much this soon.
With Patrick Mahomes lingering next week and guys like Kirk Cousins, Jared Goff, and Justin Herbert waiting in the wings later this season, it could be another long year for the Bears secondary. This is something they need to address quickly if things want to change.
Is Justin Fields the answer?
I can't believe we are having this conversation, but it is one to be had. After the Bears traded up for Fields three years ago with the anticipation of him being their franchise QB, questions are starting to come into play about whether or not he is the guy. Sure, having Luke Getsy call the plays isn't help, as the offense looks terrible right now, but what has Fields done to ensure confidence with the Bears front office?
Fields said he wanted to run less this past offseason and prove he can be a better passer. While that is true in some cases, he is still struggling to throw the football, which he shouldn't be having an issue with three years into the league. Add in the fact that he is running a lot less, and you are taking away the one element of his game that made him super dangerous on the field.
For those who believe in superstitions and strange things like that, your belief in Fields has to be running thin, as history shows no Ohio State QB has ever panned out in the NFL, especially not ones like Fields. Troy Smith, JT Barrett, Cordarrelle Jones, and Dwayne Haskins were all seen as the top QBs in their respective classes, and all of them either changed positions or were nothing in the NFL. Fields is starting to toe that line, and it doesn't look good for Chicago.
Should this team continue to struggle offensively all season, even if Fields does improve, they could be willing to move on from him in favor of Caleb Williams. If that is the case, Fields will go down as another great OSU QB who couldn't cut it in the NFL.
Upgrade Your Account
Unlock premium boards and exclusive features (e.g. ad-free) by upgrading your account today.
Upgrade Now