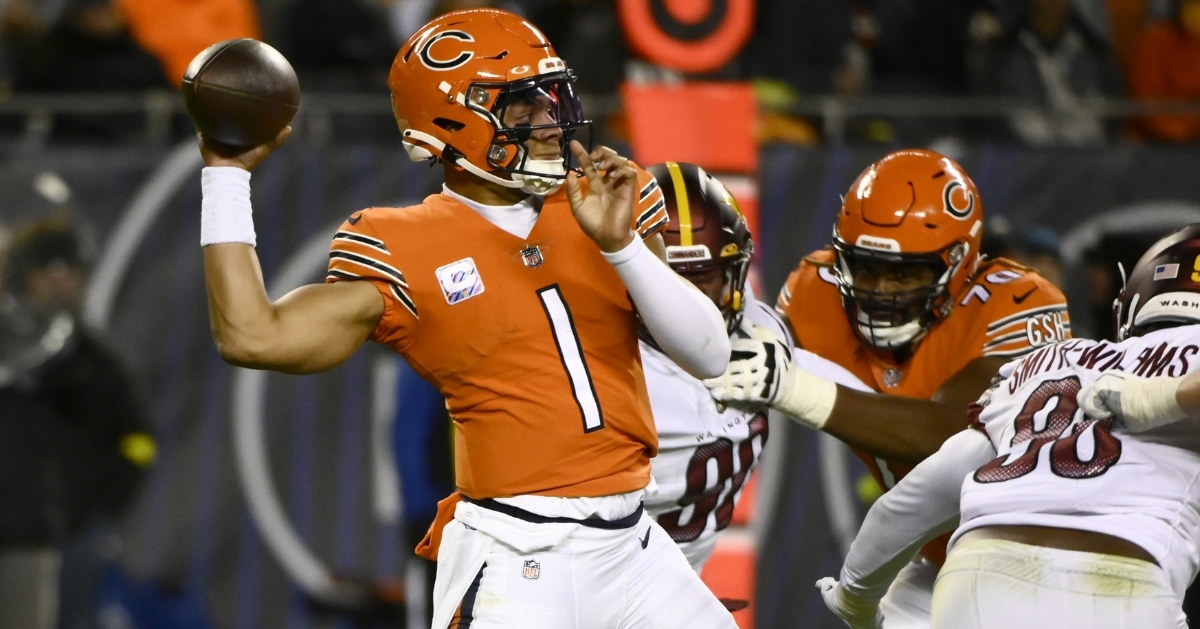 | | |
| --- | --- |
| Three Takeaways from Bears loss to Commanders | |
---
| | | |
| --- | --- | --- |
| Friday, October 14, 2022, 1:31 PM | | |
Another week went by, and another lackluster offensive performance left the Bears searching for answers. Despite rushing for better than 230 yards as a team and holding a slim 7-6 lead in the fourth quarter, Chicago could not close things out, falling to Washington 12-7.
That makes back-to-back weeks where the Bears held a one-point lead in the fourth only to come away empty-handed. Unlike in previous losses that saw the Bears improve immensely on the field, Thursday was a significant step backward as Washington came in and took care of business.
You could argue that this was a must-win game for both teams, but the Commanders wanted it more than Chicago and made just enough plays to win. The loss now moves the Bears to 2-4 on the season, as they have lost their last three games following a 2-1 start. That leaves them 2.5 games behind Minnesota, technically 3.5 with the tiebreaker, as they could be out as much as four games by Sunday.
Even with the loss, there are some positives to take away, which the Bears will address with an extended break from football. The extra three days will hopefully help this team find their mojo, as they desperately need it.
Wentz continues to deliver on Thursday
If Washington could formally send a petition to the NFL to have all their games played on Thursday, they would. Despite a terrible showing statistically, going 12-22 for 99 yards, Wentz is credited with the win in this one, even if he didn't do much to earn it.
That moves him to 7-0 all-time on Thursday nights which is the best record among active QBs in the NFL. I don't know what it is with Wentz and playing on Thursday, but he loves it and has been perfect since coming into the league in 2016. Over his seven games, Wentz has thrown 13 touchdowns with just two interceptions.
There is a reason why he hasn't lost on Thursdays, and those numbers are a big reason why. Granted, this stat means next to nothing, but it is one of those stats you look at and try to figure out why he has as much success as he does on Thursday.
Washington's dominance at Soldier Field
Entering the game, the Bears were 2-3, with both of their wins coming at home. You would have thought they would be the heavy favorites as they were unbeaten at home and looked much better there than on the road.
However, you had a Washington team coming to Chicago that was not only desperate, but has made Soldier Field a home away from home. Across their last 11 meetings in Chicago, the Commanders have taken care of business and have gone 10-1 over those games. The lone loss came in 2003 in what has otherwise been pure dominance at Soldier Field.
For whatever reason, this is one of those cases where a team has some strange luck at another team's venue. Soldier Field is that venue for Washington, and the Bears are fortunate they don't play this team every year, or wins would be hard to come by at home.
Luke Getsy needs to call better plays
When the Bears hired Matt Eberflus as their new head coach, you knew drastic changes would come to the coaching staff. One of those changes was the appointment of Getsy as the new Offensive coordinator as he took over for Bill Lazor.
A bit of a surprising move when you look at Getsy's NFL experience, but he was coming off a three-year run in Green Bay, where he worked hand-in-hand with Aaron Rodgers. That was one of the reason's the Bears brought him in, as he loves the makeup Fields and has said that he feels he can be on the same level as Rodgers one day in terms of leadership.
The problem, however, is that Getsy has never been a play-caller before, not even working with Rodgers. Not only was he appointed play-calling duties for the first time this season, but he is working with an offense that lacks talent, and the results are pitiful, to put it nicely. I do not like to have coaches fired midseason, but if Getsy doesn't get this offense on track, you would have to think the Bears may consider making a change.
Getsy is in a tough spot right now as he knows the offense is under a microscope and knows that if they don't perform, he will take the fall. The problem is when you lack a lot of offensive talent, and there isn't much you can do. Getsy needs to realize this isn't the Packers offense and needs to start catering to the strengths of this team.
That would be running the football as they did on Thursday and allowing Fields to move around in the pocket to make plays with his legs. Once that starts, the results will come more consistently, but if you are a Bears fan, pray that it doesn't happen before it is too late.