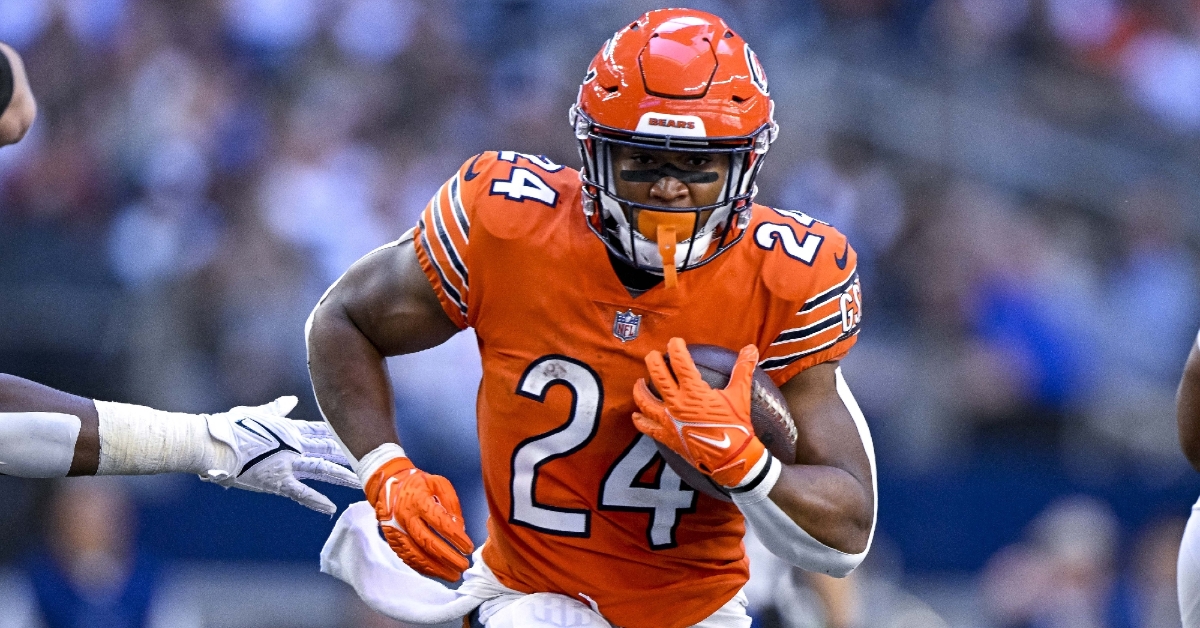 | | |
| --- | --- |
| Three Takeaways From Bears loss to Cowboys | |
---
| | | |
| --- | --- | --- |
| Tuesday, November 1, 2022, 7:54 AM | | |
Despite the Bears best efforts on Sunday, the team saw themselves fall to 3-5 on the season as things slowly slip away. For the second time in two weeks, you had a promising offensive showing as Luke Getsy, and the offense appears to have figured things out on that side of the ball.
The big issue now is the defense, as they were not only blasted for 49 points on Sunday, but allowed 14 points a piece in each of the first three quarters. Add in the key losses to Robert Quinn and Roquan Smith, and things will be challenging from here on out. I don't care how good your offense is playing. You are not going to win many games, giving up 49 points.
Chicago knows that, but they also know that side of the ball could be a challenge from here on out. With that being said, here are some takeaways from the game on Sunday:
Keep running the ball
Whatever was said between Getsy and the offense following their Thursday night loss to Washington has worked. In the two games since, Chicago has gone 1-1, but their offense is averaging 31 PPG. That is nearly double their season output of around 17 PPG, as things appear to be trending in the right direction.
A big reason for that is a running game that can't be stopped right now, as the Bears seem to have found their stride in that department. Matt Eberflus made it a point to be a run-first team, but things have only sometimes worked out that way. After rushing for 240 yards on Sunday, it makes three straight games with at least 200 yards rushing, their longest streak since the 1960s.
Whoever is to blame for this new found success deserves a ton of credit, as the Bears offense has finally started to show signs of life. This is the way the team has to play, and they are finally beginning to realize that.
Has Khalil Herbert taken over the RB 1 role?
Sticking with the running game for a minute, one thing you immediately notice is Herbert's success. He led the team with 99 yards rushing on Sunday compared to just 51 yards from David Montgomery. That right there is what fans are questioning, as this has been a trend since the time Montgomery was lost with an ankle injury.
However, since returning to the lineup, Montgomery hasn't had the same success that Herbert has, which could be why Herbert is getting more touches. Add in the tradeline is approaching this afternoon, and there is a ton of chatter that Montgomery may get moved ahead of the deadline.
That could be the thought process of Chicago as they appear content with riding Herbert the rest of the way. I mean, how could they not be? Whenever he has been called upon, Herbert has done nothing but produce in now his second season. He has No. 1 RB potential, and right now, Chicago will trust him with a ton of carries.
Best of luck to Quinn and Smith
Not only was losing to the Cowboys painful, but the Bears suffered several blows this week. It all started when Quinn was dealt to the Eagles earlier in the week. You then have Smith traded to Baltimore on Monday for a second and fifth-round pick, as the Chicago defense is now being gutted right before the eyes of the fans.
To some, this may seem like the Bears are throwing in the towel for this season, as their defense will struggle the rest of the way. However, if other players can step up, the depth that Ryan Poles has put together can reign supreme. You also have to point out that these moves were not made for this year, but for the future of the franchise.
By parting ways with Quinn and Smith, Chicago has added draft capital and now holds nine picks in next year's draft, with possibly more on the way. You also have a team with more than 130 million in cap space available, which is No.1 in the NFL. That is a deadly combination for any team, but especially for one that could end up with a top-five or 10 pick in the draft.
Not only will they have the picks to draft some playmakers next spring, but they could trade away some picks to add some talent to this roster. You then look at the money they have available, and there is no reason why this team won't be aggressive next off-season. If Chicago plays their cards right, this team could go from one of the worst in the NFC to instant playoff contenders in one offseason.