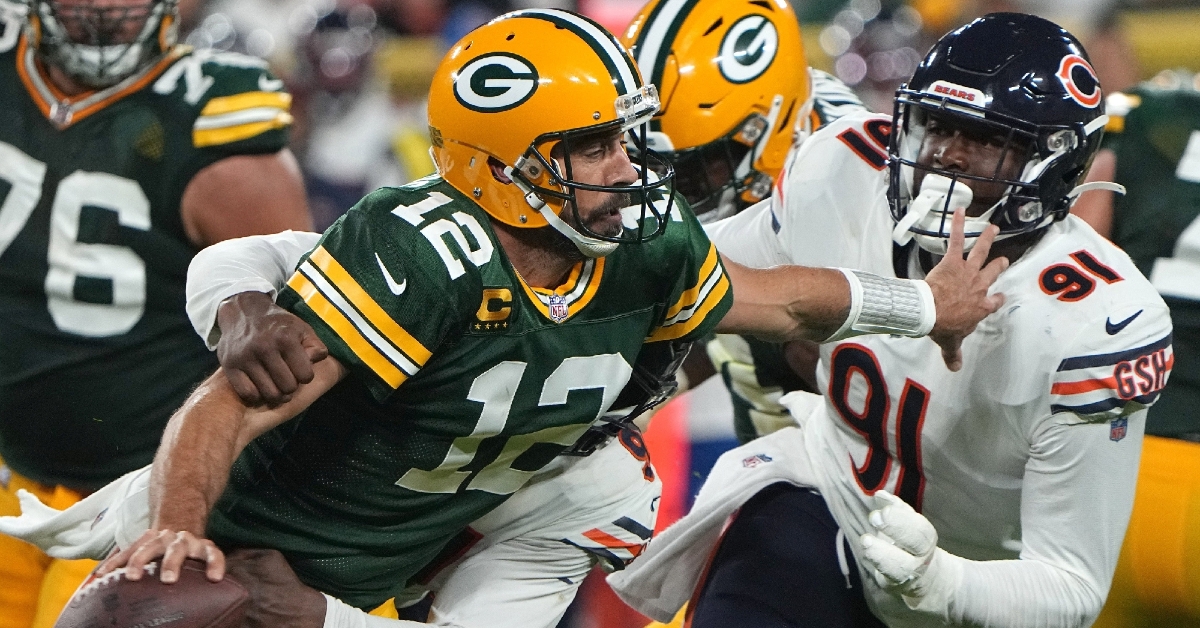 | | |
| --- | --- |
| Three Takeaways from Bears loss to Packers | |
---
| | | |
| --- | --- | --- |
| Tuesday, September 20, 2022, 10:32 AM | | |
After a highly anticipated week with fans very high on this Bears team, reality set in as they took on the Green Bay Packers. The same Packers team that has Aaron Rodgers as their QB and has accumulated a 24-5 record against the Bears in his career. To make matters worse, this game was at Lambeau Field, where the team has won just twice since 2011, with their last win coming in 2015.
What looked to be a highly competitive game, at least early on when the Bears took a 7-3 lead, turned into a lopsided affair as the Packers continued their dominance over Chicago with a 27-10 win. 21 of those 27 points came in a massive second quarter for the Packers, but take away that quarter, and the Bears did outplay Green Bay.
Even with the loss, there are a ton of things to dissect, but luckily most of the flaws that this team showed on Sunday are correctable.
Here are some takeaways from Sunday's loss:
Missed tackles loom large
A lot has been said about the Bears' defense this season and just what they will look like. After going from the best in the league to one of the worst in just three years, Chicago went through a dramatic facelift on that side of the ball to get back to normal.
Week one showed a ton of potential for that group as they got back to doing a lot of the things that had them such a great defense four years ago. Even with the loss on Sunday, they still held the Packers to six points in three of the four quarters while getting to Rodgers, so you have to like what you see there immediately.
The one thing that proved significant in this one was the amount of missed tackles the Bears had on Sunday. No one is saying they win this game if those tackles are made, but when you take two or three-yard gains and turn them into seven because of missed tackles, it sure doesn't help.
Give the Packers some credit. They could see the Bears struggling to make tackles, and they exposed that by rushing for 208 yards and surpassing 400 yards in total offense. That can't happen if the Bears want to be a successful team this season, but thankfully, they know what they need to clean up.
At some point, you have to think that the Bears will unleash Justin Fields, but right now, they don't seem to trust him. You saw it last year when Matt Nagy insisted that he wasn't ready and thus went with Andy Dalton to start the season. After a promising preseason, it does appear that once, the Bears may not have the trust in Fields that everyone thought they did.
How can they when you only let him throw 11 passes for 72 yards and limited him to under 20 last week? Unless you are Mac Jones, who can win by throwing just three passes, this team needs to let Fields play and learn from his mistakes. I understand he may not have the most weapons to work with, but he is athletic enough to compensate for that.
Fields is also at his best when he can use his athletic ability to his advantage, as he can get out of the pocket and extend plays. For whatever reason, Luke Getsy and the new regime still don't seem to trust him enough to let him do that consistently and have really held him back the first two weeks. It is time that stops, and Chicago needs to see what they truly have in him.
Rodgers can leave anytime now
While this is not necessarily the same feeling for many fans, it is for Bears fans who would like Rodgers to leave anytime. Whether retirement or a trade, Having a guy go 24-5 against you is never an easy feeling, and now the Bears have seen Rodgers and Brett Favre go 45-14 against Chicago since the mid-90s.
Talk about a one-sided rivalry that the Bears once dominated. Eventually, Rodgers will be retired, and you would hope by then that Fields is the answer for Chicago leading to many wins. However, we have seen the luck the Packers have had with QBs, and who knows what happens with Jordan Love.
Given their track record, Love could end up being another version of Favre and Rodgers as someone who comes in to dominate this rivalry. You also have to consider the possibility that Rodgers plays long enough to where Love leads, and the Packers are forced to look outside the organization for a replacement.
Regardless, the Bears would like to have more competitive games against their rivals. The only way that happens is if Rodgers finally leaves Green Bay to level out the playing field.
Upgrade Your Account
Unlock premium boards and exclusive features (e.g. ad-free) by upgrading your account today.
Upgrade Now