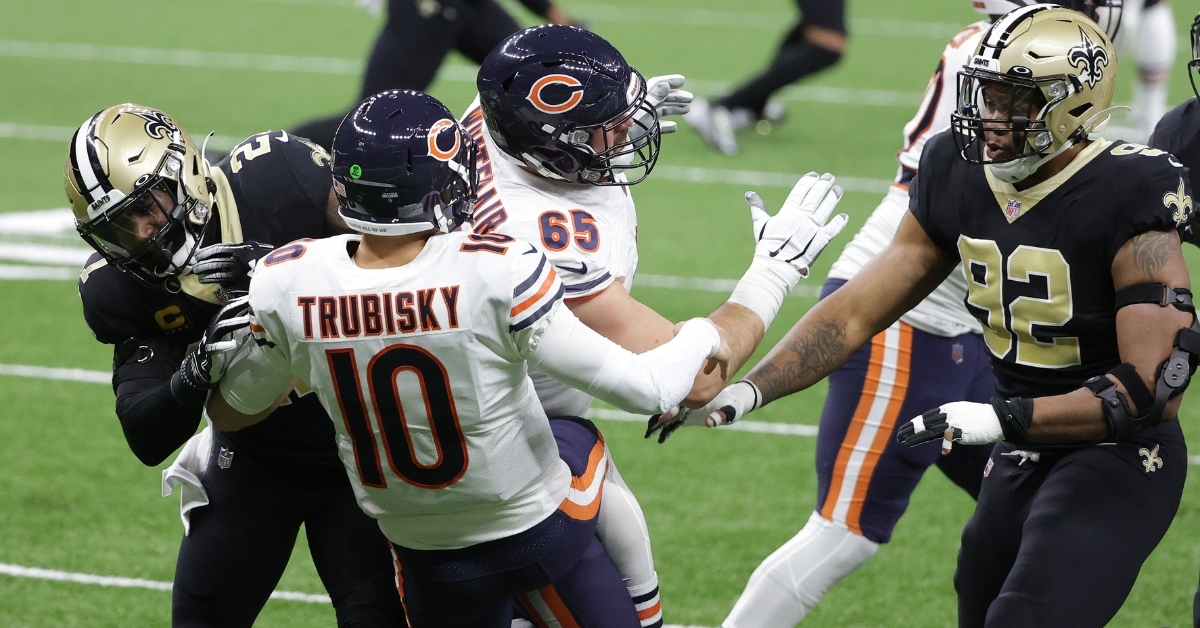 | | |
| --- | --- |
| Three Takeaways from Bears' playoff loss to Saints | |
---
| | | |
| --- | --- | --- |
| Monday, January 11, 2021, 9:20 AM | | |
For the most part, the Bears defense kept them in the game Sunday, as they had several chances to make things happen. Sure, a dropped touchdown from Javon Wims certainly changed the game's complexion, but outside of the Bears final drive, the team couldn't do anything offensively.
Out of all the postseason teams this weekend, the Bears looked like the team least deserving to be there. Even the 7-9 Washington Redskins put up a better fight against Tampa Bay with Taylor Heinicke getting the start. Now the long and painful offseason begins for Chicago, where tons of changes could be on the horizon from the top down.
Here are three takeaways from the game.
A fitting end to a frustrating season
All season long, the Bears have ridden their defense to carry the team as the offense was inconsistent at best. Take away the first few games of the season and that three-game stretch toward the end of the year. This offense was ranked near the bottom in almost every category.
Switching from Mitch Trubisky to Nick Foles in October made things worse offensively as the Bears went from scoring 24 points a game to struggling to reach 20. Then, Chicago made the switch back to Trubisky, and the team took off offensively, averaging 31.5 PPG over their last five games.
However, Chicago limped into the postseason after a 19-point outing against Green Bay in week 17, and things were not going to get easier against the Saints. The offense was the most significant issue all season, and the defense was only able to hold up and overcome the injuries for so long.
Yesterday, this team delivered what could have been their overall worst offensive performance of the season, and it couldn't have come at the worst time.
When the Bears offense is on Nickelodeon: pic.twitter.com/866Zs24EL7

— Mark Kim (@MarkJKim_) January 10, 2021
Chicago flat out couldn't move the ball for nearly the entire game using the game's final drive to almost equal their total yardage before that. It was a fitting way for the season to end, considering the up and down play fans saw from them all season.
The Bears offense right now: pic.twitter.com/tqrS1IWmHN

— SportsNation (@SportsNation) January 11, 2021
A challenging offseason ahead:
Two playoff berths in three years as a head Coach is nothing to be disappointed about, but Chicago could be on the verge of a significant offseason overhaul. Both Ryan Pace and Matt Nagy are rumored to be out in Chicago, as is the retiring team president. That means an entirely new front office or at least parts of a front office will be coming into town this offseason.
Then you look at the roster. Not only is Chicago tight against the cap already, but they are going to have to make tough decisions from the top down.
Mitch Trubisky was not given a fifth-year option and will be a free agent come March, meaning it is Foles team once again unless Chicago finds someone new.
From @GMFB: After a first-round playoff loss, #Bears QB Mitch Trubisky's future is uncertain in Chicago. pic.twitter.com/AbQ672JRXX

— Ian Rapoport (@RapSheet) January 11, 2021
Signing a quarterback or player in free agency, for that matter, will not be easy for Chicago as they won't have tons of money to play with as is. That leaves the trade market where the Bears have the pieces to make deals happen, but that could set them further back than where they are now. Much like the Cubs for baseball, this team could endure an offseason of transition, and it will be curious to see what happens.
Injuries and mental mistakes prove costly:
Coming into the game yesterday, the Bears already knew they would be down Roquan Smith, and Jaylon Johnson on defense both played huge roles all season and have been the heart of the defense at times. Offensively, the Bears were without No.2 receiver Darnell Mooney meaning Anthony Miller needed to step up.
While the defense did a great job holding up, you could see them tiring as the game went on, which was bound to happen at some point. Offensively, not having Mooney on the field was a big blow, and you could see it immediately in the first quarter. Not only has Mooney been trusted to be the team's No.2, but he is the only true deep threat on this team. Not having him limits Trubisky and where he throws to. That makes Chicago that much easier to defend.
When Trubisky did take a deep shot, Wims found himself wide open in the endzone, only to let the easiest catch of his career fall through his hands. That was a play that could have changed the game. On the other hand, Miller has been a disappointment this season, and yesterday was an excellent opportunity for him to step up.
He may have been targeted early, but he let the trash-talking get to him as he was ejected for throwing a punch. That makes twice this season where a Bears receiver was kicked out of the game for punching a Saint, so clearly, New Orleans knows how to get under their skin.
Chauncey Gardner-Johnson got another Bears WR Anthony Miller ejected from the game

Last time they played Javon Wims got tossed pic.twitter.com/IX1Z8O7Itv

— B/R Gridiron (@brgridiron) January 10, 2021
Once Miller left, it was Allen Robinson, and no one else as costly mistakes across the board made for a tough ending to the season.